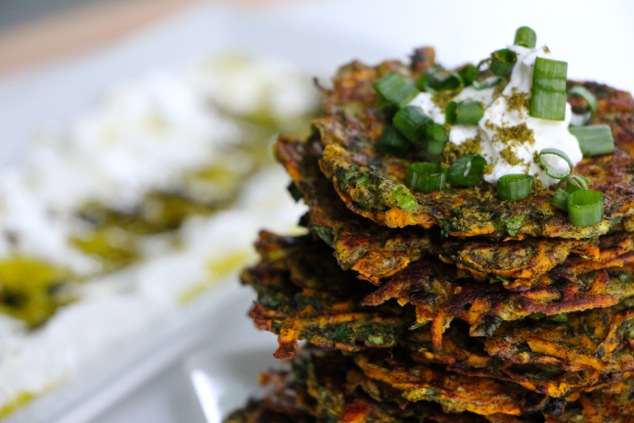 Hanukkah is almost here… and it is never a bad idea to come up with a new latke recipe… Throughout my lifetime of many Hanukkah celebrations, I had a chance to try and make countless types of latkes… My "go too" traditional latke recipe is a combination of regular potatoes and sweet potatoes. It is the taste of our holiday and I make sure to make it every year. Having said that, I'm always happy to add another type of latke to the Hanukkah menu. After all, holiday time is also known as "Never too much food" time. 🙂 This year, I decided to reinvent latkes using two root vegetables I love dearly…Sweet Potatoes and Kohlrabi. I also went with a new look for these latkes and gave them an extra crispy thin look. Cooking these Latke Thinies on my pancake griddle allows me to control the oil amount.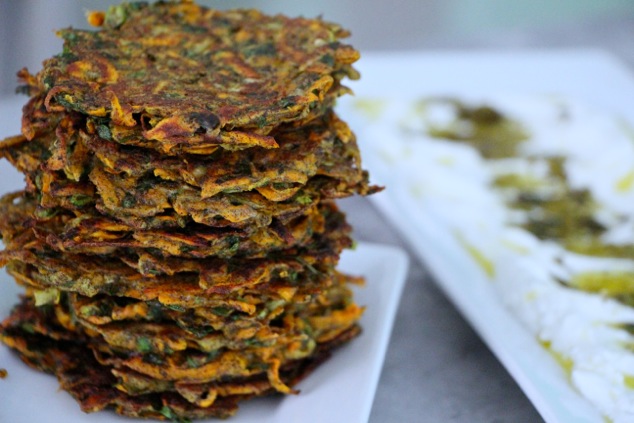 Put together this cooking method with the ingredients of this recipe and the result is a pretty healthy version for this holiday treat. It wasn't my original aim, but I'll take it! I love serving these latkes with homemade Labneh and Za'atar …Just a perfect combination of flavors.
You will need:
[Make 20-25 Latkes]
1 cup grated Kohlrabi
1½ cup grated Sweet Potato
Green Onions chopped
¼ cup Fresh Parsley chopped
2 Eggs
¼ cup Buckwheat Flour
2 tbsp. Corn Starch
¼ tsp. Turmeric
¼ tsp. Black Pepper
½ tsp. Salt
Olive Oil for frying (about 3 tbsp. for each frying bunch)
For Plating (Optional):
Za'atar
Chopped Green Onion
Let's get to work!
Personally, I don't like when grated vegetables have to wait for the rest of the ingredients to join them… Grated anything is notorious for waiting…liquids start to run out, they change their color… So I start with the greens…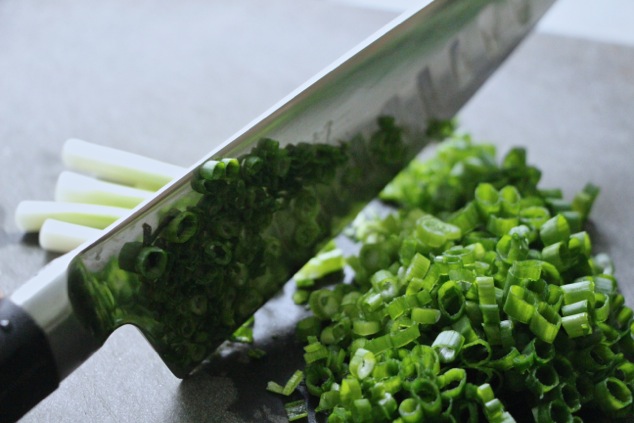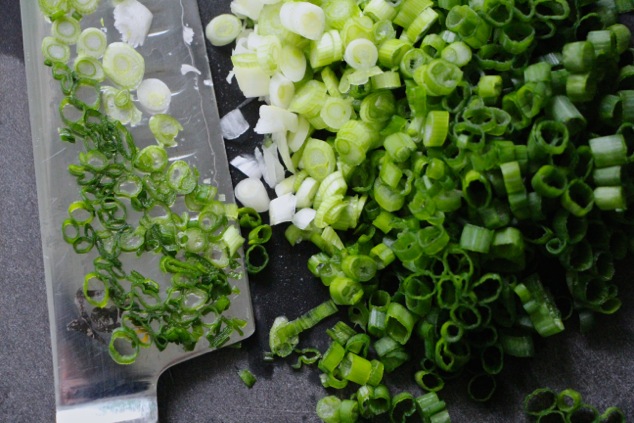 Finely chop the green onions and the parsley.
Now, grate the sweet potato and the kohlrabi-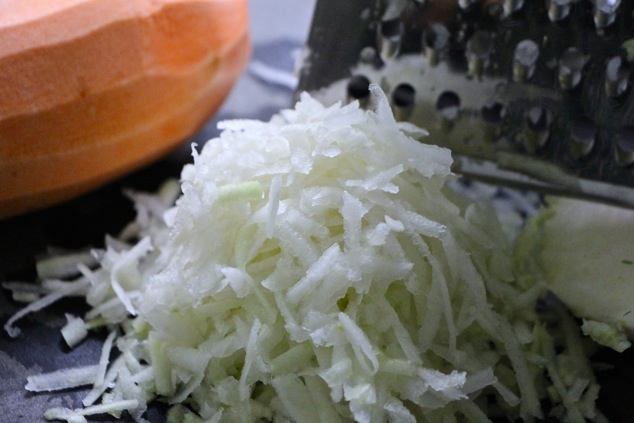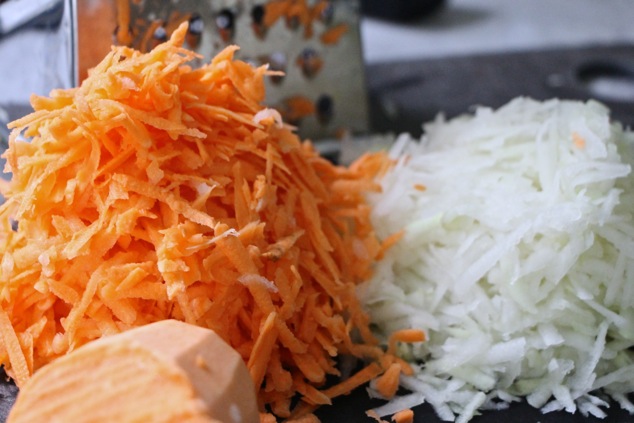 I like to hand grate them using a good-old-fashioned grater box, just like I do with my traditional latkes. This method helps to prevent the vegetables from releasing extra liquid.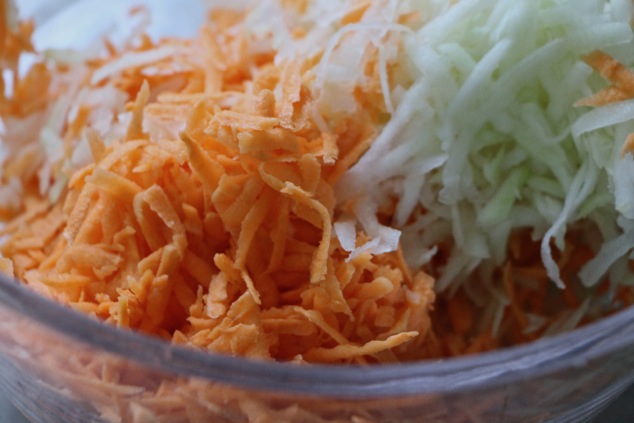 Before putting the grated sweet potatoes and kohlrabi into a bowl, gently squeeze the excess liquid out. I do it between my two hands…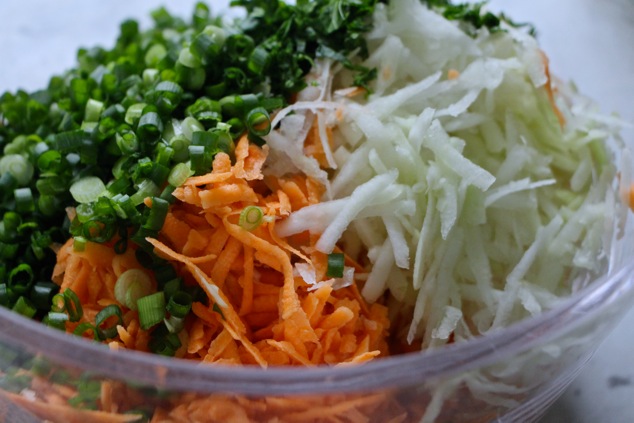 Add the chopped greens to the bowl.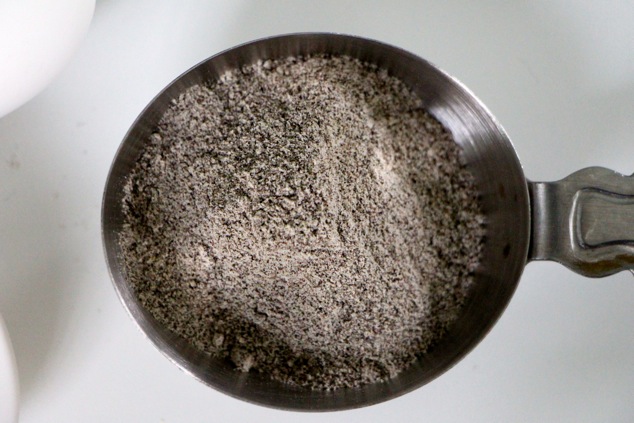 Buckwheat is known for many health benefits; moreover, in this recipe it does a great job bringing our mixture together and giving the latkes just the right texture.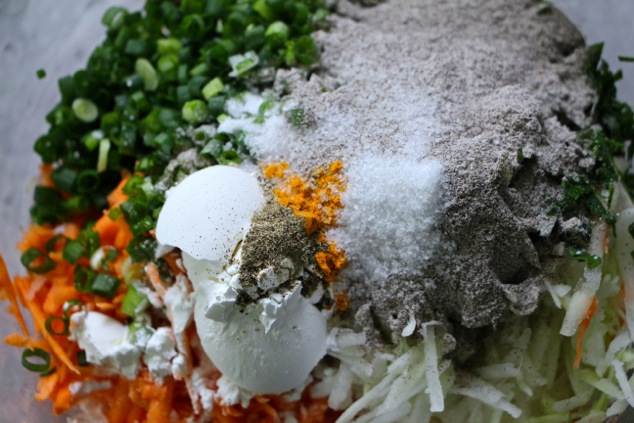 Add all dry ingredients including the salt and spices.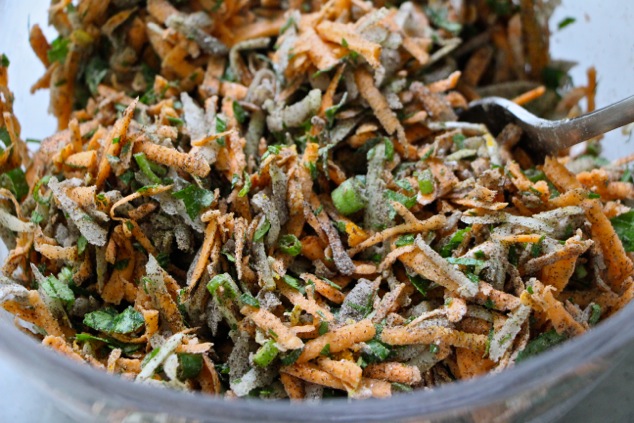 Mix well.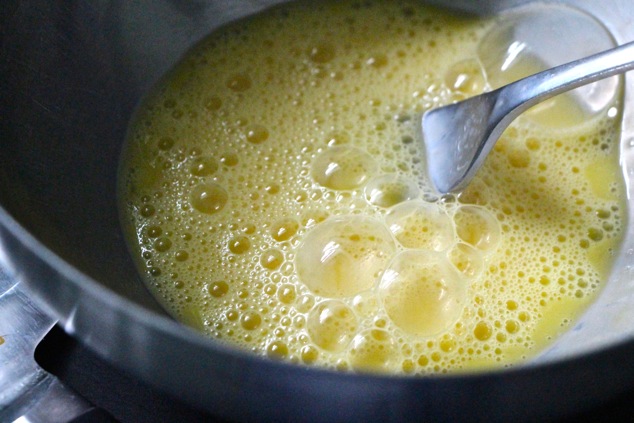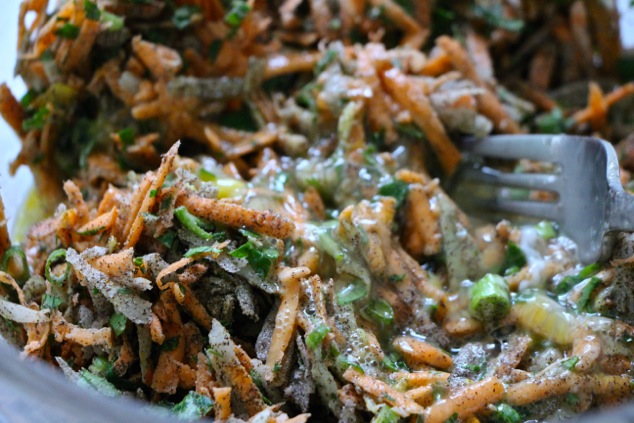 Beat the two eggs. Add to the mixture and make sure it is unified.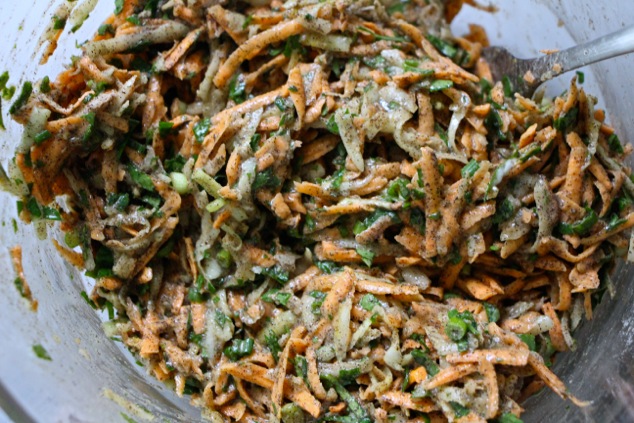 Time for frying… I like using my pancake griddle for this task. On the flat griddle it is easier to control the oil amount while frying. It might not be holiday-like but I love that I don't have to use too much oil. I use 3 tablespoons for each frying batch. Warm the oil on medium-high heat.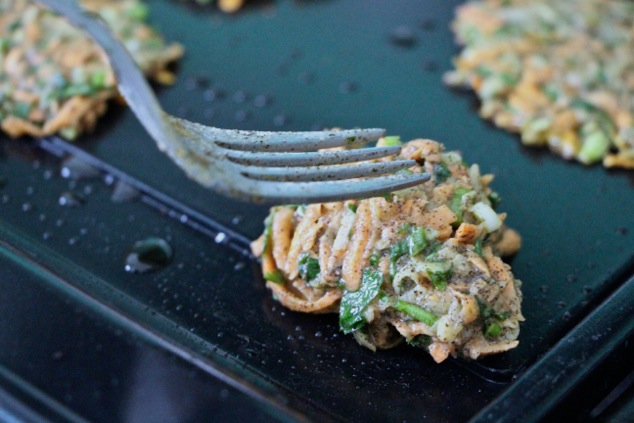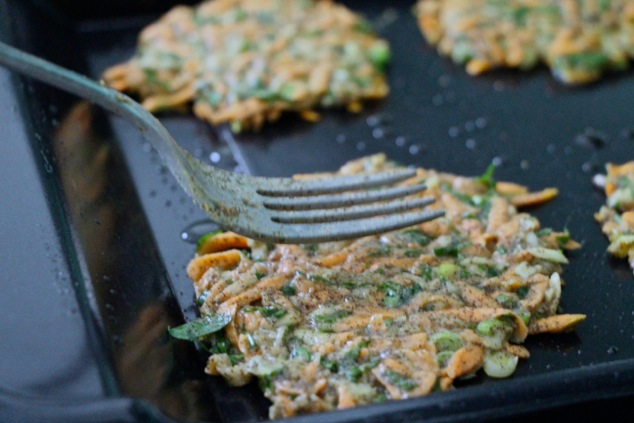 Use a fork to scoop, flatten and shape your latke on the griddle.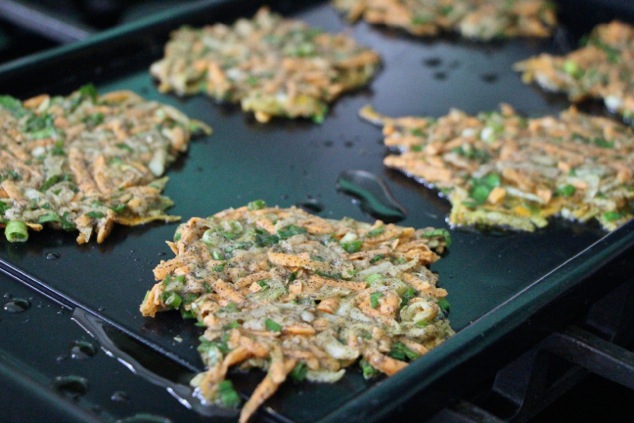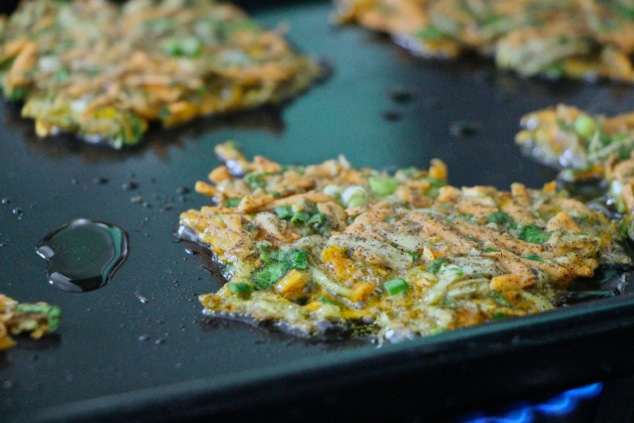 These thin latkes take just couple of minutes to fry on each side.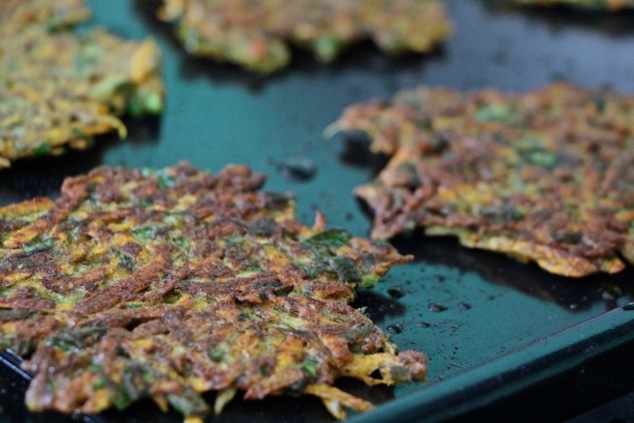 Flip to the other side…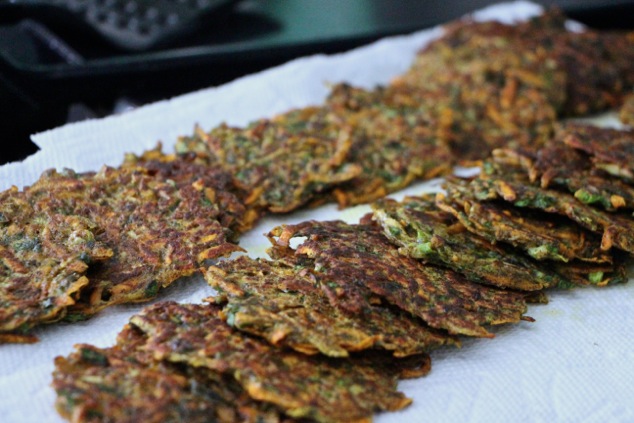 Remove the latkes onto paper towel to get rid of any access oil (if there is any…).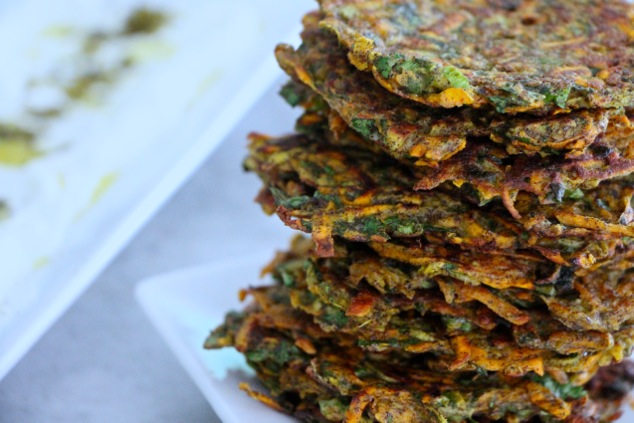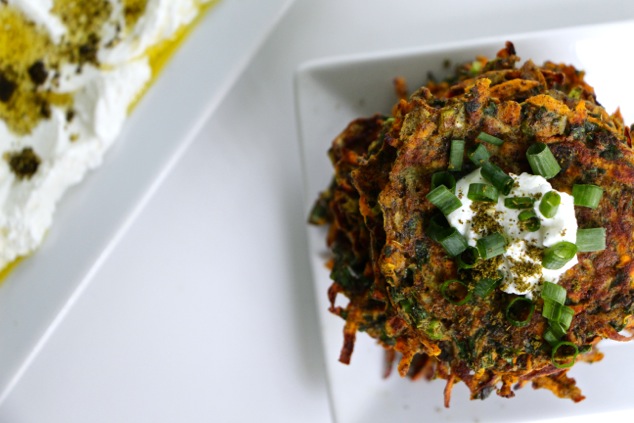 Pile them up and serve while warm along with homemade Labneh, Za'atar and chopped green onions.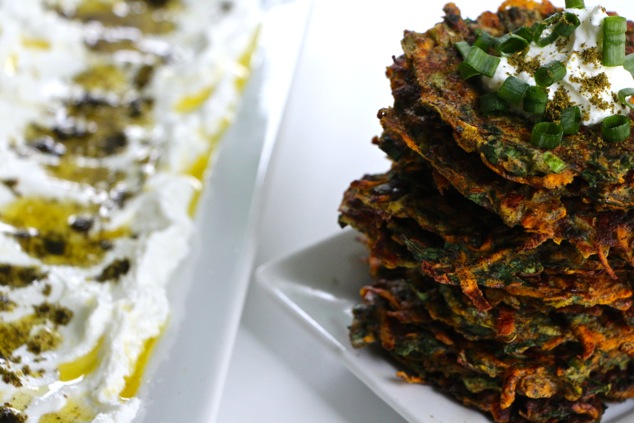 Have a Happy & Healthy Hanukkah! Enjoy!
—————————————————————————–
Quick Recipe:
Sweet Potato-Kohlrabi Latkes-
Finely chop Green Onion and Parsley.
Grate Sweet Potato and Kohlrabi.
Squeeze all liquids out and place in a large bowl.
Add finely chop Green Onion and Fresh Parsley.
Beat two Eggs and add to the mixture.
Add Corn Starch and Buckwheat Flour.
Add dry Spices Turmeric, Black Pepper and Salt.
Create thin patties and fry with Olive Oil on both sides.
Use a pancake griddle or a flat pan and fry on medium heat.
Serve Warm Topped with a dollop of Labneh, Sprinkle Zaa'tar and chopped Green Onions.