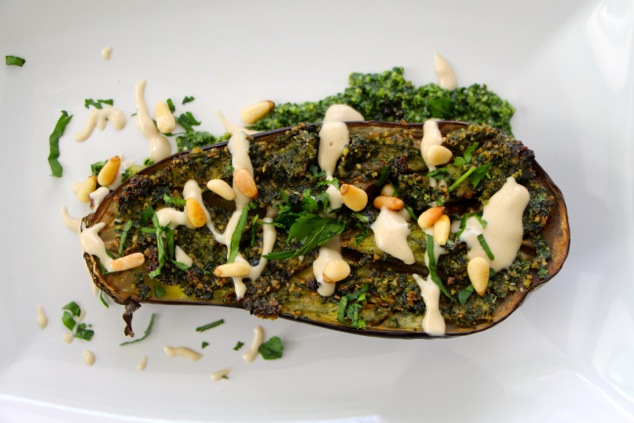 Once Upon a Post… I introduced you to Eggplant a.k.a "Mr. Popular" in a delicious eggplant spread. From then I made an eggplant promise to continue attesting the true glory of eggplants by sharing additional dishes. And since I only make promises I can keep… 🙂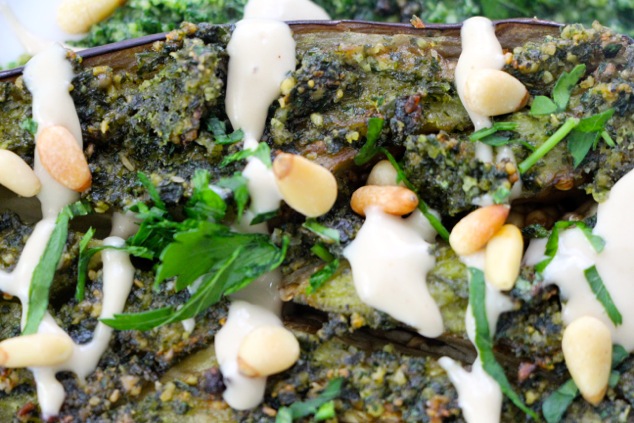 Here is a continuation to an eggplant promise: Besides being flavorful and tasty, it is also a lot of fun plating this dish and creating a "Wow" serving presentation. As a side dish it plays well with any other partners on the plate and I actually like it as a light dinner on its own with a simple salad beside it.
You will need:
2 medium Eggplants
Parsley (about 2 cups of packed leaves)
4 cloves Garlic
½ cup roasted Pine Nuts
4½ tbsp. Olive Oil (3 tbsp. for the pesto & 1½ tbsp. for brushing)
1 tsp. Black Pepper
1 tsp. Salt
For Plating:
Tehina Sauce
Chopped Parsley
Sumac
Let's do this: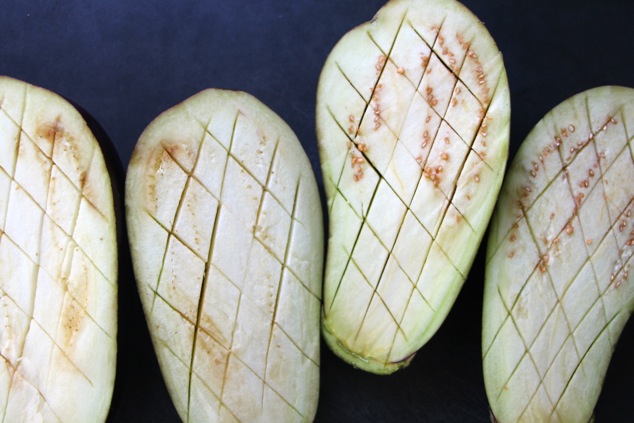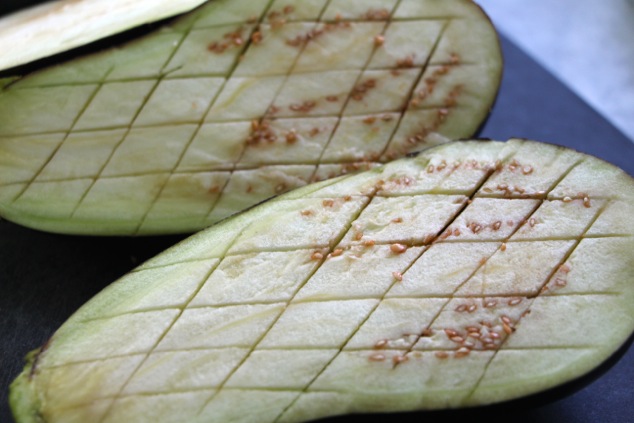 Cut the eggplants in half (lengthwise) and continue by cutting into the flesh of the eggplant creating checkerboard pattern. Using a knife create slits of about half an inch to an inch in depth, be careful not to cut through the skin.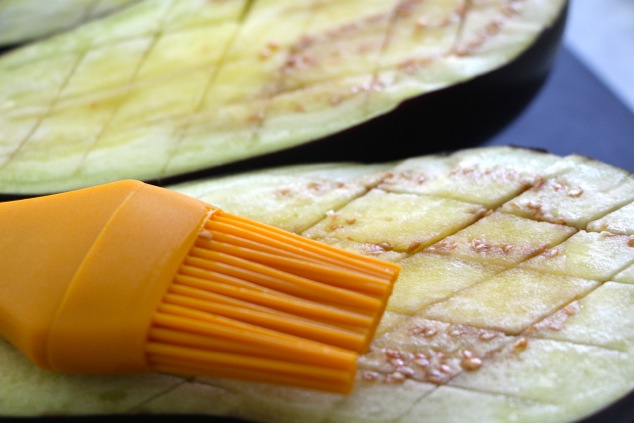 Brush each half of eggplant with a little olive oil, open the slits to allow the oil to drip to the bottom. Sprinkle with a little salt and once again make sure to get it into the slits.
Preparing Parsley Pesto: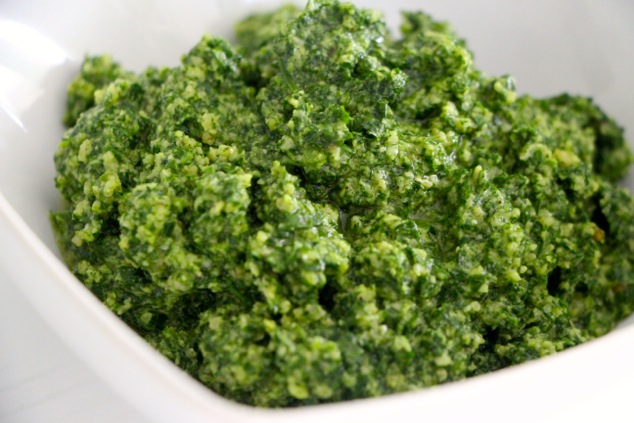 This is a super flavorful herb spread that is actually very easy to make.


First start by lightly toasting the pine nuts. We are going to use them for our parsley pesto and leave just a few aside for plating. For small amount, I like using a small pan on low to medium heat. Arrange all pine nuts in one layer and move the pan every so often to make sure the pine nuts are tossed and get evenly toasted.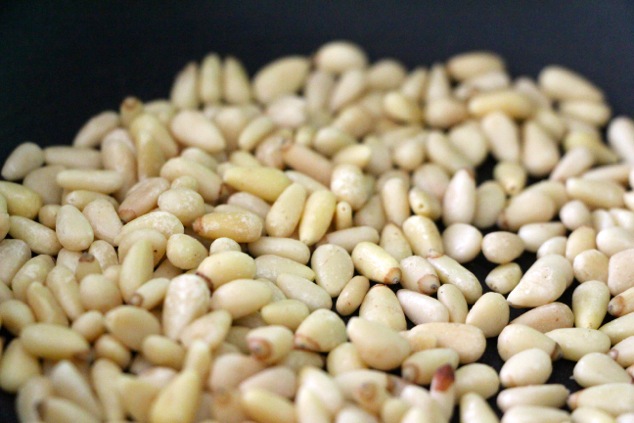 Remember, pine nuts are delicate and they get toasted pretty quickly. Keep an eye and nose on them, they'll be ready as soon after you start smelling them. Not to be dramatic, but one little distraction and the pine nuts are burnt.


Using a small food processor (or a blender) combine parsley, garlic and pine nuts, salt and pepper. I give the garlic a rough chop to help it along.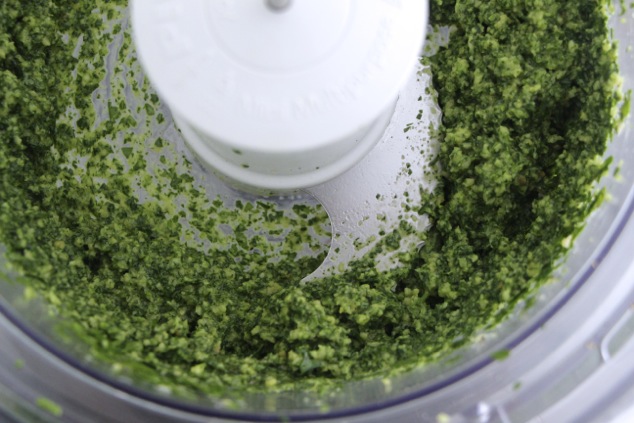 Blend together to a paste. While food processor is sill running, gradually add olive oil and process to smooth consistency.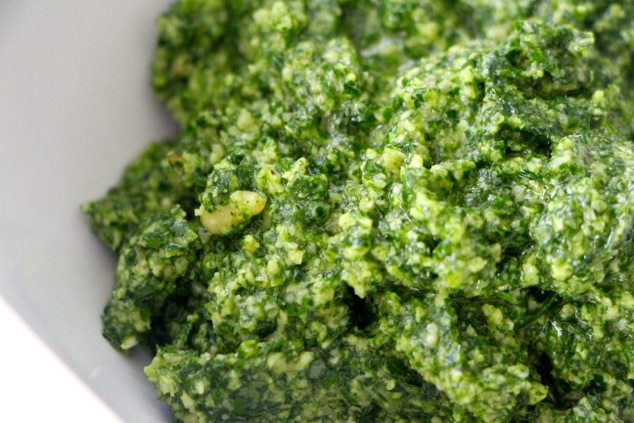 You have yourself Parsley Pesto!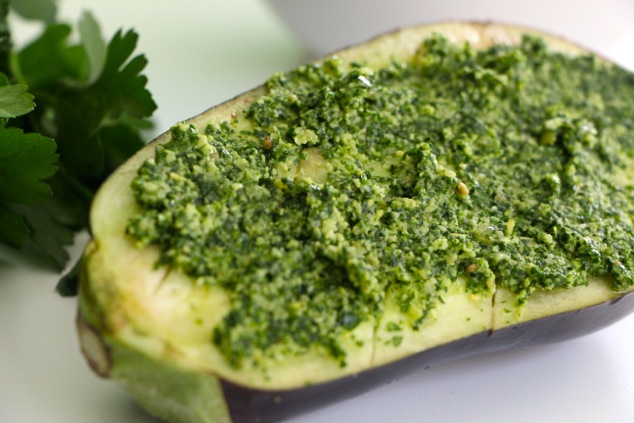 Apply the pesto evenly onto the face of the eggplants. This pesto packs a lot of flavor so make sure to push the paste all the way down into the slits as much as you can.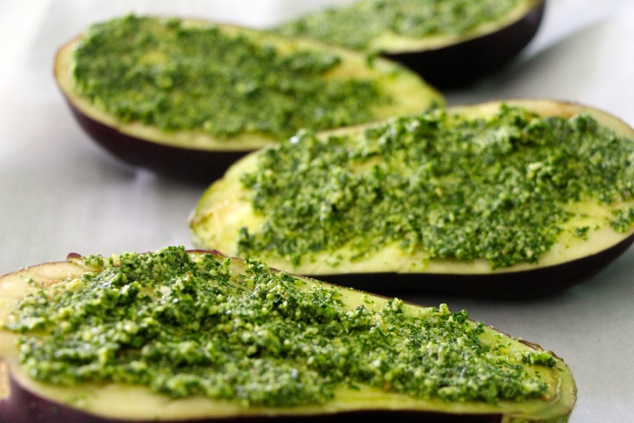 Arrange onto a baking sheet and send to a 400°preheated oven.


Bake for 35-40 minutes. Broil for 2 minutes.
Let's serve some eggplant!
The one MUST thing here for plating is the Tehina. If you ask me, Tehina and eggplant were separated at birth; in this dish, we bring them together. To create Tehina sauce we use raw Tehina (sesame paste) and combine it with lemon juice, a little salt and water. For step by step directions check out Afooda's Tehina post.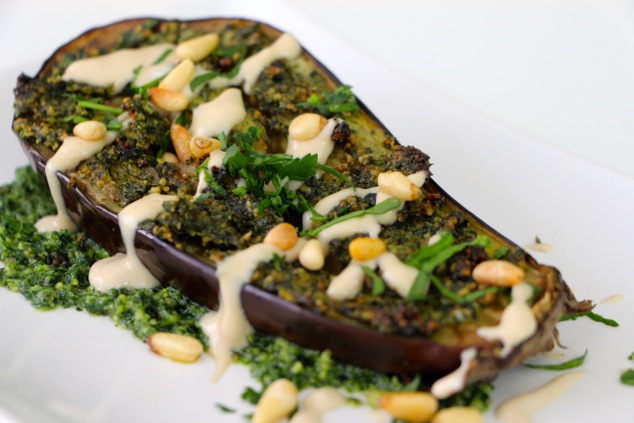 I use some of the fresh pesto to spread first onto the plate and placed the eggplant on top. Add Tehina sauce on top (the more the merrier), roasted pine nuts, chopped parsley and dust with a little sumac.
You will LOVE this!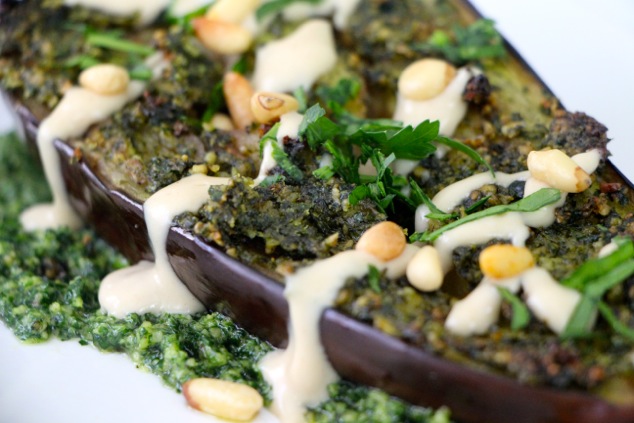 —————————————————————————-
Quick Recipe:
Roasted Eggplants with Parsley Pesto and Tehina-
Half the Eggplants and create checkerboard slits into the flesh.
Brush with Olive Oil and sprinkle with Salt.
Combine Parsley, Roasted Pine Nuts, Salt, Black Pepper and Olive Oil in a food processor into pesto.
Spread the parsley pesto onto the eggplants.
Bake for 35-40 minutes in a 400°preheated oven.
Broil for 2 minutes.
Serve toped with Tehina sauce.