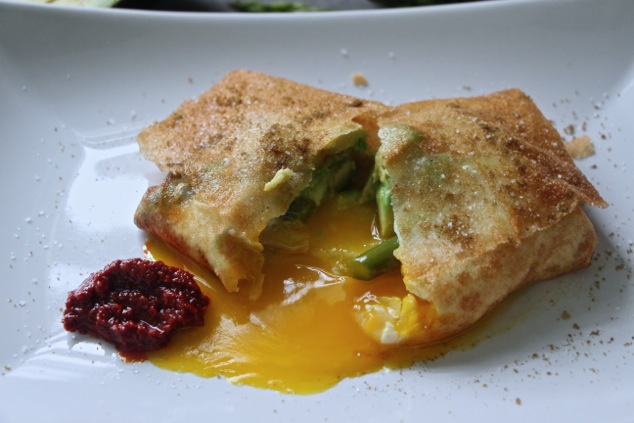 The times I close my eyes and imagine myself in my "happy place" I'm in an outdoor open market. That unique movement of smells, colors and sounds just carries me away. When I was growing up, Thursdays were (actually still are) known as "Shuk" days – market days in Ashkelon, my hometown. Once a week we would go downtown with my Aba (father) to check it out. The "Shuk" (market) was an open space that was spontaneously, unofficially organized with stands of food, clothes and many other goods. As a young child I was amazed by the busy, lively happenings. Later, when I was almost a teenager, I would take the bus there to meet up with my good friend and walk through the stands and people. Whether we would buy something or not, I was always a big fan of the experience – The "Shuk" (market) is a live environment with its own magical pace. Underneath the noise, colors and basic interaction it offers many stories and a deep understanding of people and culture.
When I visit a new place or we are on a family vacation, my favorite part is to find the local outdoor market place and get that authentic "Shuk" experience. I just love the feeling of being a part of an open market. I love finding favorite ingredients, eating heavenly street food, discovering new goods, but the best part of it all is being part of authentic and spontaneous human interaction – a true connection that is becoming such a rare occurrence nowadays.
On my latest visit to Israel, we went to one of the most veteran and central markets of Tel Aviv, "Shuk Hacarmel". This local Market is one of my favorite spots in Tel Aviv; diversity is the name of the game and it is such a true and beautiful representative of an Israeli experience. The smell brought me straight to one of "Shuk Hacarmel" known food stands – The Burika Stand.
Brik / Burika (bourika) is a Tunisian (also Libyan) traditional snack of unique paper-thin crepe dough stuffed usually with egg or mashed potatoes and then quickly deep-fried to crispiness perfection. Traditionally, Brik is served right away, warm along with Harissa, which makes it the perfect street food. At the market, as we were waiting for our Briks to fry, Kobi, the owner, was telling us that his Savta (grandma) hand-makes the Brik crepes. Beyond being so yummy, for me Kobi's Burika is a beautiful tribute to tradition. I even love his not so traditional serving way of Burika inside a pita with spicy fresh salad – it is so genius and so Israeli. 🙂 If you are in Israel, you have to check it out! …Meanwhile you can also drool all over "Haburika Carmel Market" Instagram gallery…
You will need:
4 Brik Dough Sheets
4 Asparagus
1 Avocado
4 Eggs
Avocado Oil/Canola Oil for deep-frying
Cumin
Salt
About Brik Dough:
Don't let the simple ingredients of just flour and water fool you, making Brik dough is a work of art. The ratio of flour to water and the fact that the dough mixture get to rest before used, allows it to become very flexible. The sticky mixture is then formed into paper-thin dough sheets in the shape of circles. The hardcore traditional way of doing it is to flip a big round pot over the fire and apply a small amount of the sticky dough right on the outer part of the hot pot using nothing but super skilled hands. The Brik cooks quickly and in a matter of seconds on both sides. Even though I have plans on mastering this work of art, I haven't had a lot of experience making Brik dough on my own. Growing up in Israel, Brik dough is widely available in many stores fresh or frozen. Here, I had to outsource online and I was able to find authentic Brik dough on Amazon; so until I master the art of making Brik dough by myself, this is what I prefer using nowadays when I'm in need for Brik.
Let's do this!
This time I'm taking Brik to the breakfast side with asparagus and avocado along with the egg… Get ready with the filling items; first blanch the asparagus. Cut or snap the asparagus ends (I usually cut about two inches off the end, but you can use the "snap test" to guide you).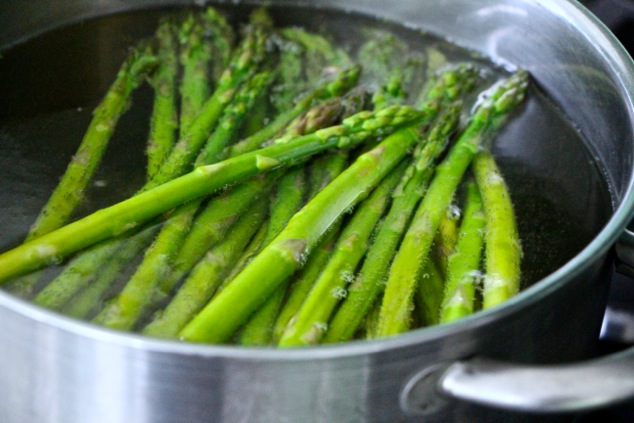 Drop the asparagus into boiling water. Allow the asparagus to cook for a couple of minutes.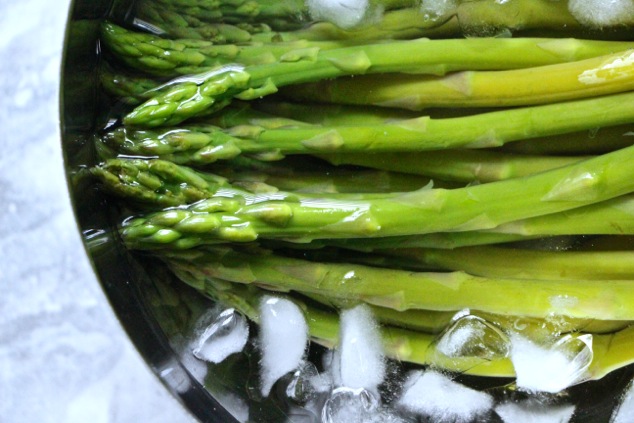 Remove the asparagus into a large bowl of ice water. This stage is known to cool off the asparagus and help them retain their bright green color. I have to admit; there are many times that I skip the "ice bath" stage and just let the asparagus cool on my cutting board. For some reason it is just not a huge deal for me. Trim the asparagus to fit the center of the brik.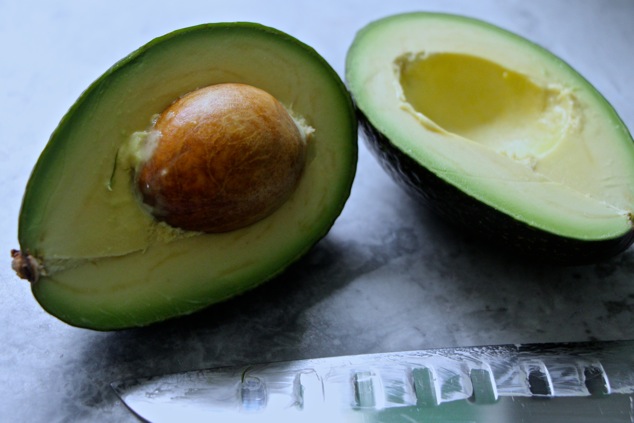 I Love avocado! …Lucky me this combination of asparagus, avocado and egg is so meant to be. 🙂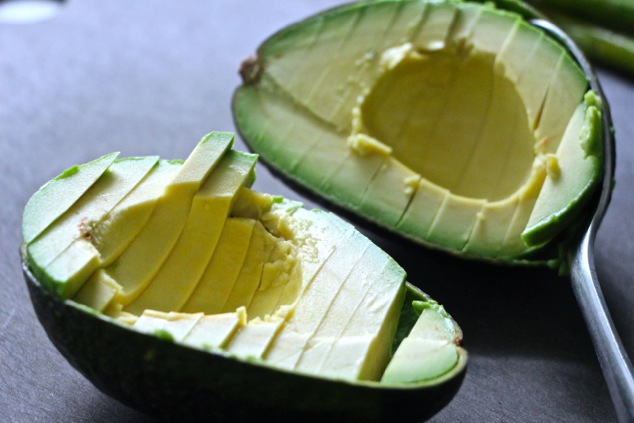 Cut the avocado into pieces.
Brik dough is very delicate; make sure to handle it with care. Lay one sheet of Brik dough on a flat surface.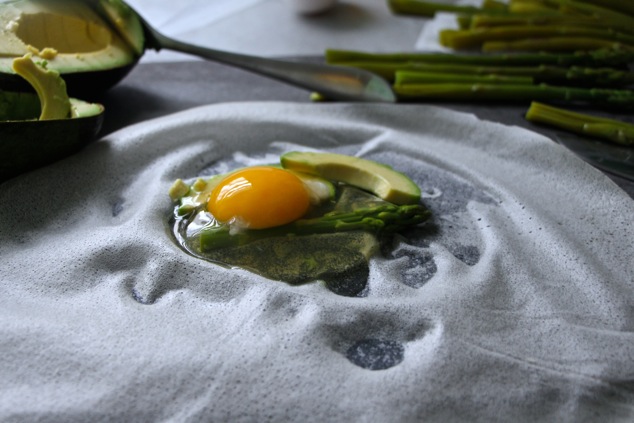 Place a piece of blanched asparagus and couple of avocado pieces in the center-top part of the circle.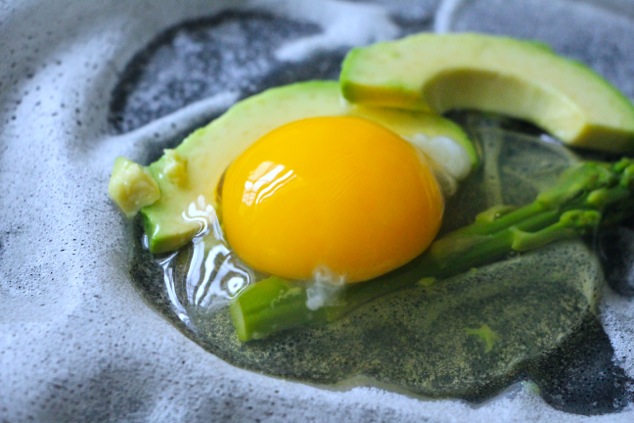 Break an egg carefully onto the asparagus and avocado.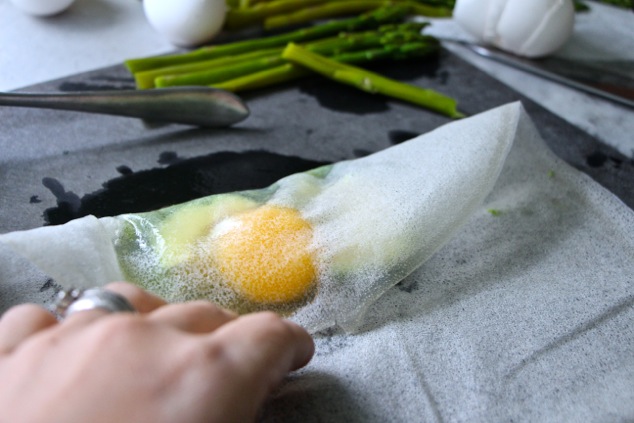 First, fold the top part forward over the filling items.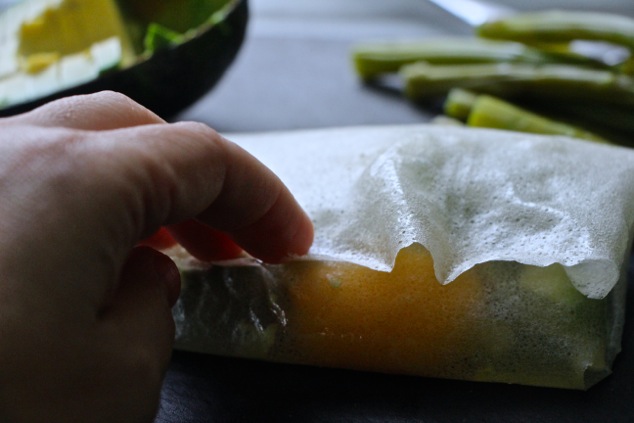 Next fold the sides in and continue to fold the dough over the filling. The egg white helps to "glue" and keep the pocket together.
Half-Deep-Frying
This is what I refer to when deep-frying occurs one side at a time and level of oil does not need to cover the item completely, but only half way. Use a wide tall edged pan. Make sure oil level is about 2-3 inches high. Warm the oil on a medium-high heat (if you like to measure… ideal temperature is 365°F)
Once all Briks are folded, carefully drop them seam down into the hot oil. Fry for almost two minutes on each side until the Brik is golden brown. For firm yolks (my kids and husband like their eggs well cooked) you may add another frying minute for each side.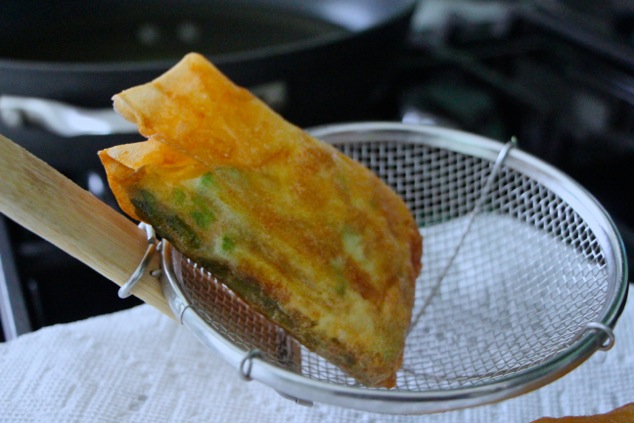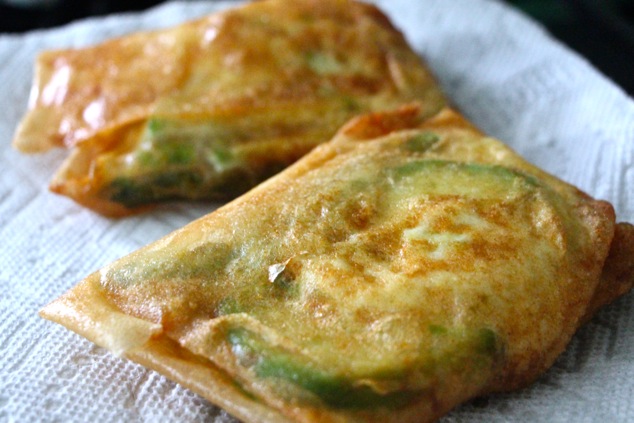 Remove Briks onto a paper towel to get ride of any excess oil.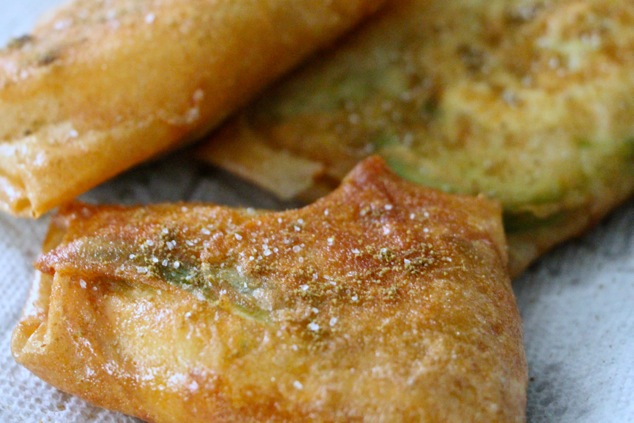 Dust the Briks with Cumin and Salt while hot.
The moment of truth… Let's cut into the Brik!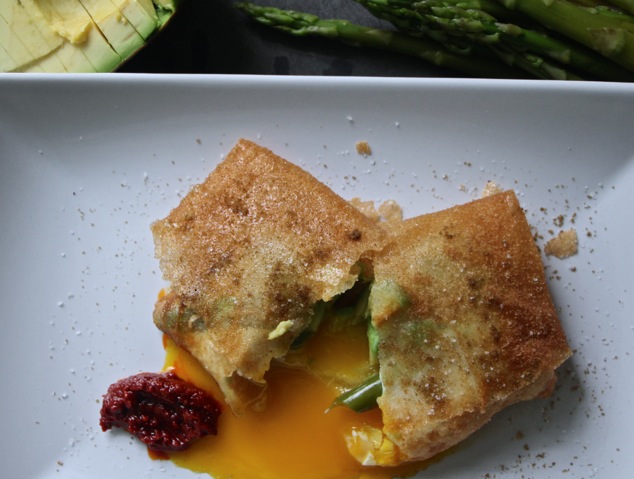 Serve warm along with Harissa and fresh salad.
—————————————————————————-
Quick Recipe:
Tunisian Brik-
Prepare one Brik at a time.
Use a deep-frying pan and warm the Oil on medium heat to 365°F.
Carefully place blanch Asparagus, couple of Avocado pieces and an Egg into the top-center part of the Brik dough.
Gently fold the top part of the dough forward, fold the sides in and continue to fold the dough over the filling.
Place the folded Brik aside onto a parchment paper.
Continue folding all Briks using the same method.
Once all Briks are folded, carefully drop them seam down into the hot oil. Fry for almost two minutes on each side until the Brik is golden brown. (*For firm yolks you may add another minute).
Remove Briks onto a paper towel and dust with Cumin and Salt.