When I say Purim, you say… Most people will say Hamentashen, right?
Purim is yet another great and very HAPPY Jewish holiday. It is based on a story from the time when the Jewish people lived in the kingdom of Persia and were saved from extermination. The story is magnificent with surprising, dramatic and even comic elements and the holiday is filled with meaningful concepts, symbolic customs and foods.
One of the major customs is to have a generous Purim feast. The Tunisian tradition is up for the task of course 🙂 and the holiday table is filled with various dishes such as beautiful salads, Maa'kuda, Ful Bel'Kammun, meat on the grill and chicken dishes and a special homemade Purim bread called "Zradak". One dish in particular got the honor to be call a "Purim Salad" or "B'sal U'Maa'dnus" (which literally means "onion and parsley" – the stars of this salad!). It is the freshest salad you'll ever meet and the combination of simple flavors works a special magic that can only occur on this holiday. There are so many reasons to love this salad; it is simple, straightforward, healthy and tasty… I love it mostly because of its fresh concept, which proves that traditional holiday dishes don't have to be complicated, fattening, or heavy …
Green or Black – Do you know the difference?
This salad traditionally calls for black olives, they are mature with soft texture and add a perfect flavor to this salad. However, Tunisian cuisine is a big fan of olives in general so I say any olives are fine here 🙂 and since we are talking about olives… Did you know that the color of an olive indicates how ripe it is when picked? Green olives are picked before ripening – they are usually firm and smooth verses black olives that are picked while or after ripening – they are softer and wrinkly. And if you were wondering about the flavor… I find that ripeness mainly affects the texture of the olives but not so much the taste….
You will need:
Parsley
Green Onion
Purple Onion
Radishes
Olives (black)
Cherry Tomatoes
For the Dressing:
2 tbsp. freshly squeezed Lemon Juice
½ -1 tsp. Harissa
2 tbsp. Olive Oil
½ tsp. Salt
¼ tsp. freshly ground Black Pepper
Let's do this!
First and for most, look at all these beauties! This will be the freshest, yummiest salad EVER! 🙂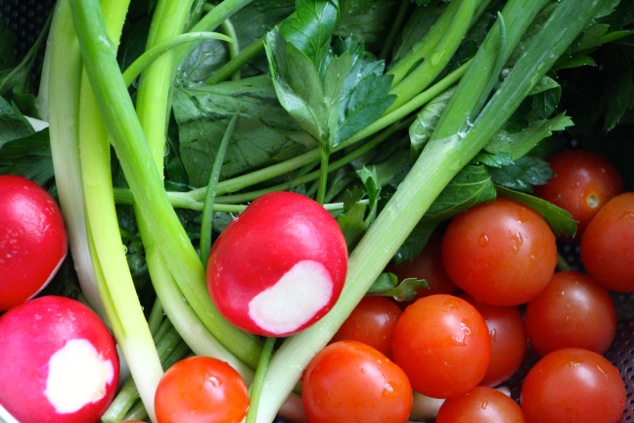 Let's wash all the greens and all the veggies super well. We want absolute freshness; so get rid of any brownness or wiltiness. Shake excess water and allow the greens and veggies to rest aside and dry for just a bit.
For our star the parsley- harvest the leaves off the stems and chop roughly.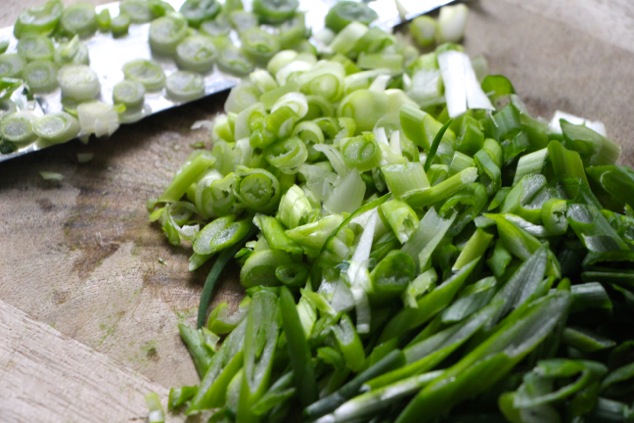 Next, roughly chop the green onions. The green part is the BEST for this salad, but a little from the white part is great too… I like to chop the green onions diagonally and when I get to the white part (since it has a different texture) I chop it into small circles.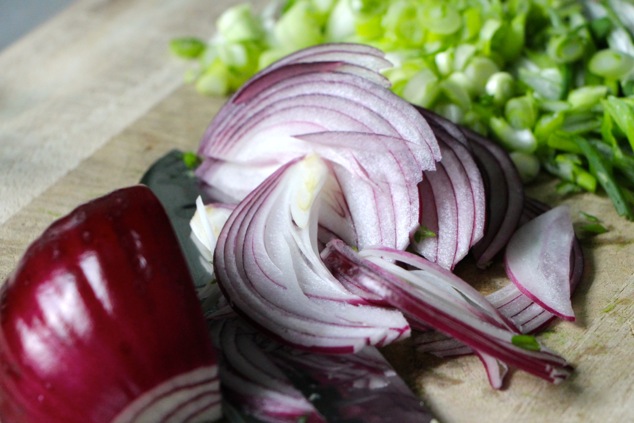 Next is another beauty 🙂 Purple Onion… Chop it thinly.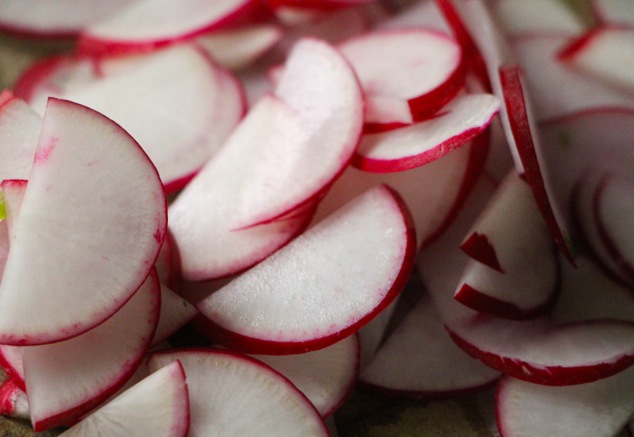 I halve the radishes and chop them thinly as well.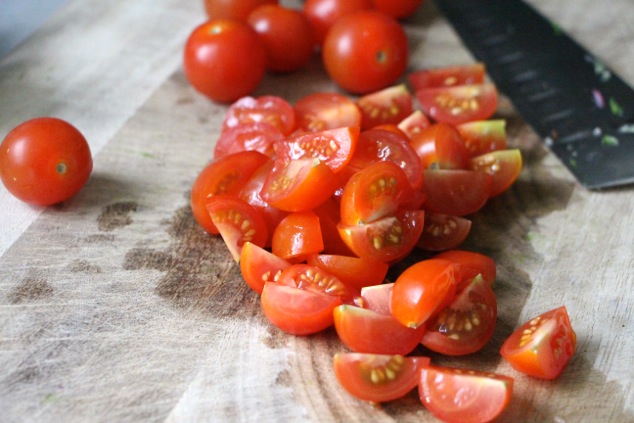 My cherry tomatoes are on the larger size, so I decide to quarter them. If yours are smaller or you are using grape tomatoes, halving them is just fine.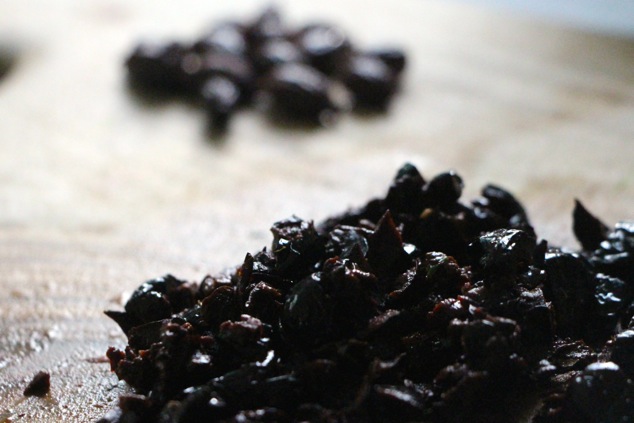 Last but not least are the olives… I take the pits out and chop them roughly.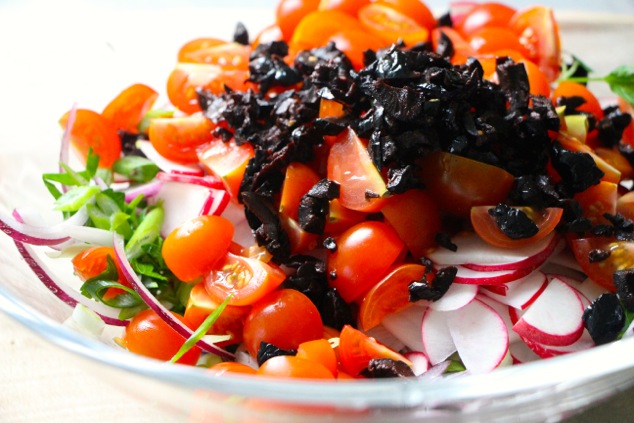 Pile all of our friends in a large bowl.
Let's make the simple dressing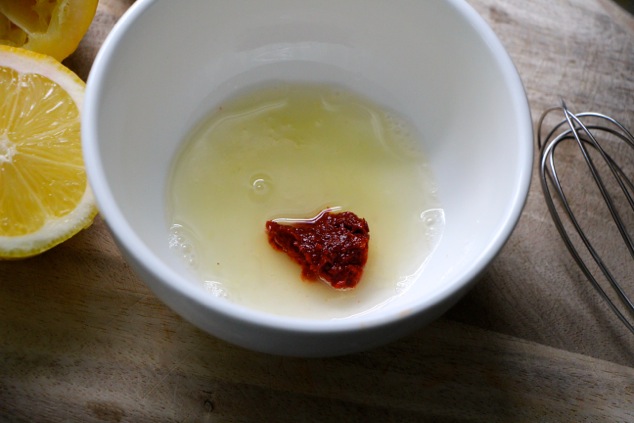 In a small bowl combine freshly squeezed lemon juice and Harissa.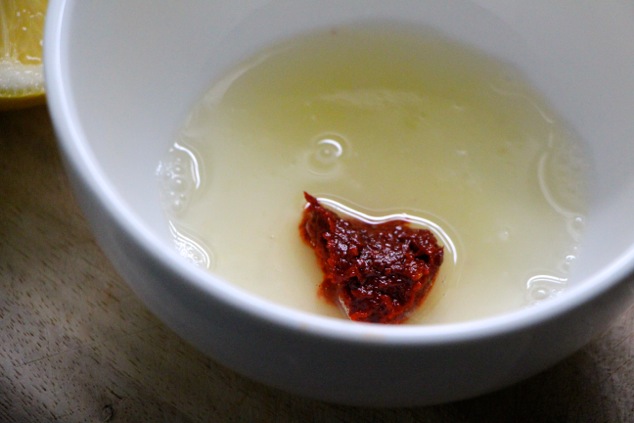 This smells AMAZING already…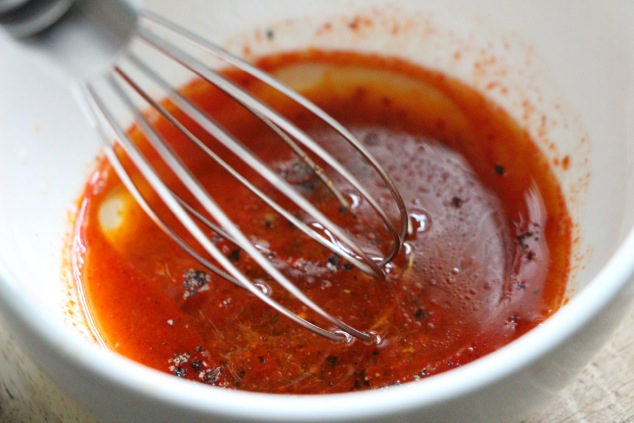 Next just add the salt, pepper and olive oil and whisk away until the dressing is unified.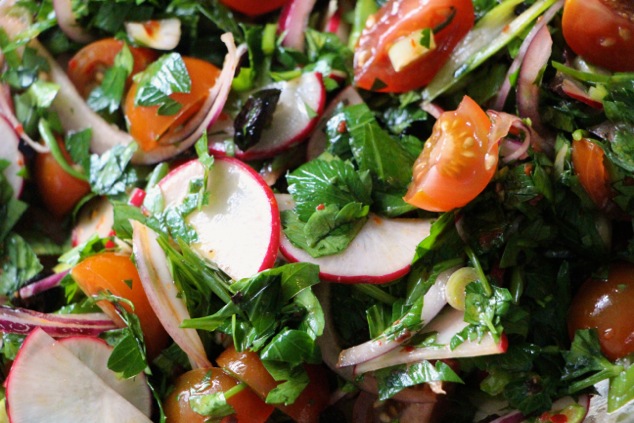 Ready to serve? Pour the dressing on the fresh salad and give it a gentle toss. Just a couple of the 'lift and drop' motions to make sure the dressing is coating everything.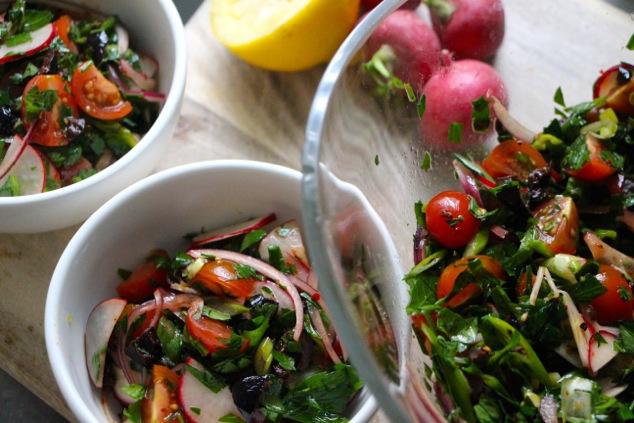 Look at all this natural beauty!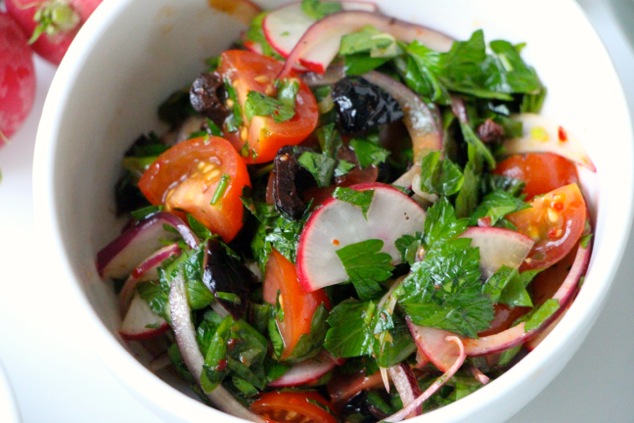 Time to serve and enjoy!
—————————————————————————–
Quick Recipe:
B'Sal U'Maa'danus –
Wash all greens and veggies well.
Roughly chop Parsley and Green Onions.
Thinly slice Purple Onion and Radishes.
Halve the Cherry Tomatoes.
Roughly chop the Black Olives.
Gently toss with the salad dressing right before serving.
For the Dressing:
Combine: Lemon Juice, Harissa, Salt, Black Pepper and Olive Oil.
Whisk well to unify.