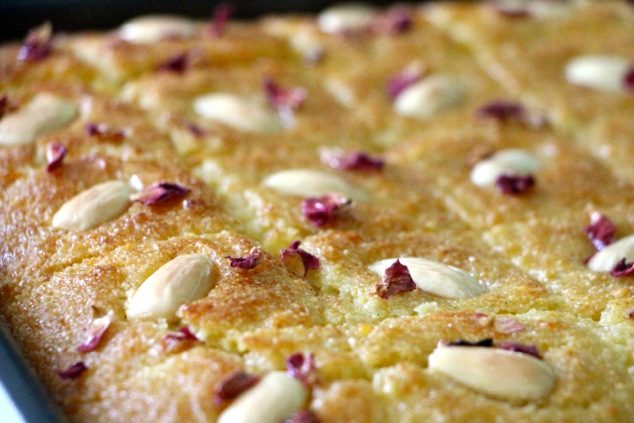 What a cake! …Where do I start? This Middle Eastern/North African cake highlights common dessert ingredients of these regions' cuisines. The world of semolina, almonds and oranges creates a cake that is unique in texture and in taste. Basbusa is then topped with "Asal" – traditional syrup combined of sugar, lemon and rose extract and the result is a culinary experience that takes you to a very happy and sweet place 🙂 I love that Basbusa is pre divided into pieces. They each get a special treatment with an almond on the top and the syrup soaking in… So when you get a piece it seems like it was created just for you…
Basbusa is one of my favorite cakes, but I am not the only one who's completely 'head over heels' with this sweetie… its AMAZING citrus scent and flavor completed with a hint of rose aroma and its unique texture make Basbusa very popular in Israel. It is a "go to" dessert made at home and a "must have" sweet in many cafés.
Let's get some meaning…
"Basbusa" means "just a kiss".




A kiss to me is a powerful ongoing concept that crosses over cultures and societies. The power of a kiss can be found in songs, in art, in stories and in movies and it carries a message that anything is possible in this world when we express the power of love with just a kiss. Thinking of a kiss takes me back to times when my children are hurt or devastated and a kiss can make everything better. It also takes me back to my teenage years when feelings are so absolute and passionate, yet innocent and real. Just a kiss is enough to overcome any challenge; moreover, ANYBODY holds that magical power within themselves – how WONDERFUL is that! This finding is parallel to Basbusa that on the inside tastes unique, complex and sophisticated, but on the outside looks simple and naïve. All you need is just a piece (or two) to make everything better. 🙂
You will need:
3 Eggs
1 cup Sugar
1 tsp. Vanilla Paste (or Pure Extract)
1 cup Ricotta Cheese
½ cup Canola Oil
1 tbsp. Orange zest (the zest of couple of oranges)
1 cup Orange Juice (freshly squeezed)
1½ cup Semolina
1 cup Flour
1 cup of ground Coconut
½ cup Almond Flour/Mill
1½ tbsp. Baking Powder
*Oil Spray
For the 'Asal' Syrup:
¾ cup Sugar
1½ tbsp. Lemon Juice (freshly squeezed)
½ – ¾ cup Water
1 DROP Rose Extract
1 DROP Zahar Extract (optional)


For the Topping:
Blanched Whole Almonds (about 30)
Rose Petals
Let's do this!
You know how it goes… it is first wet ingredients and then dry ones. I usually whisk this cake by hand, but if you want, you can use a stand mixer to do the work for you.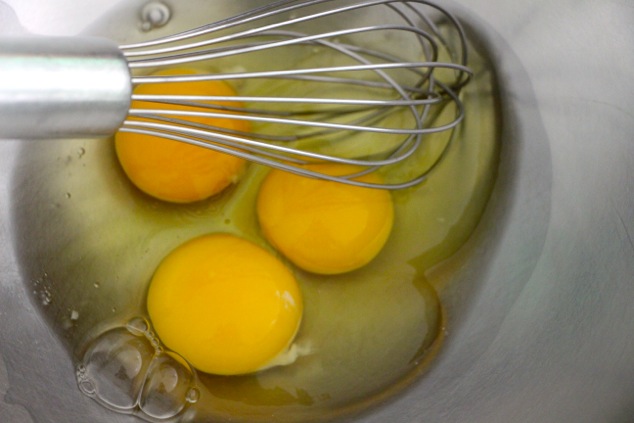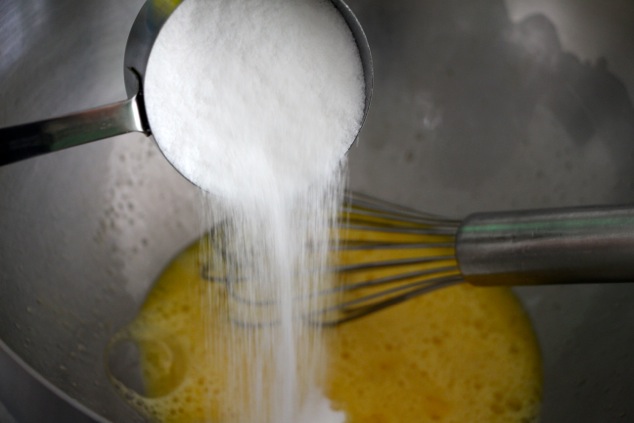 Let's start with the eggs and the sugar. Whisk the eggs and gradually add the sugar.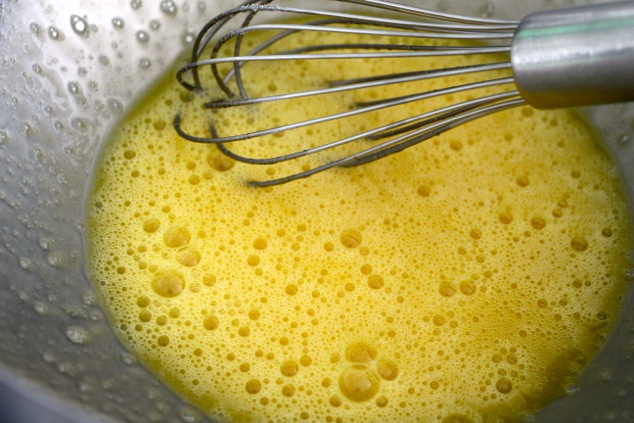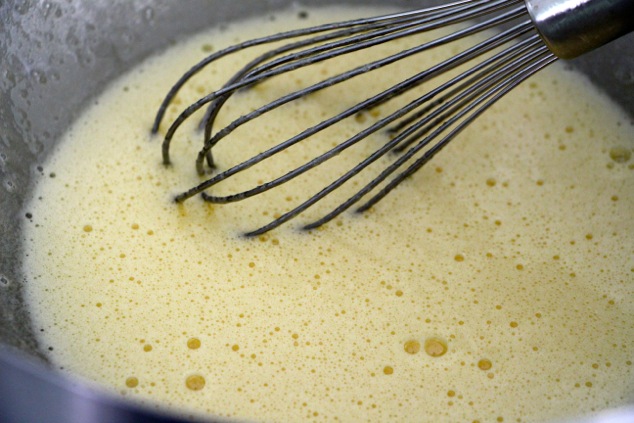 Whisk until the eggs and sugar are light and fluffy. Add vanilla paste.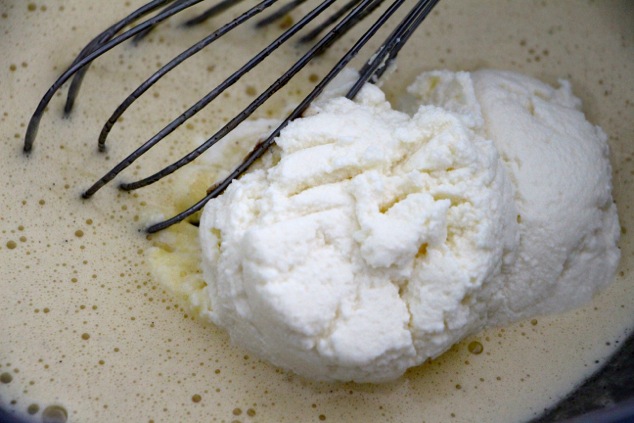 Add the ricotta cheese and continue whisking.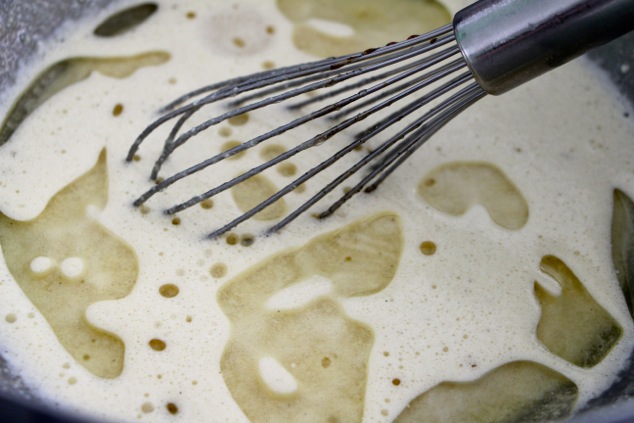 Time to add the oil, whisk it well to combine into the mixture.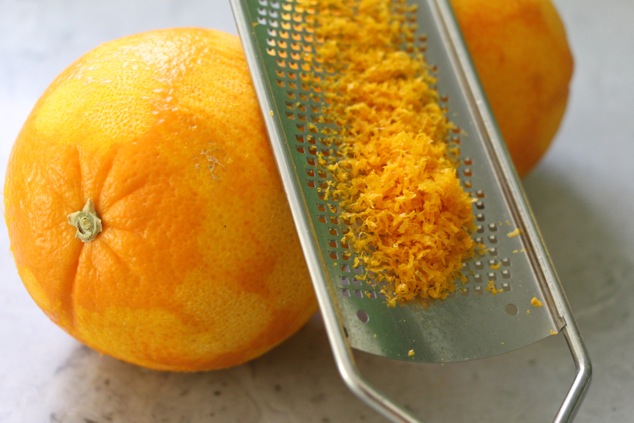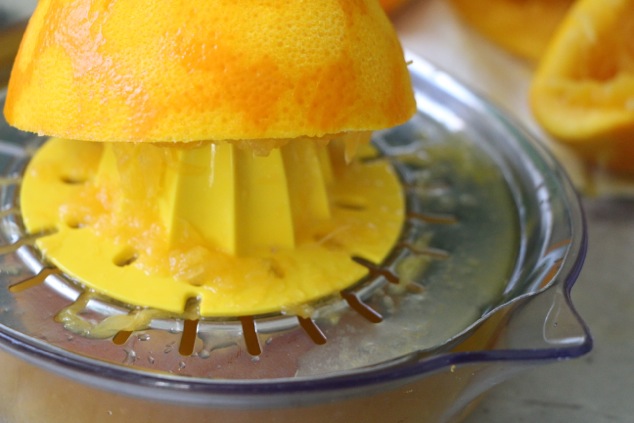 My two big oranges were juicy enough to make more than one cup of orange juice. First zest and then juice – it will make your life much easier 🙂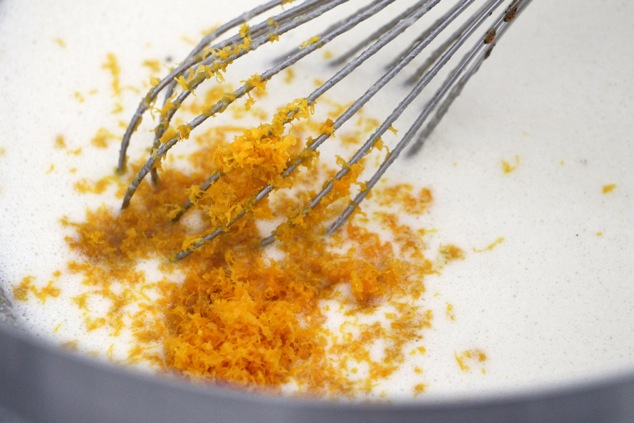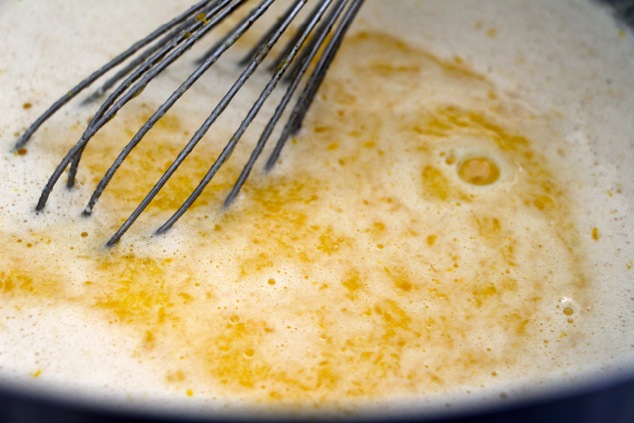 Add the zest and the juice and combine into the mixture.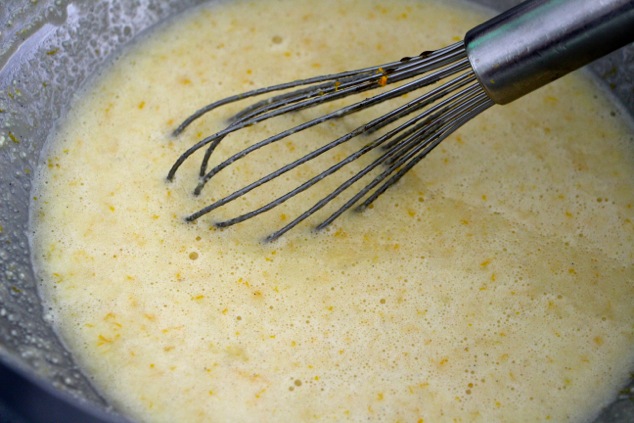 This smells AWESOME! Time to add the dry ingredients; at this point I switch the whisk into a spatula.
I like to sift the flour and baking powder in first and mix with a spatula.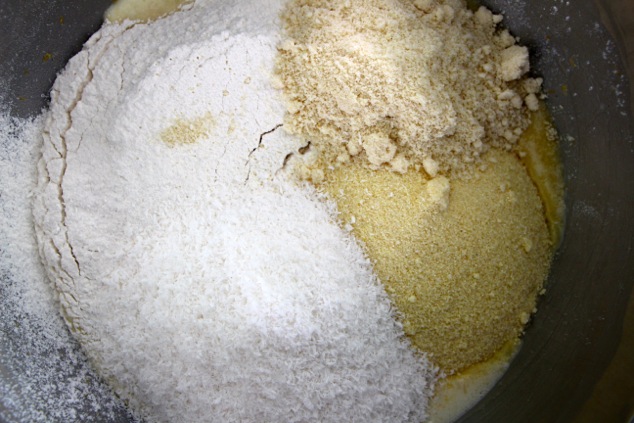 Then add the semolina, almond mill and ground coconut.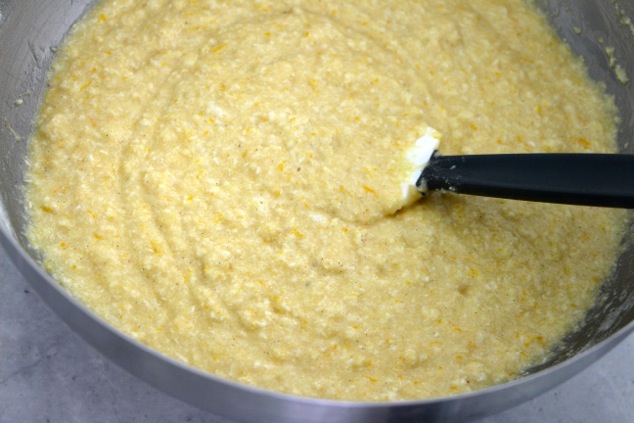 Mix into a unified batter.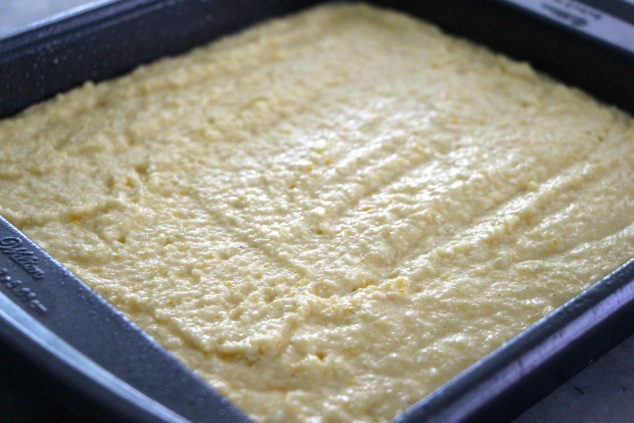 Pour the cake batter into a 9x9x2 inches lightly sprayed square cake pan.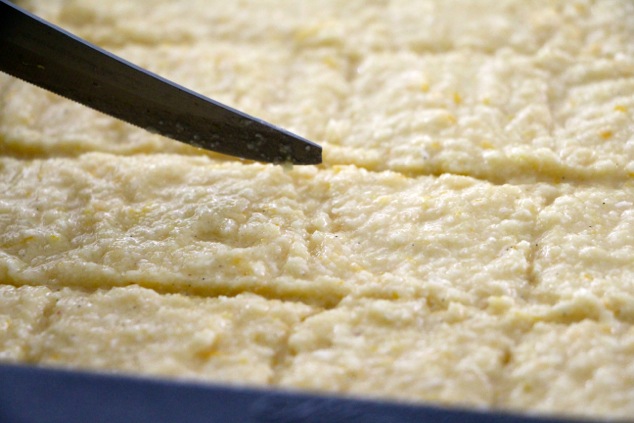 In order to place each almond in the center of each future cake piece, we need to lightly cut lines into the cake to create even square pieces. Use a knife and cut just the surface of the cake.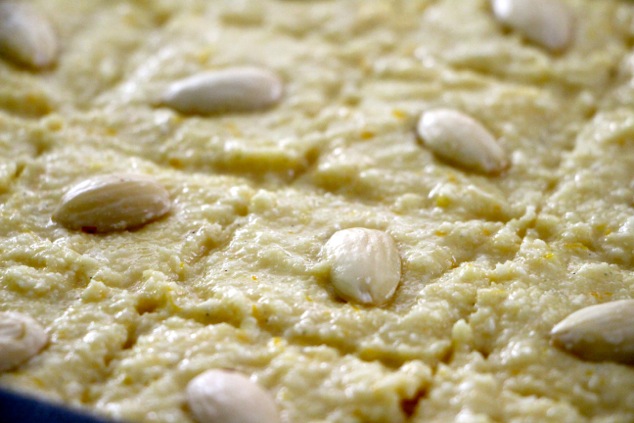 Place each almond on top of each piece right in the center.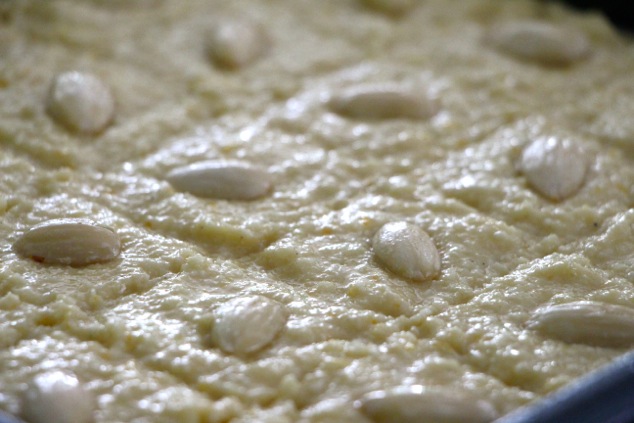 Use oil spray to lightly spray the top of the cake, this will help it to get a nice color on the top.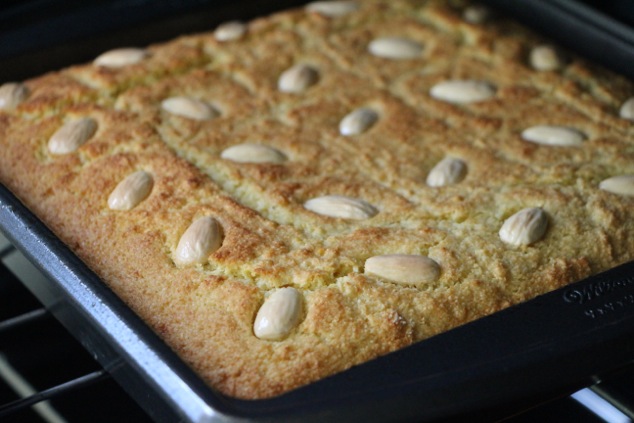 Bake in a preheated oven at 350°F for about 45 minutes until the cake is stable and the top is golden brown. A few minutes before the cake is ready, I make the syrup. It is very easy and takes no longer then 10 minutes.


In a small saucepan combine sugar, lemon and water. Cook on medium heat and stir allowing the sugar to dissolve. Bring to a gentle boil.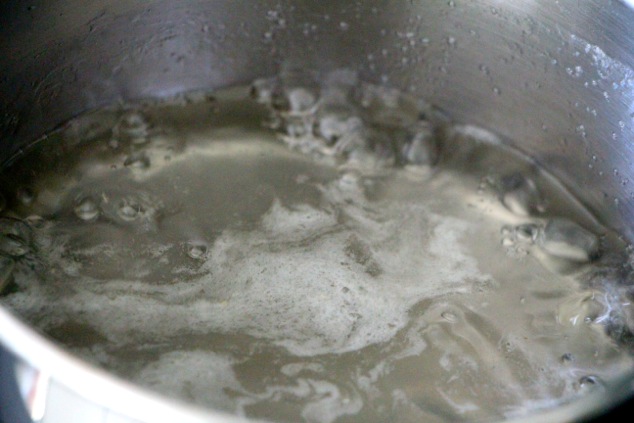 The syrup will start coming together once it starts forming small bubbles and becomes slightly sticky. Check the syrup texture between your fingers or on a spatula. Once the 'Asal' is ready and the heat is off, add ONE DROP of rose extract and Zahar extract and mix it in. If you are using EXTRACT (vs. rose water) don't be tempted to add any more than one drop. Rose (and Zahar) extract are very powerful and even one more drop of it can make you feel like you are eating perfume…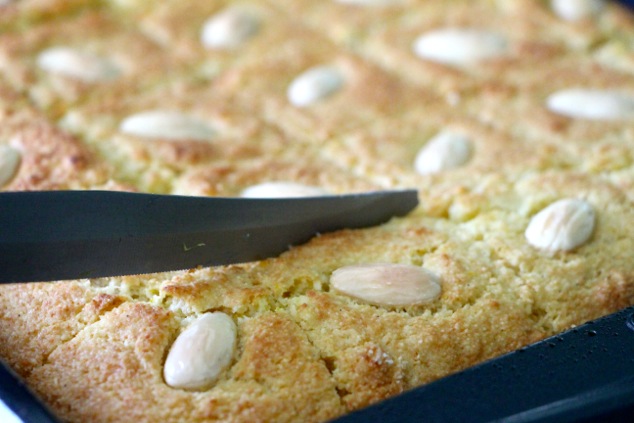 Once the cake is out of the oven, the lines we created earlier mostly disappeared, so use a knife to lightly go over the lines again. Cut only half way into the cake. Place one or two of rose petals onto each cake piece. Besides the décor effect, it gives a hint to this cake's unique flavor.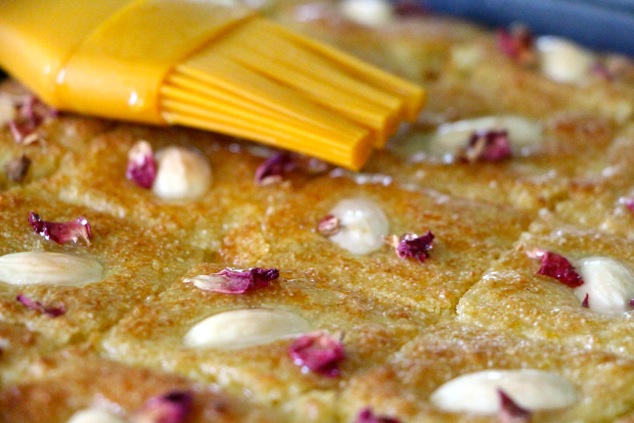 Now you may apply the syrup – I use a silicone baking brush and slowly go over the cake a few good times until all syrup is used up.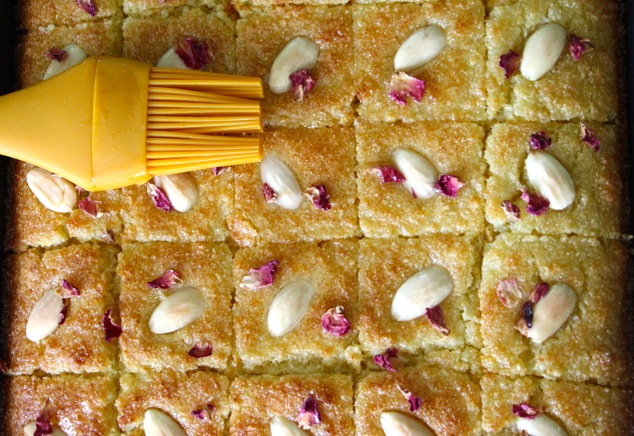 I LOVE edges, so these areas get a little extra syrup treatment from me 🙂 Allow the cake rest and set for about an hour before cutting into it.
Enjoy and Kisses from me …
—————————————————————————–
Quick Recipe:
Basbusa-
Whisk Eggs and Sugar to a light and fluffy mixture.
Add Vanilla Paste and Ricotta Cheese and whisk to combine.
Add Canola Oil, Orange Zest and Orange Juice and mix well.
Sift in the Flour and Baking Powder.
Add the Semolina, Almond Mill and Ground Coconut.
Mix into a unified mixture.
Transfer batter into an oil sprayed square cake pan.
Mark lines by cutting half way into the cake to create pieces.
Place Blanched Almond on each piece.
Bake in a preheated oven at 350°F for about 45 minutes.
Recreate the pieces marks on the cake but cutting half way into the cake.
Add couple of rose petals onto each piece.
Brush the 'Asal' onto the cake slowly and evenly.
For the 'Asal':
Combine Sugar, Lemon Juice and Water and bring to a gentle boil.
Dissolve Sugar and cook until small bubbles surface.
Check for syrup slightly sticky texture and turn the heat off.
Add ONE DROP of Rose Extract and ONE DROP of Zahar Extract.