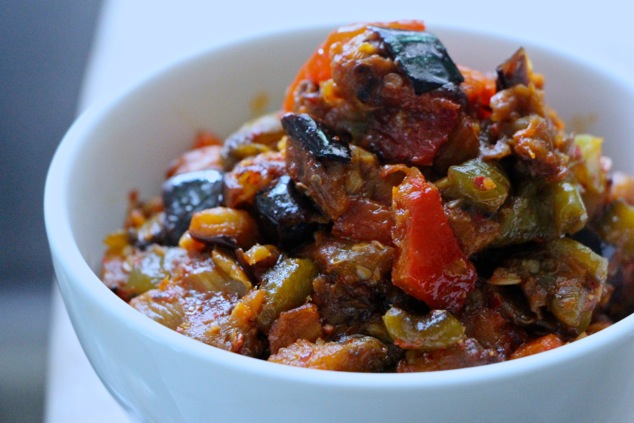 Besides having a cool and fun name, 🙂 Ajloog is a flavor combination of eggplant, roasted peppers, garlic, lemon and Harissa… and yes, Ajloog is another member of the Tunisian S'latas family…
On Afooda's previous posts, I had a chance to tell you about this awesome part of Tunisian cuisine – S'latas! Tunisian cuisine is known for its huge variety of small opening dishes that are referred to as "S'latas" (salads). They each have a unique taste that highlights Tunisian flavors. Moreover, they all have relatively simple preparation; they are healthy and flavorful and meant to work up an appetite before the meal… S'latas are my absolute favorite part of Tunisian cuisine! My Savta (grandma) always had different S'latas as 'go to' snacks or for unexpected guests who just popped in to say "Hello".
Traditionally, the eggplants in Ajloog are cooked until soft and then puréed into this salad. Personally, I like to cut them into small cubes and sauté them in olive oil – this way I can enjoy the eggplants' flavor and texture.
You will need:
⅓ cup Olive Oil
1 large Eggplant
1 Green Bell Pepper
1 Red Bell Pepper
4-5 large Garlic cloves
1 tbsp. of Lemon Juice (the juice of one lemon)
2 tsp. of Lemon Zest (the zest of one lemon)
1 tbsp. Harissa (or Red Hot Pepper)
1 tsp. Sweet Paprika
¼ tsp. Black Pepper
1 tsp. Salt
Let's get to work!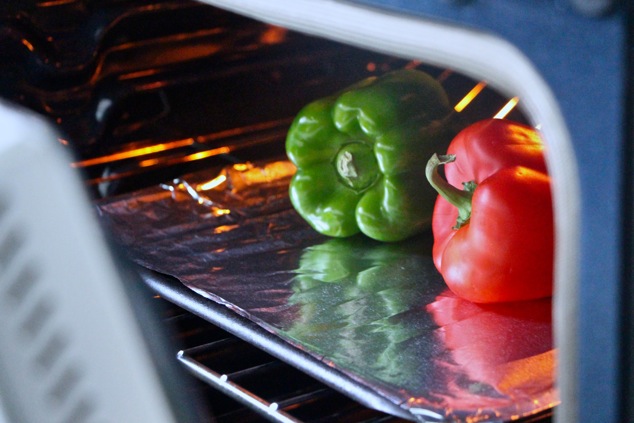 First, let's roast some peppers!
[Remember the first time we roasted peppers together…? it was on Afooda's S'lata Mashwiya Post.]
Wash the bell peppers and arrange on a flat tray lined up with aluminum foil. Set the oven on high broil and roast the peppers.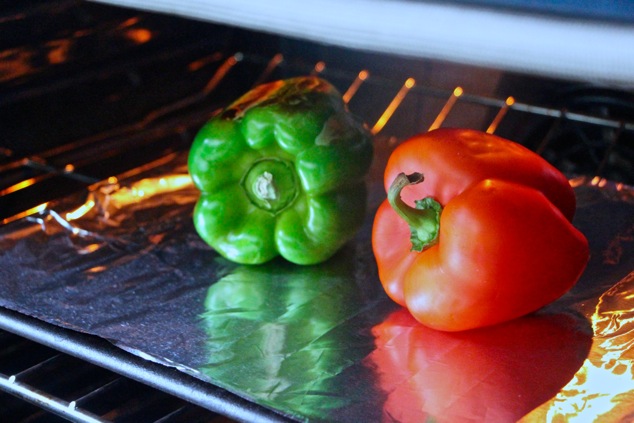 To achieve depth of flavor we need to char/burn the skin. Use tongs to rotate the peppers every few minutes so they will get evenly roasted.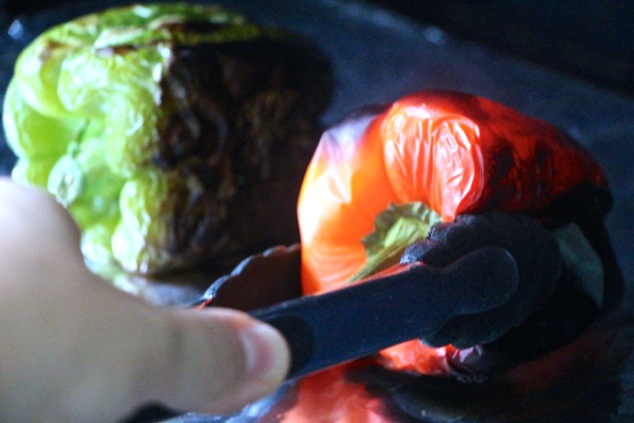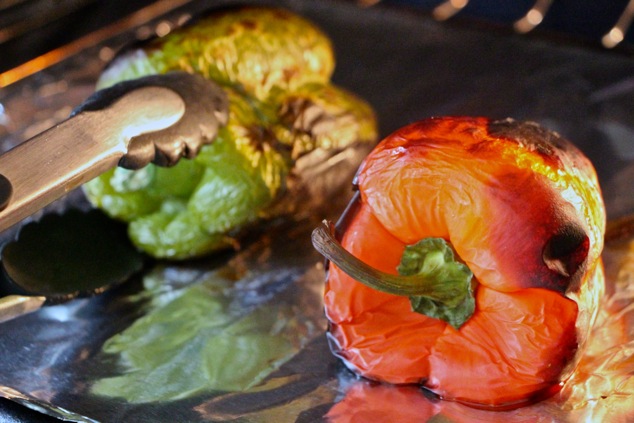 All together this may take 20-25 minutes, but just keep an eye and nose on them; you will know when it is time to rotate the peppers by the aroma and the dark/black color.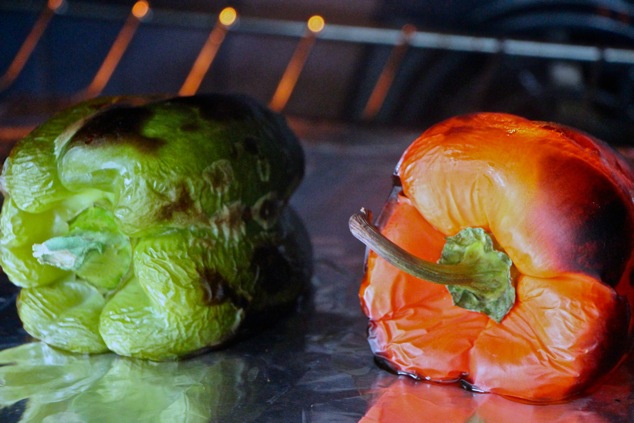 Once all peppers are broiled well, take them out of the oven (they are super HOT so use tongs!).


Transfer the peppers into a sealed plastic bag. Make sure the bag is sealed well. This stage makes taking off the skin such an easy task. This is when I usually take a little coffee break since the peppers need to sweat in the sealed bag for 15-20 minutes. …Or if you up for multitasking you can work on the eggplant and use this time to start on the salad.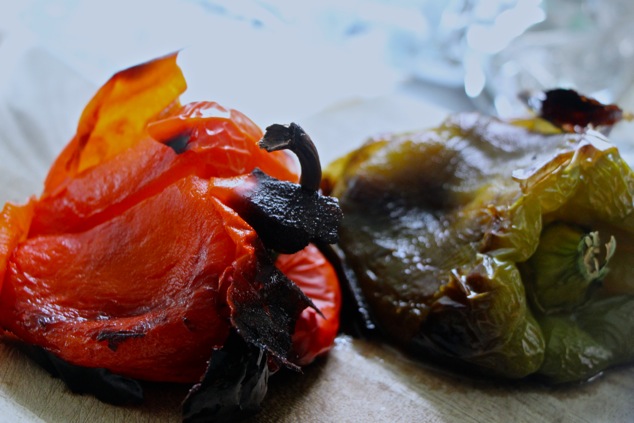 Time to peel the peppers. After steaming in the sealed bag, you really don't have to work very hard – the skin comes right off.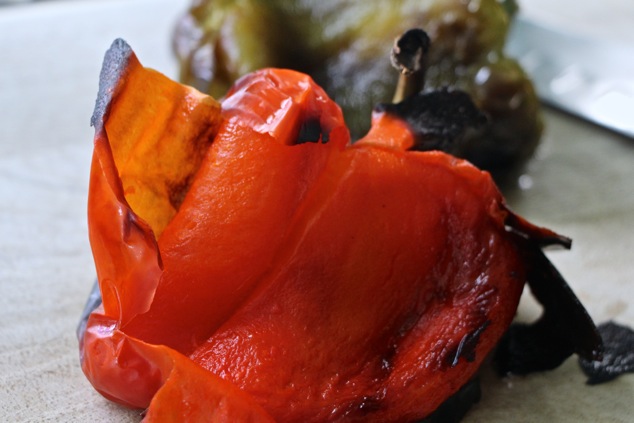 Remove the seeds, stem and connecting pieces. You may have a few stubborn seeds stick to your hands or pepper; you can always wash your hands, but whatever you do- DO NOT WASH THE PEPPERS! Washing the peppers will take away from their wonderful roasted flavor and we don't want that.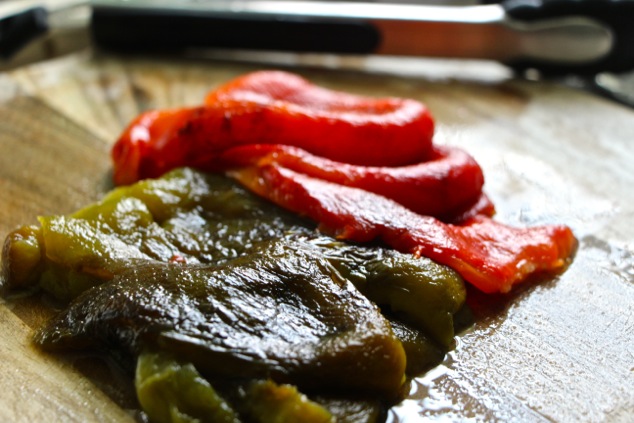 The roasted peppers are ready!
Now let's get eggplant busy…
I like to use a wide pan so I can arrange most eggplant cubes in one even flat layer. My pan is 13 inches wide. Start by coating your pan with olive oil and warm it to a medium-high heat.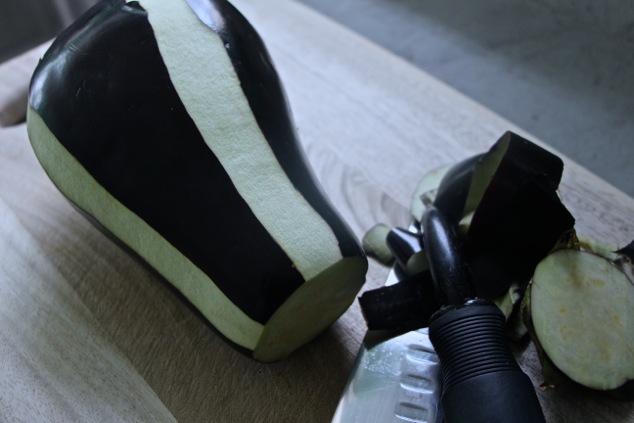 I like to partially peel the eggplant…some skin, but not too much skin… I like to call it "Zebra Peeling" 🙂 Then cut your eggplant into small cubes (a little less than inch in size).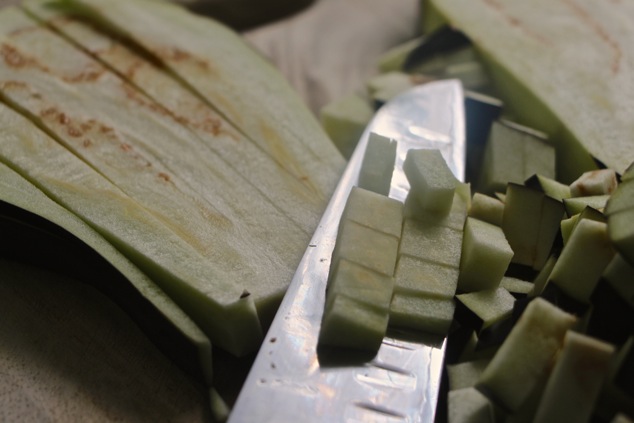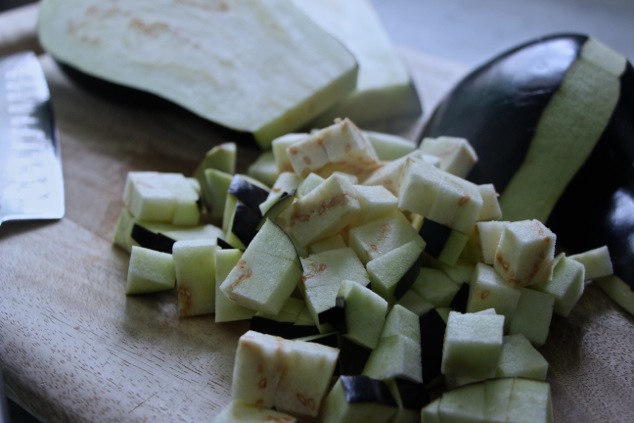 The easy way is to cut the eggplant lengthwise two-three times, continue to cut into strips and then cut into cubes… Make sure the cubes are unified – this way they will cook evenly.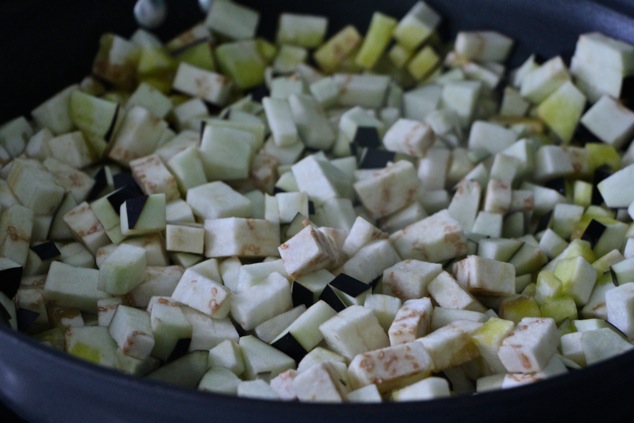 Add the eggplant cubes to the hot oil and arrange them in one layer. Be careful the oil is HOT! Please don't worry if you see the oil disappear; eggplants are known as oil sponges at first, but if you continue to cook them on medium-high heat the oil will reappear in the pan.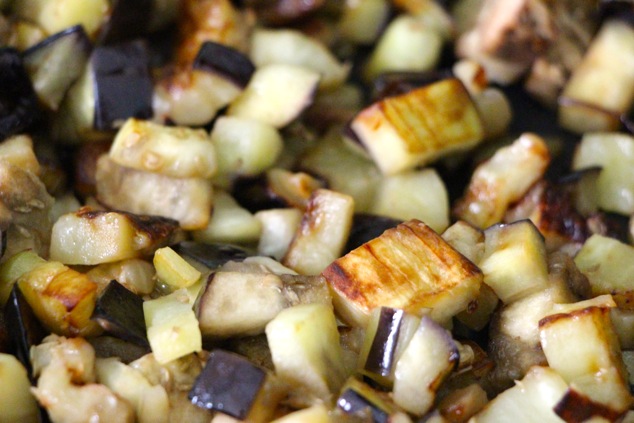 After about 6-7 minutes the bottom of the eggplant cubes start to get golden or light brownish color. At this point turn them over using a spatula or a slotted turner to get the other side brown too.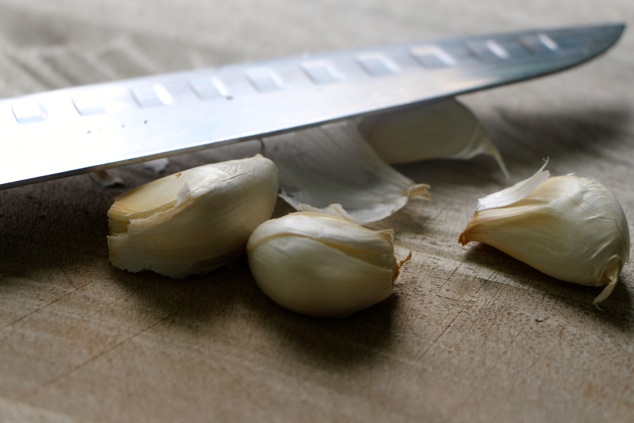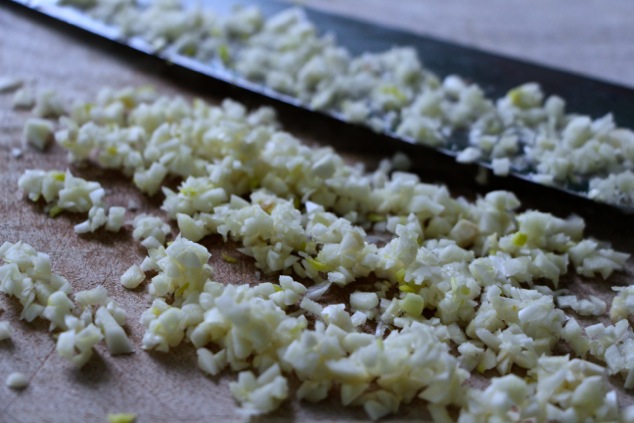 Meanwhile finely chop the garlic cloves.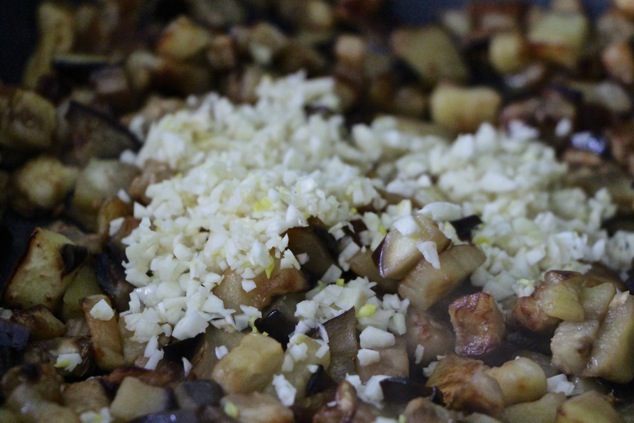 As the eggplant starts to change color and soften, add the garlic to the pan. Mix and cook these guys for about a minute.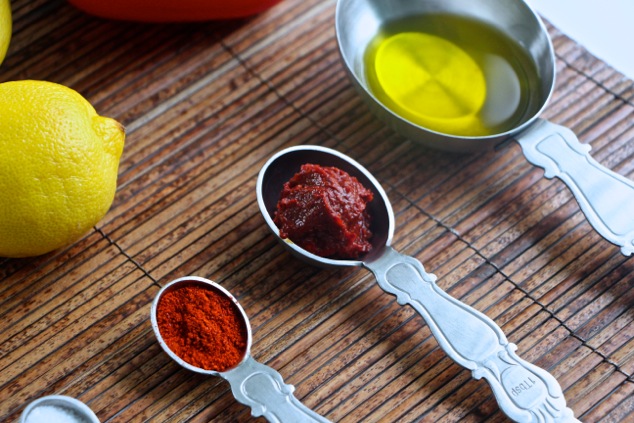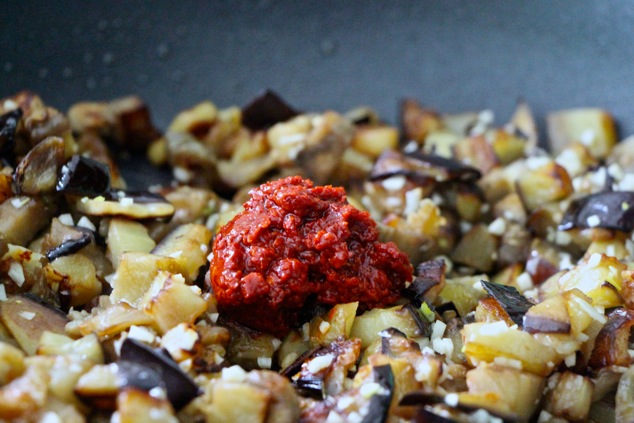 Next, add the Harissa and mix it in. You can make your own homemade Harissa. [Checkout Afooda's Harissa post] If you do not have Harissa- it is not a deal breaker; instead you may use your favorite red hot pepper chopped finely or even use dry red hot pepper flakes.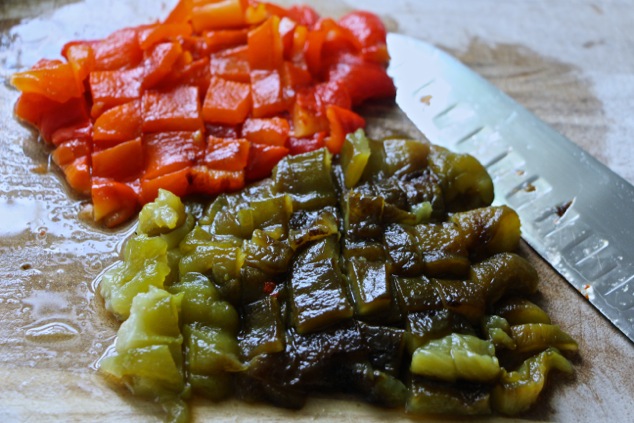 Chop the roasted peppers.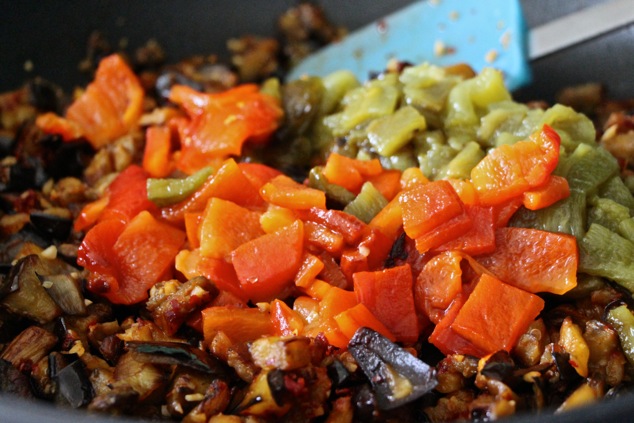 Add the chopped roasted peppers to the pan. Mix well. Cook for a couple more minutes still on medium-high heat.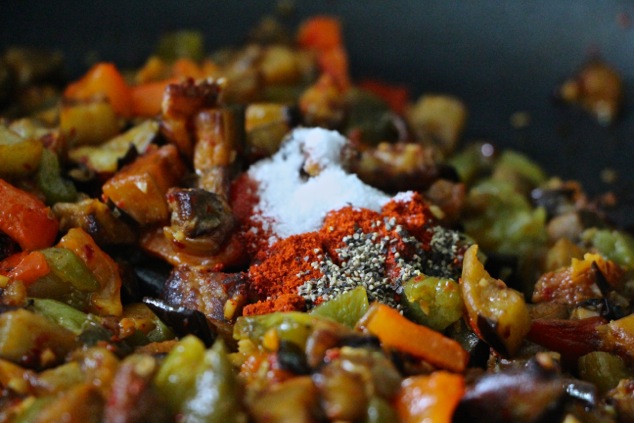 Time to add the spices and salt. Cook together for another minute.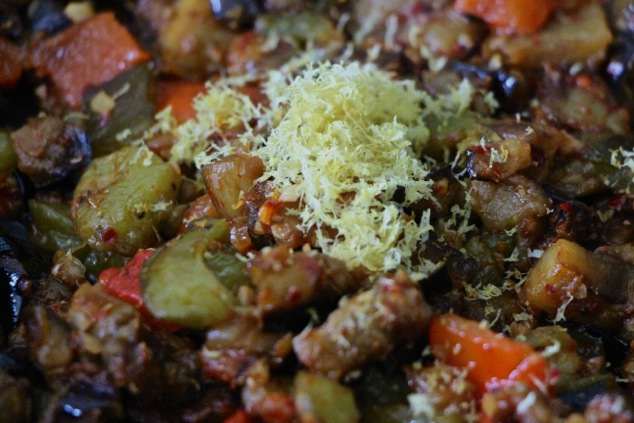 Zest one lemon and add to the pan.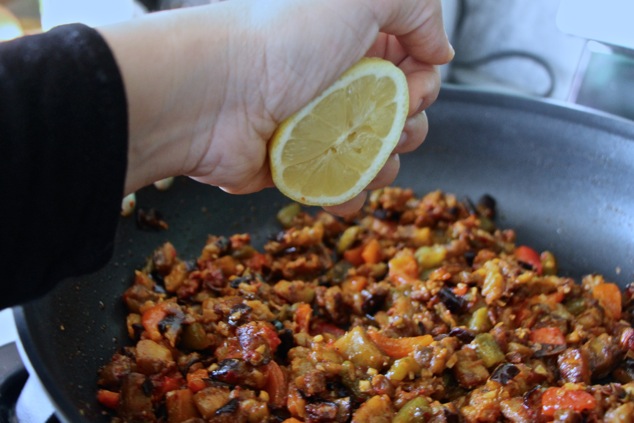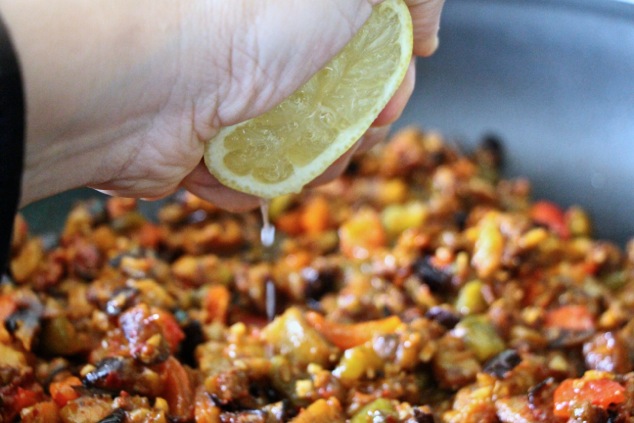 Squeeze fresh lemon juice onto the salad and mix for the last time.
Our Ajloog is ready!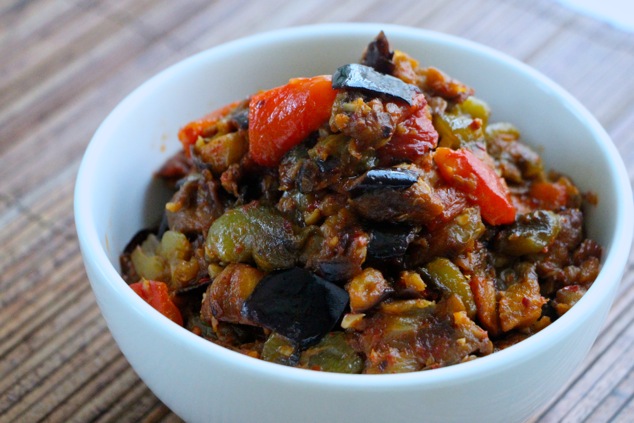 This salad is perfect served along bread of your choice or as a spread for an amazing sandwich…
—————————————————————————–
Quick Recipe:
Ajloog-Tunisian Eggplant Salad-
Roast the Bell Peppers, peel them, clean them and set aside.
Cut Eggplant into small cubes (about an inch).
Warm Olive Oil in large wide pan on medium-high heat.
Add Eggplants cubes in one layer and cook until they are golden brown.
Make sure to turn them over in the pan for even cooking.
Finely chop Garlic, add to the pan and cook for couple more minutes.
Add Harissa and cook for another minute.
Chop Roasted Peppers and add to the pan.
Add Sweet Paprika, Black Pepper and Salt.
Zest a Lemon, add to the salad and continue cooking for a few seconds.
Add freshly squeezed Lemon Juice and mix it in.