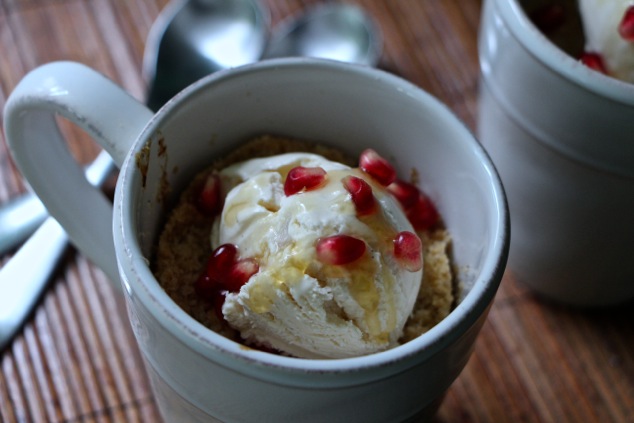 The time leading up to the high holidays is always special. For me, the great excitement is with holiday planning and preparation; then, I'm always in the mood to create new dishes. This one is a play on my simple "go to" crumble recipe. I feel like I'm surrounded by crumble lovers; this is probably why I have been using this recipe since forever. It is cute being served in individual ceramics or actual coffee mugs, but what I love most about this recipe is that it allows me to use any type of fruit that happens to be in the refrigerator. Generally, I love combining two types of fruit; one sweet and the other tart or one soft and the other hard… Here are some winning combos: apples & blueberries, pears and cherries, nectarines and strawberries… It's fun to change it up!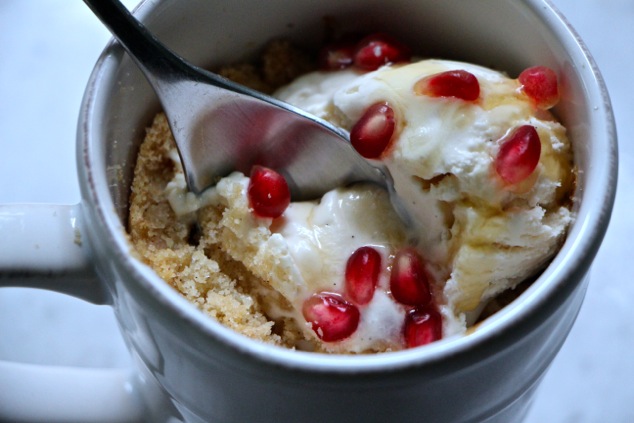 This dessert is like a big fun game: layers of texture, mix of flavors and with a good ice cream melting on top, you even get that hot–cold play… With Rosh Hashanah on my mind, combining apples and pomegranates was a "no brainer". Vanilla ice cream on top of this crumble is awesome, but I went all out and came up with a homemade Honey-Vanilla Ice Cream! This is going to be one sweeeeeeet New Year…
You will need:
[Makes 6 servings]
2 medium Apples
1-2 Pomegranate (1¼ cup of Pomegranate Seeds)
1 Lemon (Zest and Juice)
2 tbsp. Brown Sugar
1 tsp. Cinnamon
1 tsp. Vanilla Paste
For the Crumble Topping:
1 stick Butter (cold)
1¼ cup Flour
¾ cup Sugar
¼ tsp. Cinnamon
¼ tsp. Salt
Let's get to work!
We tackle this job layer by layer…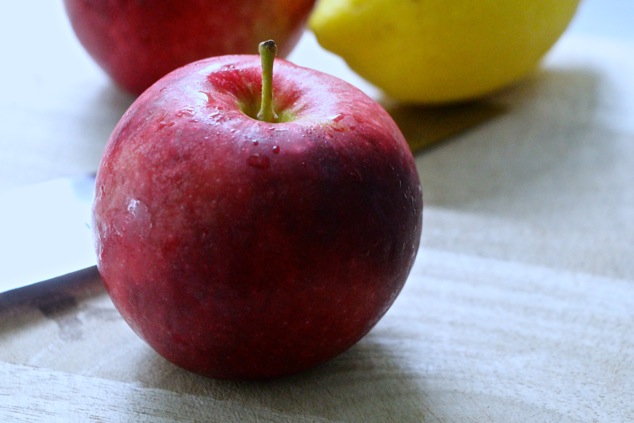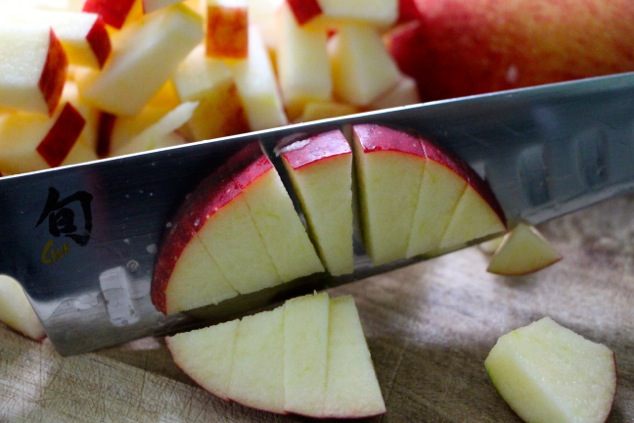 First, let's combine the fruit: Cut the apples, skin and all, into about half an inch cubes.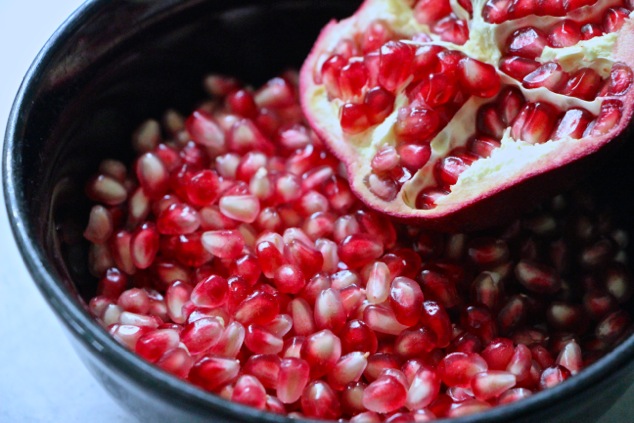 Pomegranates are so awesome! There are many different methods to get those seed out.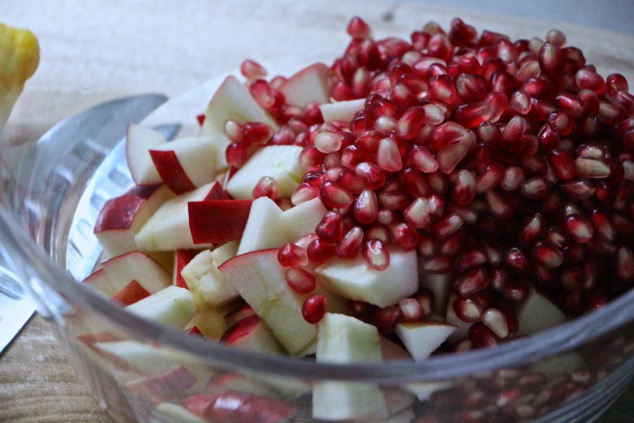 Use whichever method you prefer and place both apple and pomegranate seeds in a large bowl.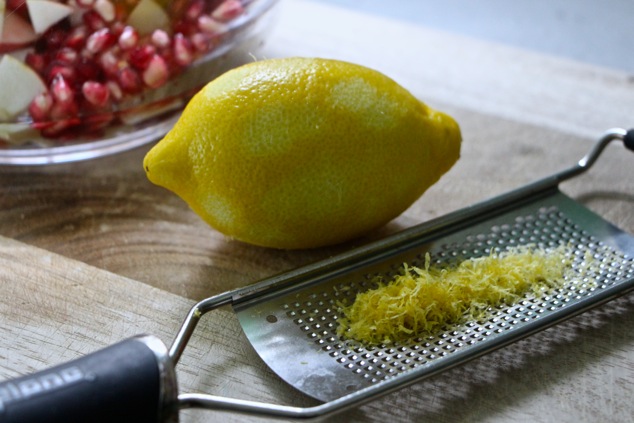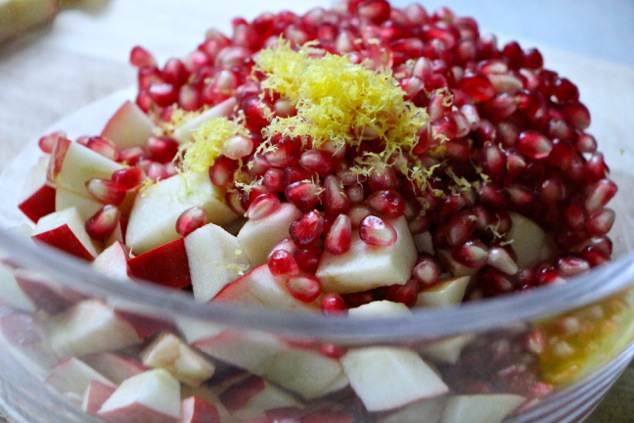 Add lemon zest and lemon juice. There is something so amazing about the lemon flavor and aroma coming from both the juice and the zest.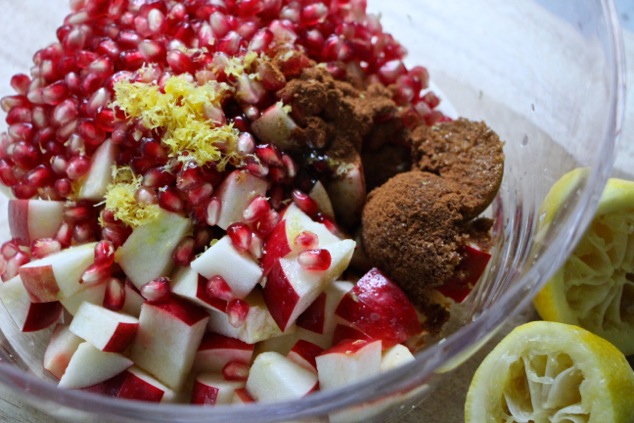 Add brown sugar, vanilla paste and cinnamon.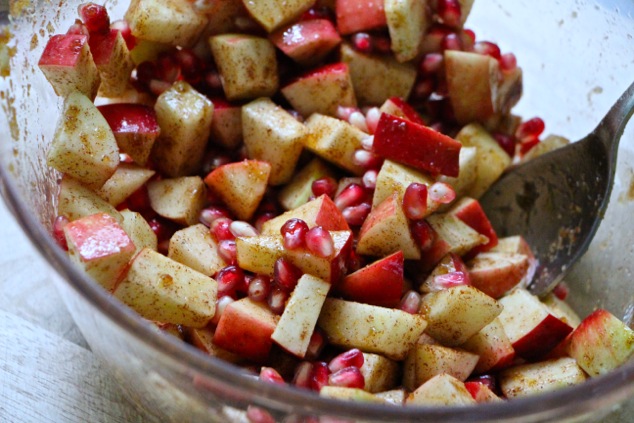 Mix it lightly to incorporate all ingredients well.


Now, on to the crumbs layer: Cut the butter into cubes. Make sure your butter is cold – it's crucial to create just the right texture. In a food processor combine the flour, sugar, cold butter cubes, cinnamon and salt.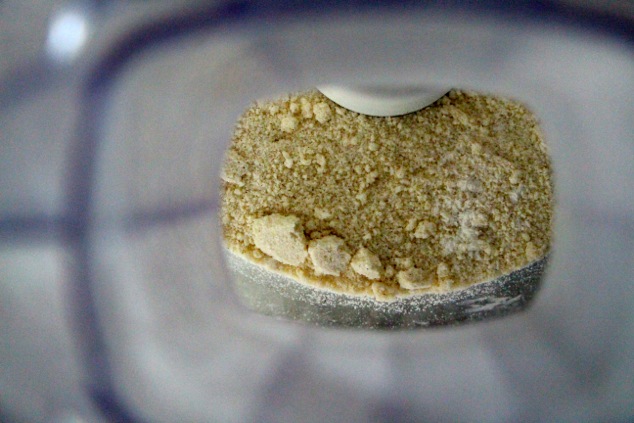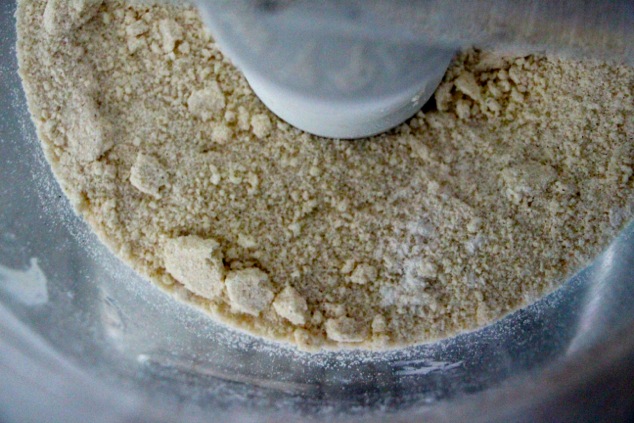 Process for just a few seconds until you receive a very sandy texture… it looks like this. Try to feel it with your fingers… it comes together but then falls right apart.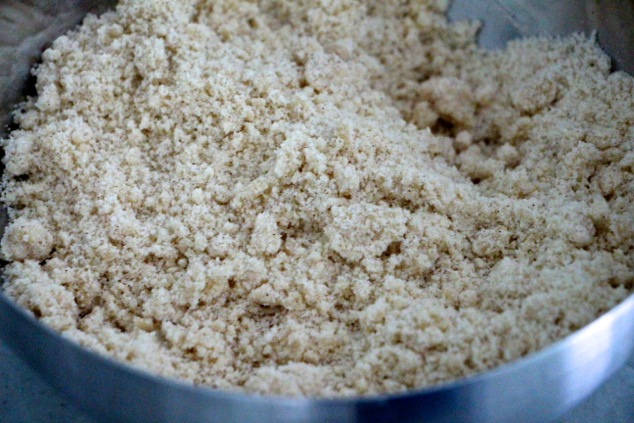 The texture and looks reminds me of the kinetic sand my kids love to play with so much 🙂
Get the individual ceramic bowls or coffee mugs and place them on a tray layered with parchment paper. This saves me from creating a big mess.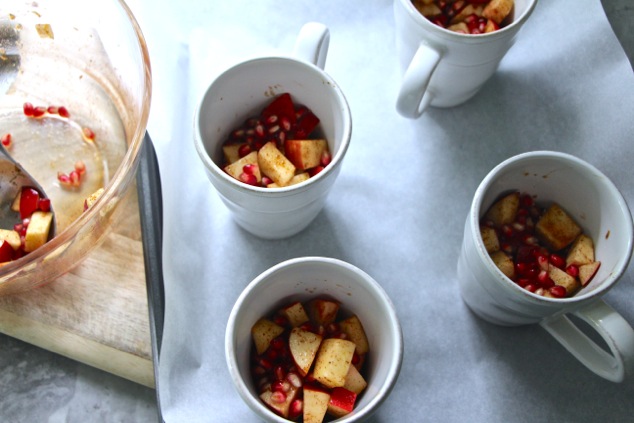 First, fill the mugs with the fruit mixture- a little over half of the mug.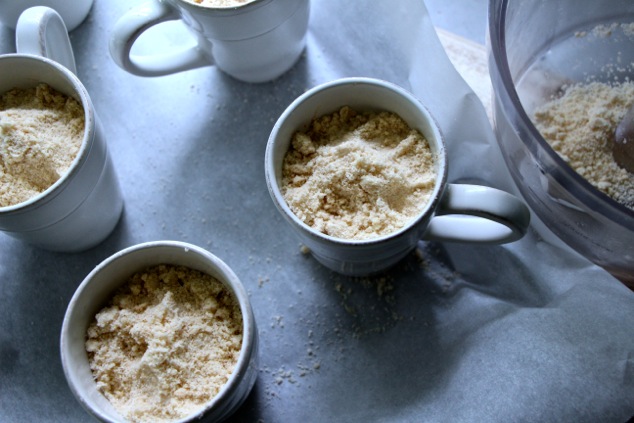 Then, top with the crumbs and GENTLEY pack it down just a little. Don't worry if your crumbs come all the way to the top or over the mug- after baking all layers shrink down a little and will leave enough room for an ice cream scoop.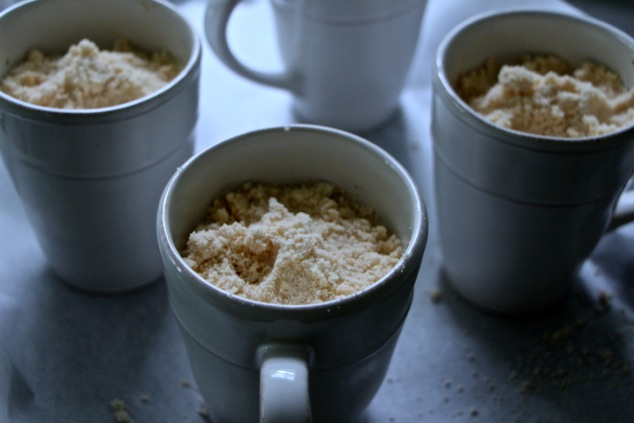 These mugs are HUGE, so my crumbs did not come to the top.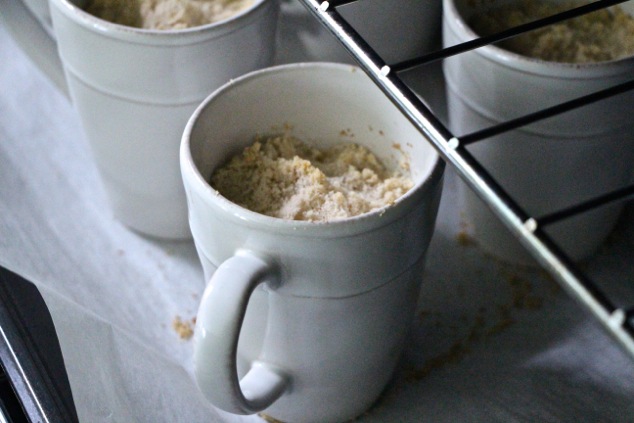 Bake in a pre-heated oven at 350° for 30 to 35 minutes.


When the individual crumbles are ready and still warm, top them with vanilla ice cream. If you want to make your own homemade ice cream- I am not going to stop you… 🙂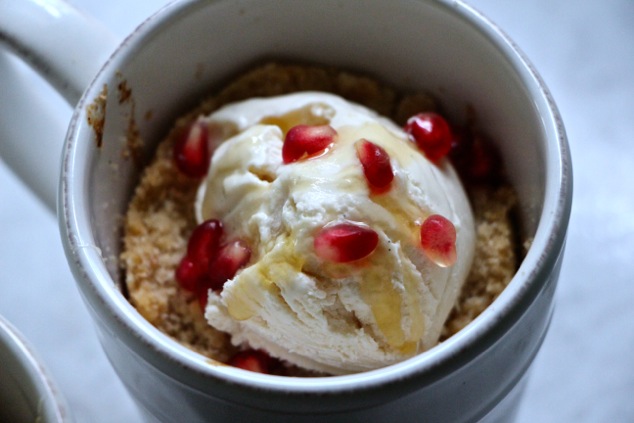 I went all out and topped the crumbles with Homemade Honey-Vanilla Ice Cream, pomegranate seeds and a drizzle of honey… [Checkout Afooda's homemade Honey-Vanilla Ice Cream recipe] This is another yummy opportunity to get that apple-honey holiday bite 🙂
Shana Tova and a Sweet New Year!
—————————————————————————–
Quick Recipe:
Apple Pomegranate Crumble-
Cut the Apples into half and inch cubes.
Combine the Apple cubes, Pomegranate seeds, Lemon juice and zest, Brown Sugar, Vanilla Paste and Cinnamon.
Mix gently to combine.
In food processor combine Flour, Sugar, COLD Butter cut into cubes, Cinnamon and Salt.
Process for a few seconds into sandy texture.
Place the fruit as first layer in ceramics or mugs –a little over half of the mug.
Top with dough crumbs and pack down a little.
Bake in a pre-heated oven at 350° for 30 to 35 minutes.
Serve warm topped with Ice cream, Pomegranate seeds and a drizzle of Honey.