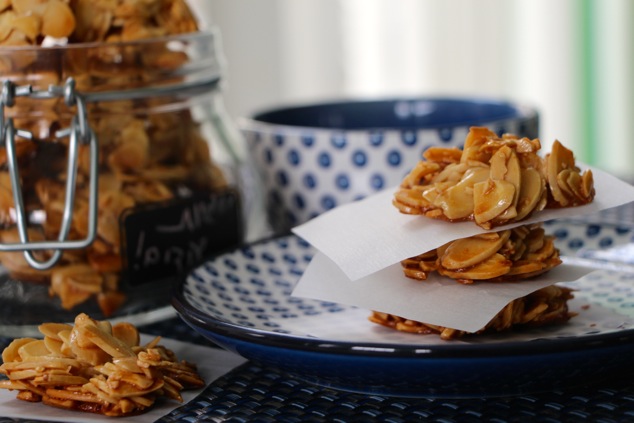 I follow Israeli food trends pretty closely. It is fun and what makes it interesting is the fact that when it comes to Israelis – popular foods change quiet often and there is always something new to try. It feels like second nature to Israelis to seek out for new flavors and to be open to give new foods a try.
I noticed this cookie here and there, especially online and it caught my attention immediately… it is quick and easy to make, with just a few ingredients, it is crispy, sweet and delicious and it is gluten free! Lots of good reasons for this cookie to start trending…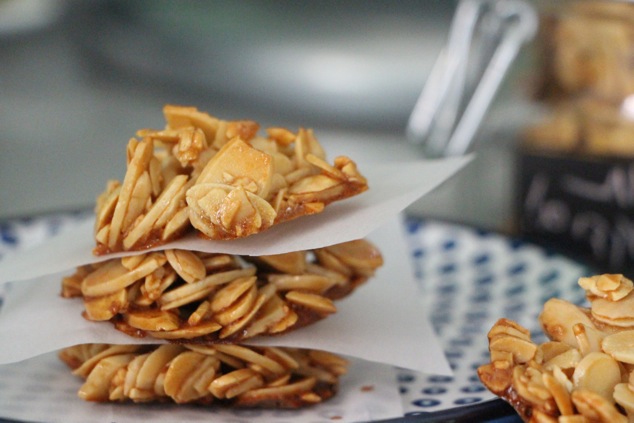 This year on our summer vacation in Israel, it wasn't long before I got to my favorite hometown bakery. Of course I made sure to buy all my favorites, but I also noticed something new in the cookie section. It was the sliced almond crispy cookies that I heard of but never tasted. It was a no brainer and I added the box to my purchases. I left the bakery with my heavy bags happy as can be 🙂 A couple of days later, my aunt and I spent some quality time over coffee and that box of sliced almond cookies. After two or three rounds of coffee and without noticing, the box of cookies was empty. I looked at the empty box and noted the very short list of ingredients: almonds, sugar and egg whites – I knew then and there that I would have to make these cookies myself.
You will need:
[makes 30-35 cookies]
8 oz. (225 gr.) Sliced Almonds
1 Egg White
¼ cup Powdered Sugar
2 tbsp. Honey (warm)
Let's do this!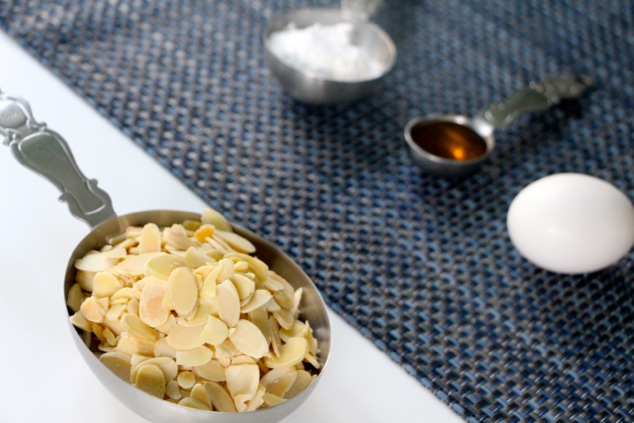 It doesn't get any easier than this…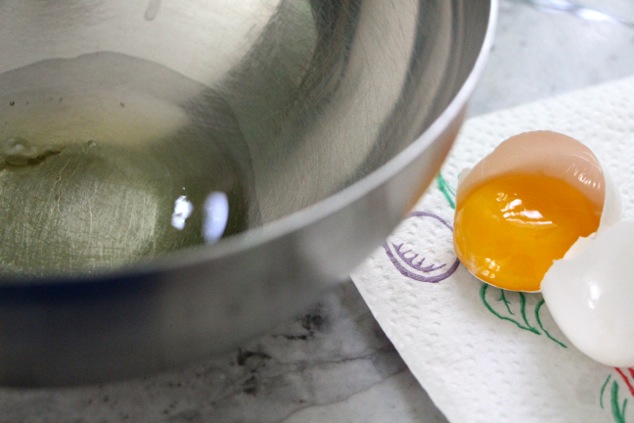 Start with the egg white.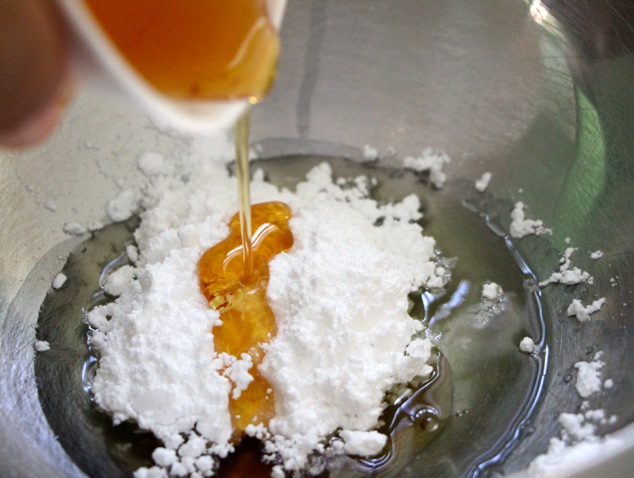 Now, combine the egg white, powdered sugar and honey in a medium bowl. The honey adds a nice flavor and helps it all stick together. I warm up the honey in the microwave for 15-20 seconds before adding it to the mix.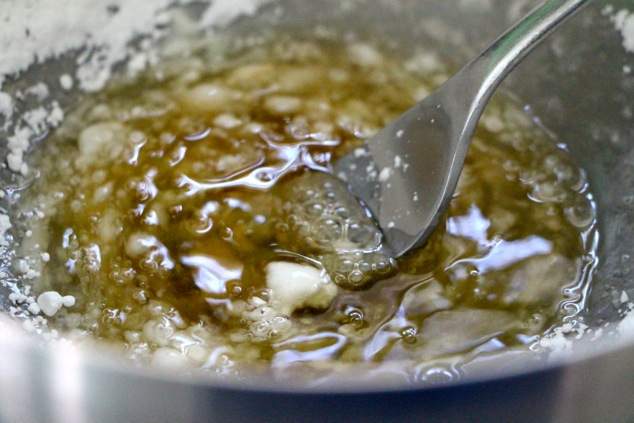 Mix to incorporate them all together; using a fork will get the job done.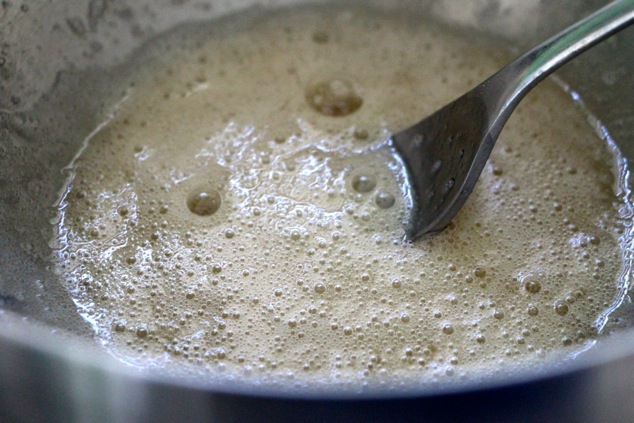 Just a few seconds and the mixture is ready!
Time to add the sliced almonds…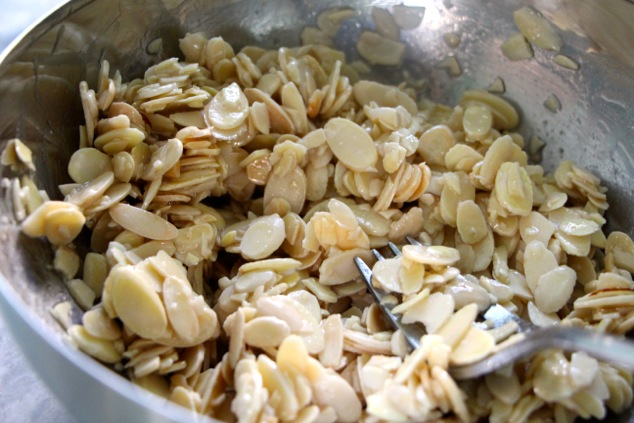 mix gently to make sure all the almonds are WELL coated.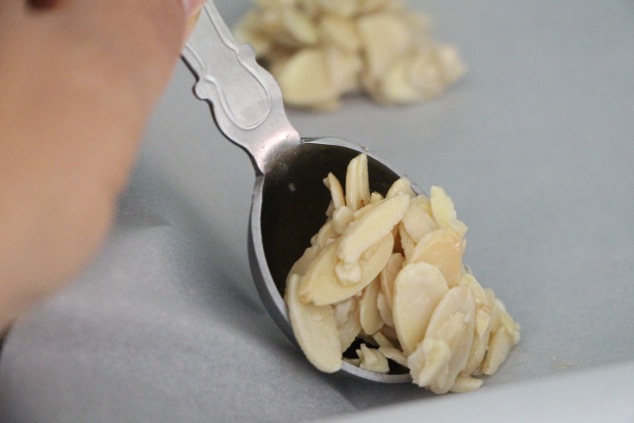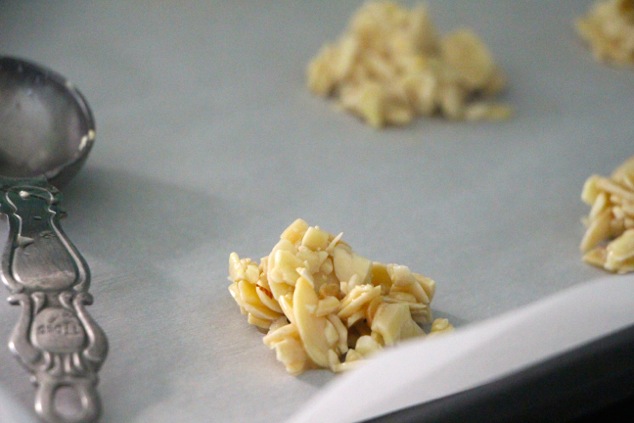 Using a spoon (I happened to use my tablespoon) scoop even amounts onto baking sheet with parchment paper.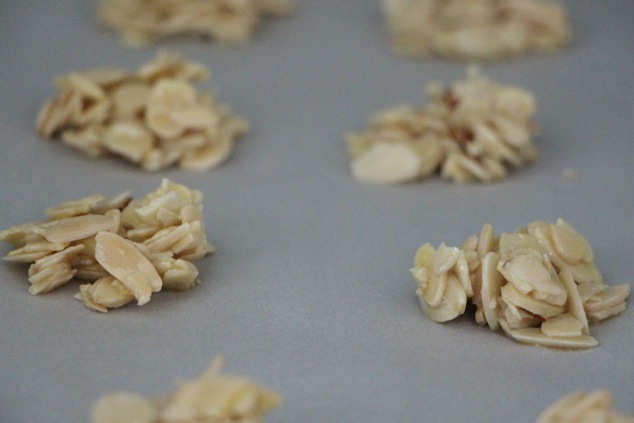 Make sure to flatten the top a bit but still keep the almonds close together.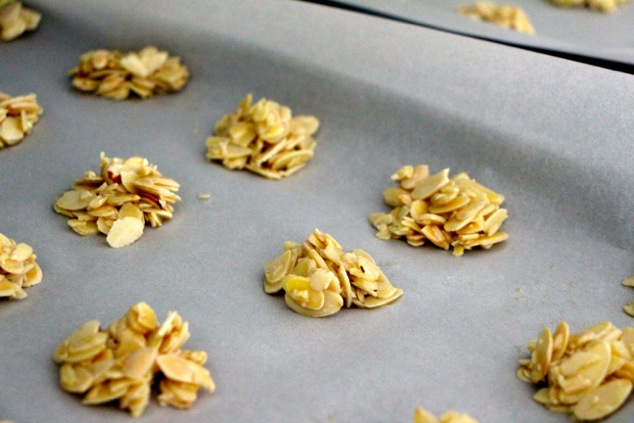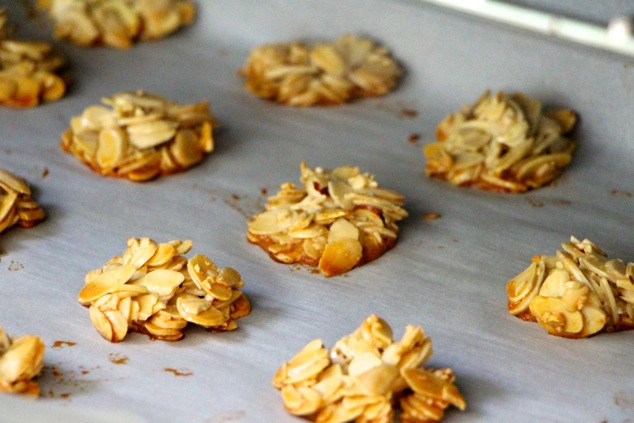 Bake in a preheated oven at 300°F for about 25-30 minutes until the cookies are golden or slightly light brown.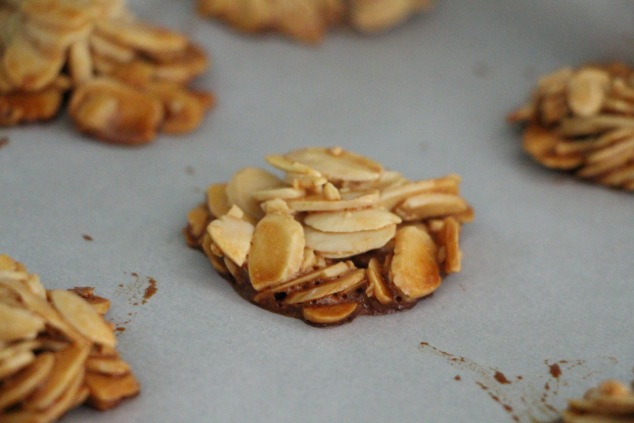 Remove the trays from the oven and allow the cookies to cool completely before touching them.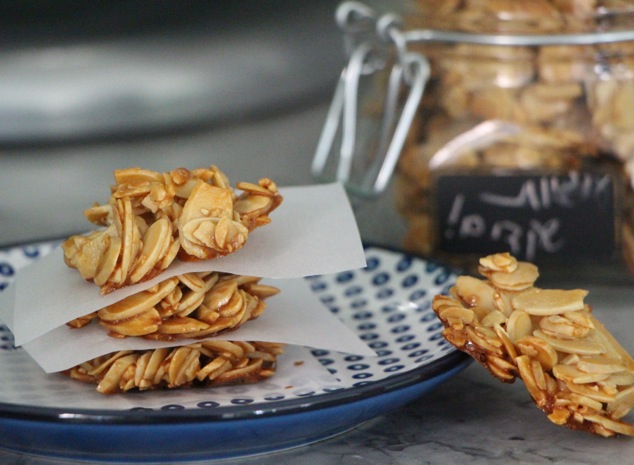 When the cookies have cooled off they will come right off the parchment paper. Store the cookies in a sealed container at room temperature for up to three weeks.
—————————————————————————–
Quick Recipe:
Sliced Almonds Cookies-
Combine Egg White, Powdered Sugar and warm Honey.
Add Sliced Almonds.
Mix gently to evenly coat Almonds.
Scoop mixture onto a baking sheet with parchment paper.
Flatten each cookie just a little.
Bake in a 300°F preheated oven for about 25-30 minutes.
Let cool completely before removing from parchment paper.
Cookies will store for 3 weeks in an air-tied container.