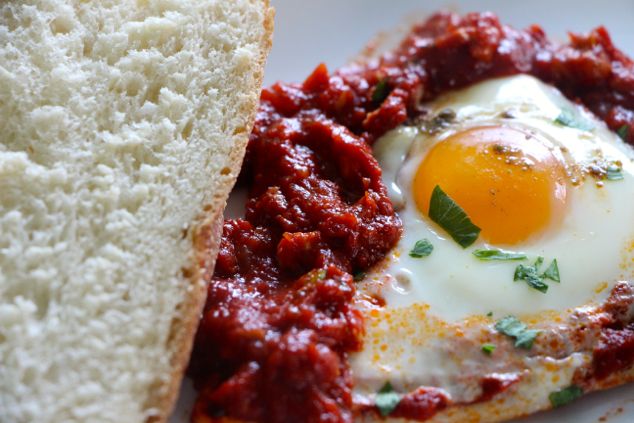 I love food shopping and it is naturally my house assigned job; however, my husband must have found the joy in food shopping (or maybe just the joy in escaping), since recently he has been almost insisting on handling this weekly house task. So, I give him a very detailed list and the baby and let the boys spend some quality time on a Sunday morning.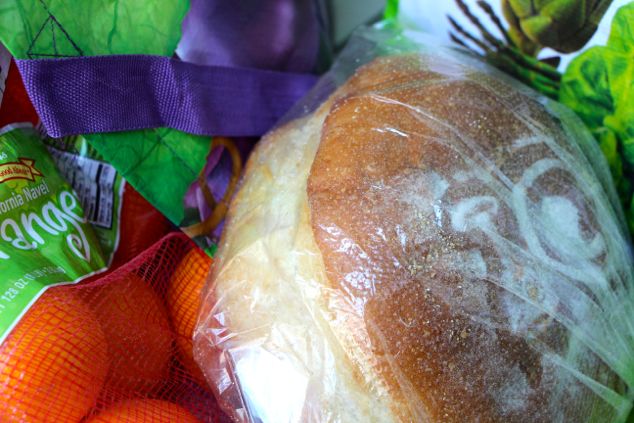 When they come back, I obviously like to see that all the items on the list made it home, but I also kind of love to unexpectedly find some "off the list" items in the shopping bags. Besides the surprise effect, I think any woman can relate to the wonderful and proud feeling knowing that her man thought of something extra (…and this can actually apply to anything – hint hint). Aside from appreciating the gesture, when I see an "off the list" item, I know it carries a message…
One of the repeated "off the list" items I often find is the store's signature bread, which has the best contrast between the outside and the inside creating the perfect texture for a bread. Even though it's AMAZING, this bread almost never makes it on to my "standard" shopping list, so finding it in the shopping bag carries only one specific message: "Shakshuka for dinner please!"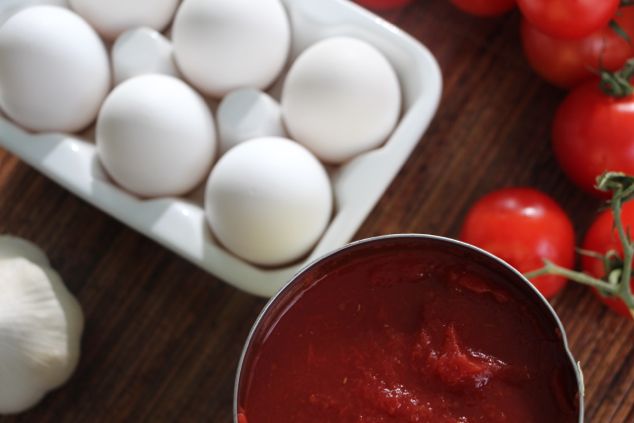 So Shakshuka is for dinner here tonight, and if you love bread, and red sauce and eggs, it should be your dinner as well…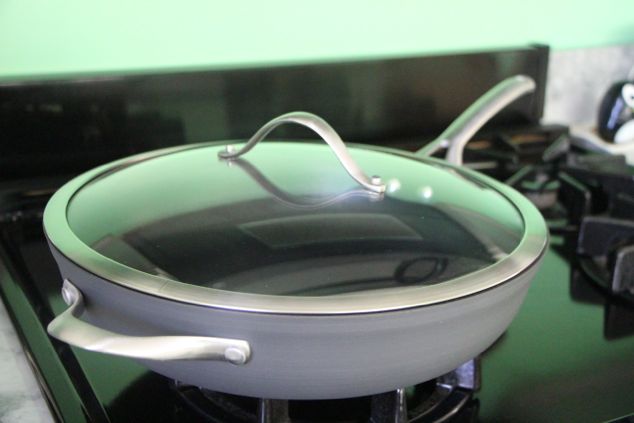 To make it "family style" (serving 3-6) you are going to need a large and wide saucepan that can contain all the sauce and still have room for the eggs to be arranged around. You can also make it as individual dishes (two eggs per person); using very small pans- I noticed kitchen stores have some very cute colorful ones available nowadays…
You will also need:
Olive Oil (about 3 tbs.)
1 small Onion
4 cloves of Garlic
1 tbsp. Tomato Paste
2 cups Italian Crushed Tomatoes in a can Or 10 sweet ripe Tomatoes diced
6 Eggs
1½ tsp. Harissa or a ½ tsp. Dry red chili flakes
½ cup Water
2 tsp. Sweet Paprika
(1 tsp. Sweet Paprika in oil – optional)
1 tsp. Black pepper
¼ tsp. Cumin
1 tsp. Sugar
1 tsp. Salt
a little more Cumin and Coarse Sea Salt to top each egg yolk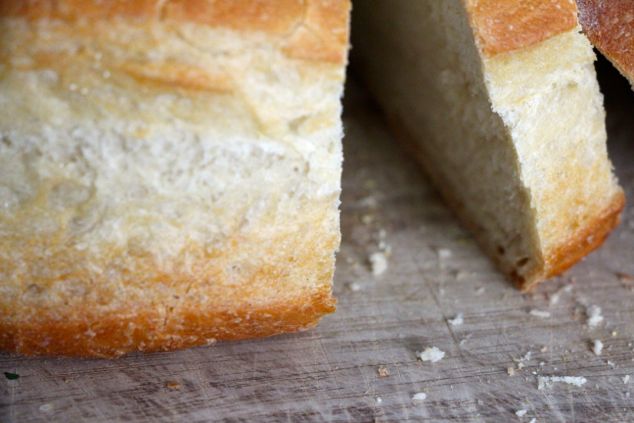 Bread of your choice…
Let's get to work: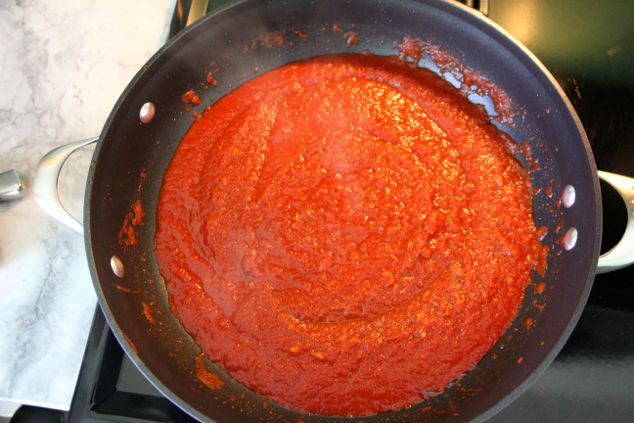 It all starts with "…this red, red pottage…"(Genesis 25:30). Well, maybe not exactly 'pottage', but it is VERY red 🙂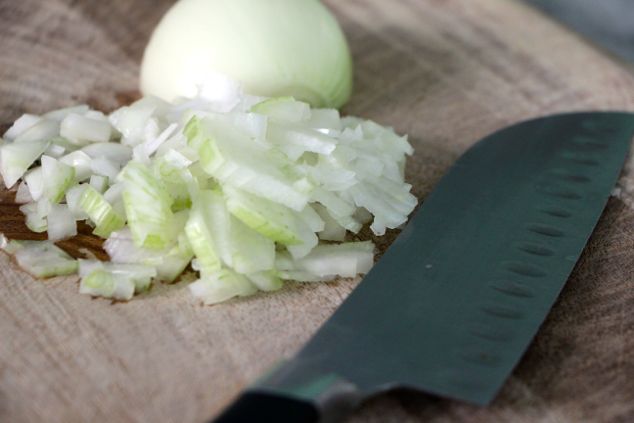 Start by chopping the onions thinly.


Generously coat the pan with olive oil and sauté onions for a few minutes on medium heat until they become slightly golden.


Mince the garlic and add to the onions.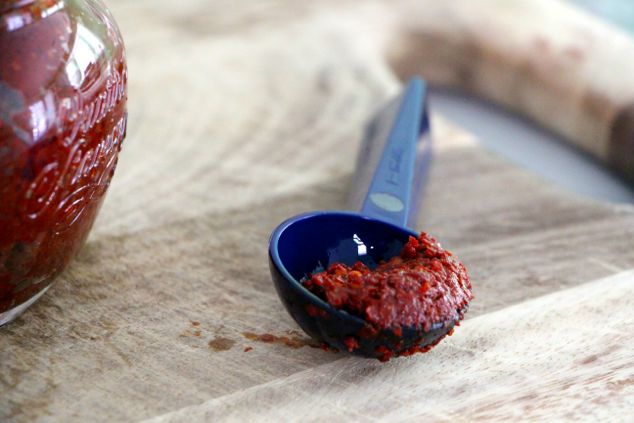 Remember our beautiful Harissa?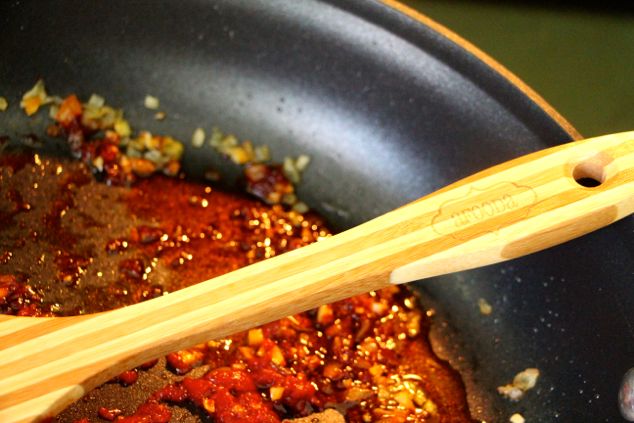 Add Harissa or chili flakes mixing together and continue sautéing for about couple more minutes.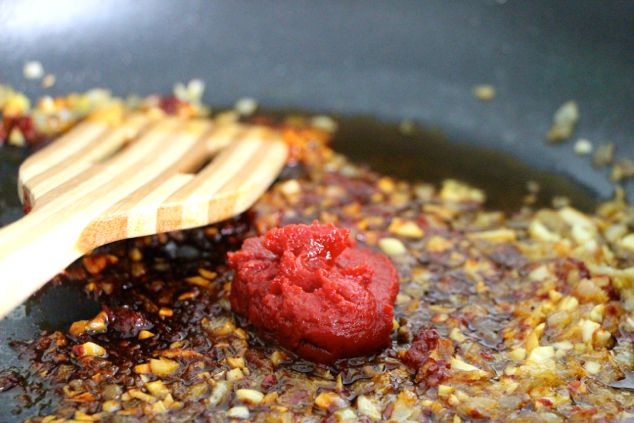 Add tomato paste and move it around every so often, allowing it to fry it in the oil for about 3 minutes.



Add crushed tomatoes (or your fresh diced tomatoes), sugar, salt and spices: dry sweet paprika and sweet paprika in oil, black pepper and cumin.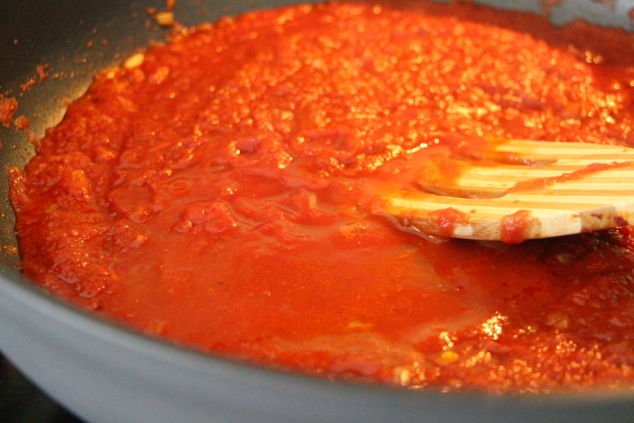 Add ½ cup of water. Don't forget to stir often and let cook for about ten minutes on medium to low heat. Let's thicken this great tomato sauce.
a little tip:
I actually find myself using the Italian canned crushed tomatoes way more often than fresh tomatoes. It contains great quality tomatoes, which are not always easy to find ripe, red and sweet year around.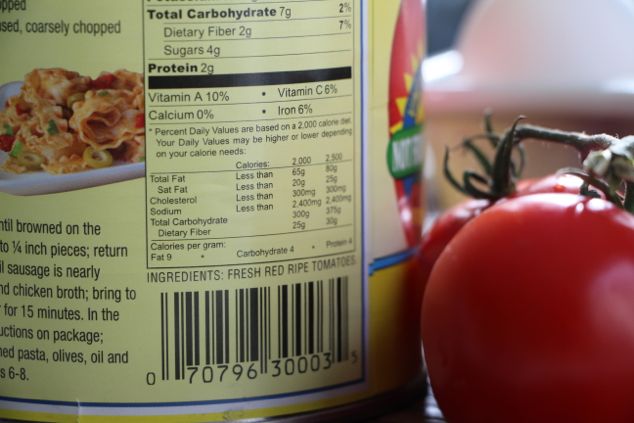 So as far as making tomato sauce, my tomato rule is- pick can over fresh tomatoes if:
1. You use a great brand
2. Make sure there is only ONE ingredient in the can- Fresh red ripe tomatoes and nothing else.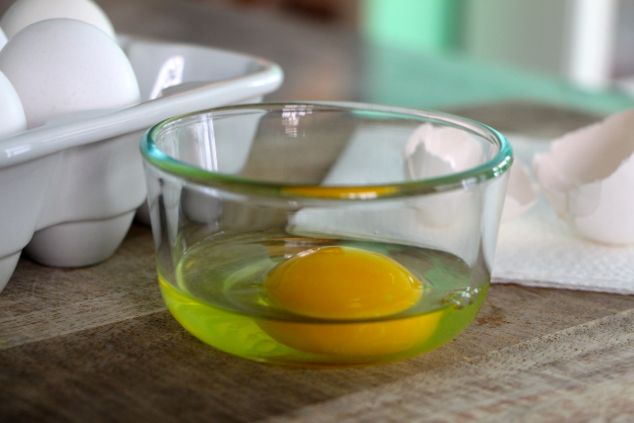 When the sauce is ready it is time to add the eggs. I suggest cracking the eggs one at a time first to a small bowl before adding them (one at a time again) to the sauce.



Create a "hole" in your sauce revealing the bottom of your saucepan and add the eggs arranging them all around your saucepan – now, you see why you need a large and wide pan!? Once all eggs are arranged around in the sauce, cover the pot and cook on a very low heat for just 5 minutes.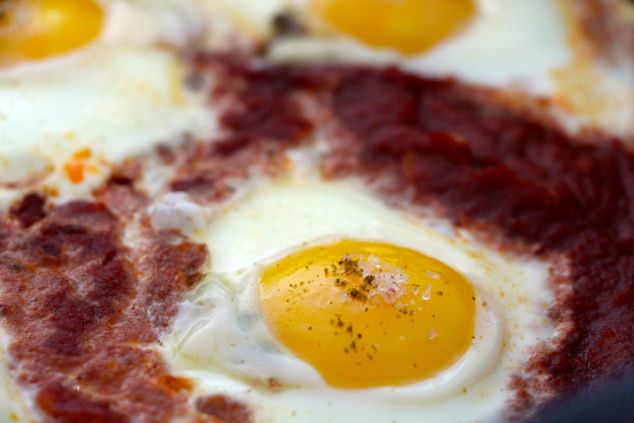 Uncover the pot and add a little salt and cumin on each yolk, it will make them look pretty and will add a little flavor of course.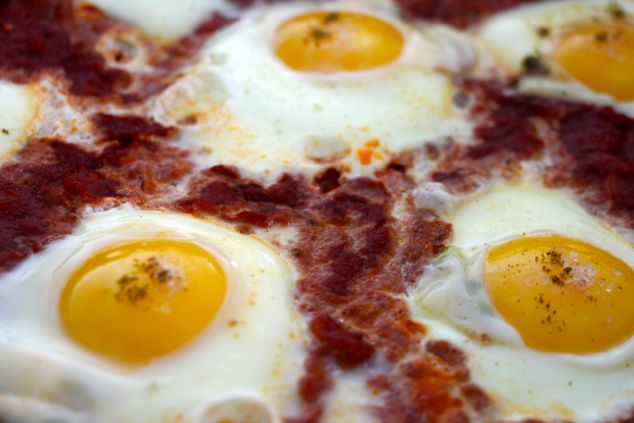 You may cook the shakshuka now for a few more minutes (no longer than 5)
All together the eggs should be cooked in the sauce for 5-10 minutes; depends on how you like them. I like my yolks just a tiny bit runny so I can sop them together with the sauce with a nice piece of bread. If you like them a bit more solid cook your Shakshuka just a few minutes longer – it'll do the trick.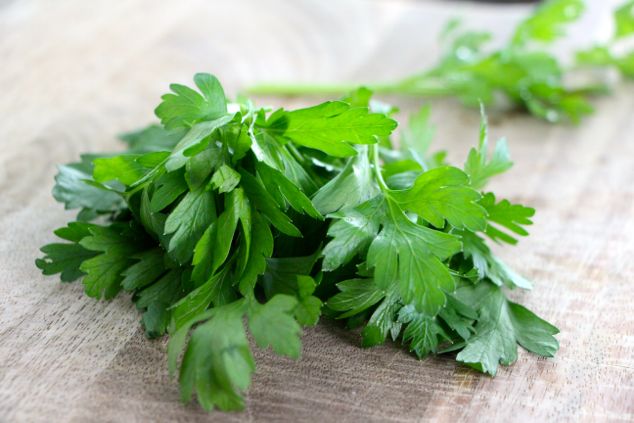 Before serving add chopped fresh parsley because everything tastes better with a little chopped parsley on top…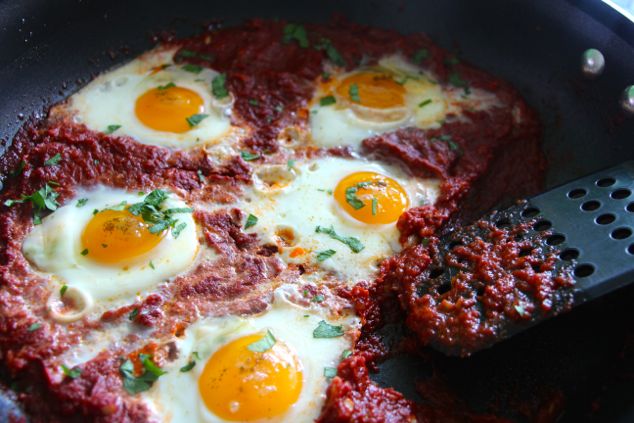 —————————————————————————–
Quick Recipe:
Shakshuka-
Use a large and wide saucepan.
Sauté Onions, Garlic, Harissa (or chili flakes), and Tomato Paste in Olive Oil.
Add Tomatoes, Sugar, Salt, Sweet Paprika, Paprika, Black Pepper and Cumin.
Add Water.
Cook and stir (on medium heat) for about 8-10 minutes.
Add Eggs (one by one) revealing the bottom of the pan each time.
Cook covered for 5 minutes on low heat.
Uncover and Add Salt and Cumin on each yolk.
Cook for additional 5 minutes on low heat to get the Eggs just the way you like them.
Add chopped Fresh Parsley on top.
Serve with your favorite Bread.