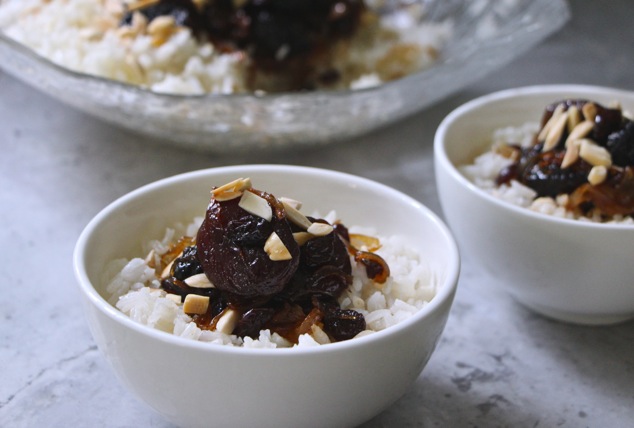 If you know me by now, you know how much I love symbolic dishes that beyond great flavors and elegant looks offer meaning and value… Rosh Hashanah (the Jewish New Year) is the right holiday to bring in such meaningful dishes. This dish specifically gives a wonderful meaning to the New Year with the concept of a fresh start topped with sweet enhancements. The white, simple rice symbolizes a clean new beginning – a blank page. The sweet flavorful topping symbolizes all the positive, sweet goodness we add to our year. The use of dried fruit and almonds is very common in Tunisian cuisine and I love how these great flavors come together; the simple taste of the rice allows the topping's sweet flavors to shine… This is a 100% Rosh Hashanah dish, but we love it so much that I also allow myself to make it for Tu Bishvat (the Jewish New Year for trees and nature) when we usually eat dried fruit.
A word about Dried Fruit
Dried fruit can be a delicious, healthy snack. Depending on the type of fruit, dried fruit contain a wide range of high-condensed nutrients. However, it is important to monitor the amount of dried fruit we consume since most of them are also high in sugar and calories. The quality of dried fruit is also significant, some dried fruit (especially apricots, raisins and prunes) contain unhealthy preservatives including high levels of Sulfur Dioxide. To get the most out of your dried fruit (why wouldn't you…), my general recommendation is to choose organic dried fruit and to check the list of ingredients to avoid any "add on" ingredients that are unnecessary.
You will need:
For Rice:
2 tbsp. Olive Oil
1½ cup White Rice
3 cups (hot boiled) Water
1 tsp. Salt
For Dried Fruit & Topping:
3 tbsp. Olive Oil
1 large sweet (Vidalia) Onion
¼ lb. Dried Apricots
¼ lb. Dried Plums (Prunes)
¼ lb. Raisins
2 tbsp. Brown Sugar
2 tsp. Honey
½ tsp. Cinnamon
¼ cup Water
½ cup Slivered Almonds
Let's get to work!
The toasted almonds are last to go on this dish, but I usually start with them as the first stage.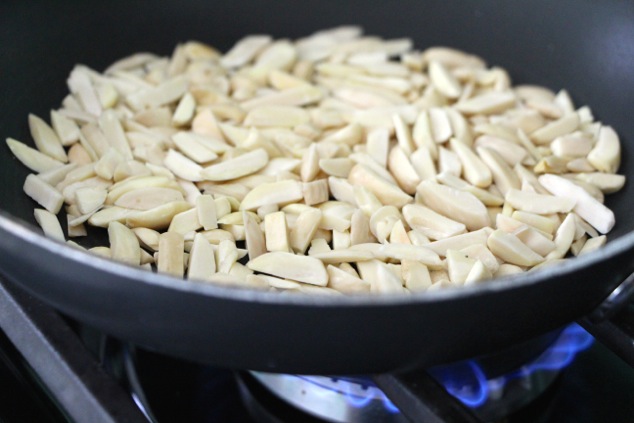 Toasting the almonds happens pretty quickly. In a small pan over medium heat… Toss them every so often to make sure they are all toasting evenly.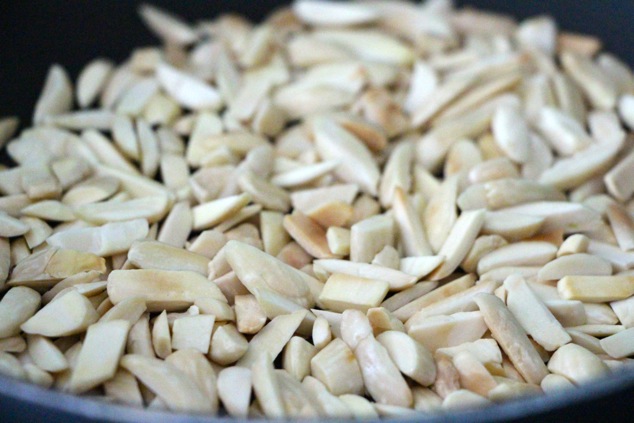 Keep your eye and nose on them, as soon as you smell the nutty aroma and they turn golden brown- they are ready. Set them aside.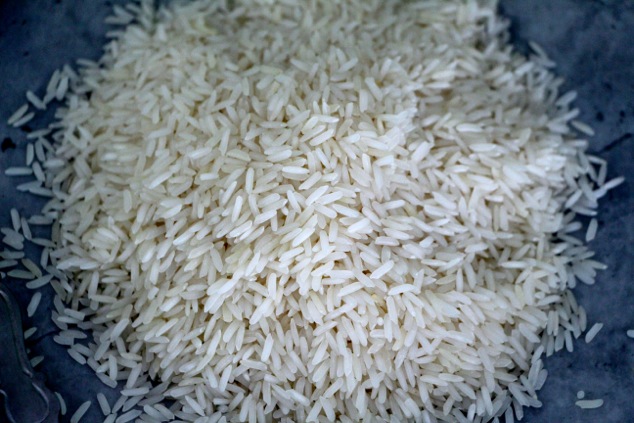 Let's make the rice. This is the most simple white rice recipe out there and a great opportunity to pick up some rice cooking tips. Always make sure the rice is clean and dry before using it.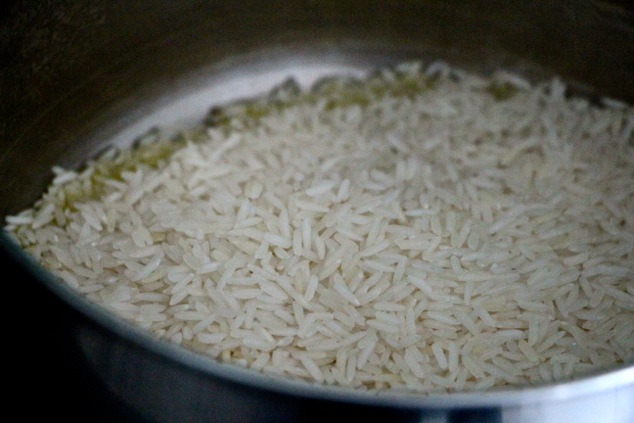 First, sauté the rice in olive oil on medium heat.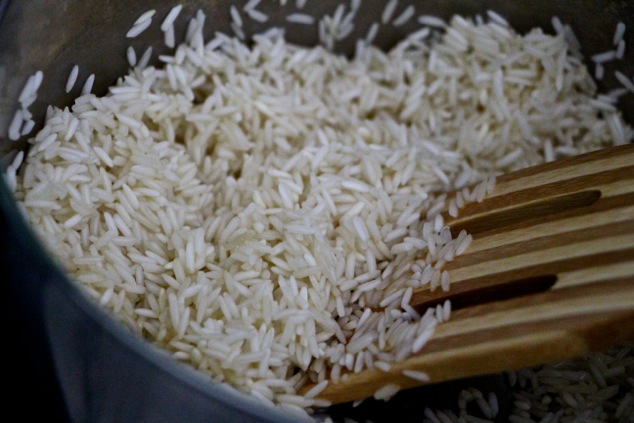 Stir every so often to have the rice grains evenly toasted.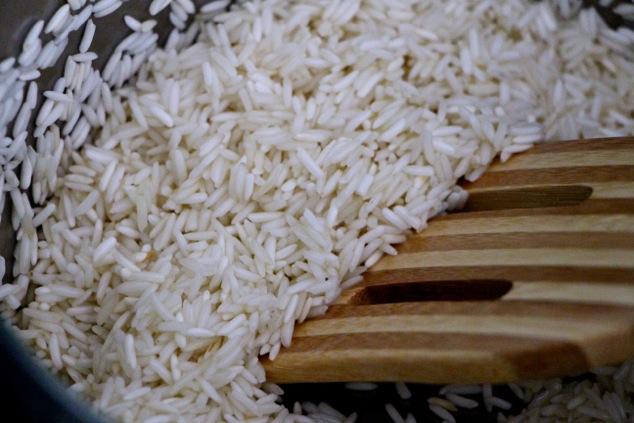 This takes about a couple of minutes and you will notice the rice grains will turn bright white. Time to add hot boiling water and salt. Be careful, it's HOT!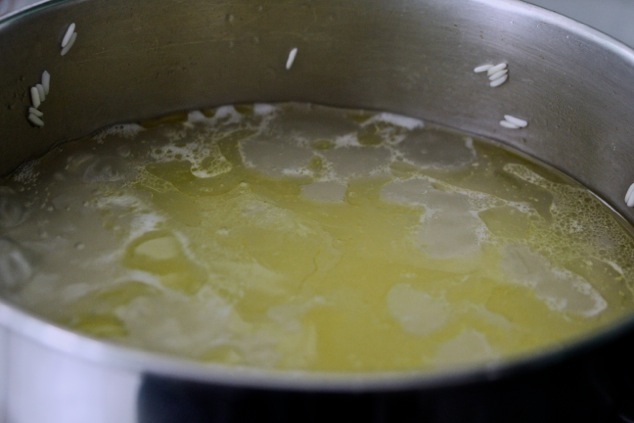 Mix once and allow it to boil for a minute or two. Cover the pot and lower the heat to low. Continue cooking on the lowest heat for 25-30 minutes.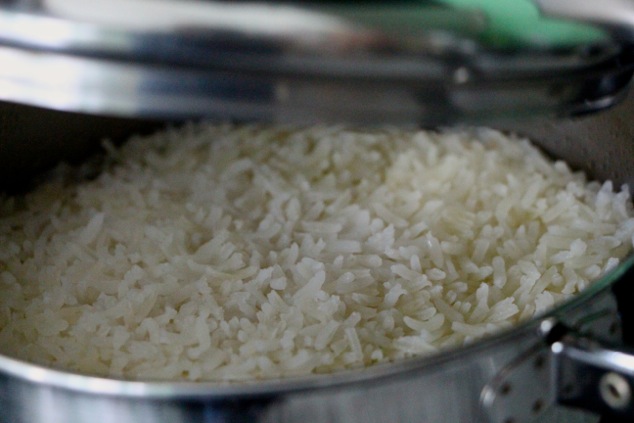 That's it the rice is ready! Keep the pot covered though for 5 more minutes after the rice is done cooking.
To make the dried fruit topping, start by chopping the onion.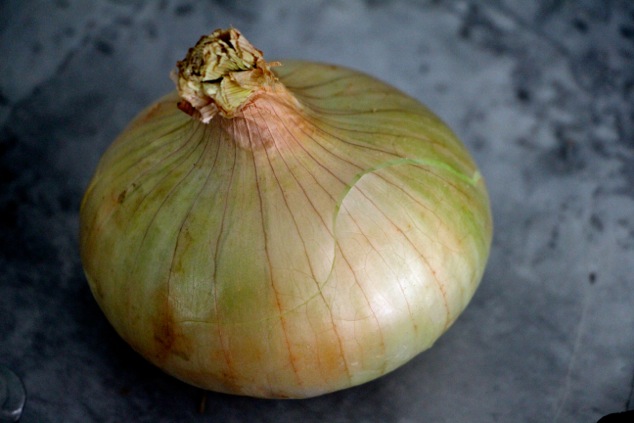 Any type of sweet onion will be great. I like using Vidalia onion; it is large, sweet and easy to slice… what else can you ask of an onion. 🙂 One large onion is enough.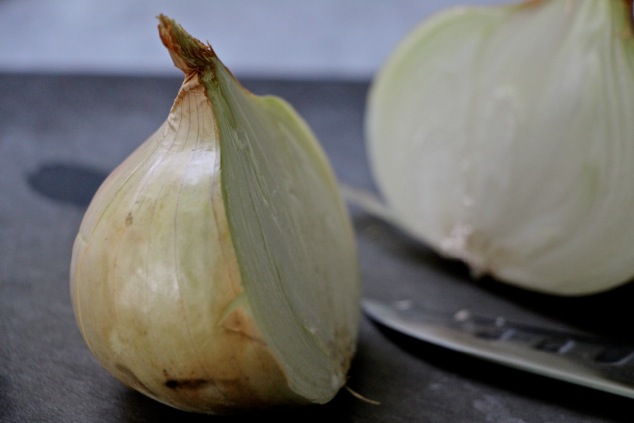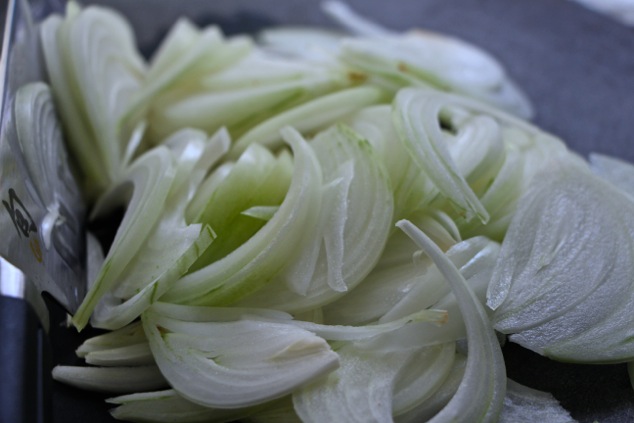 Slice the onion thinly.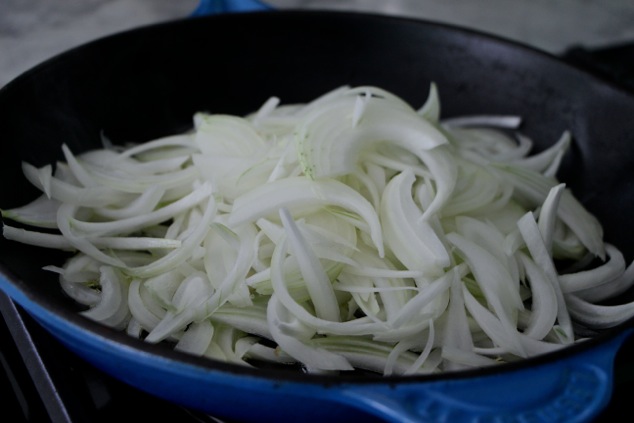 Add the onion slices to a pan with olive oil and sauté for a few good minutes until the onion is golden and soft.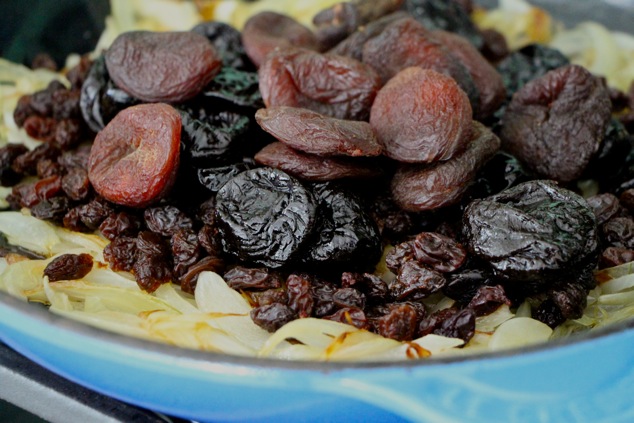 Time to add the dried fruit, apricot, plum and raisins.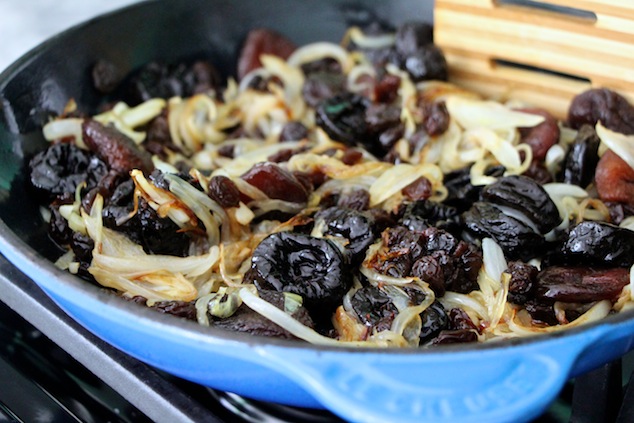 Stir lightly to mix with the onions. Cook on medium heat for 3-4 minutes and stir every so often.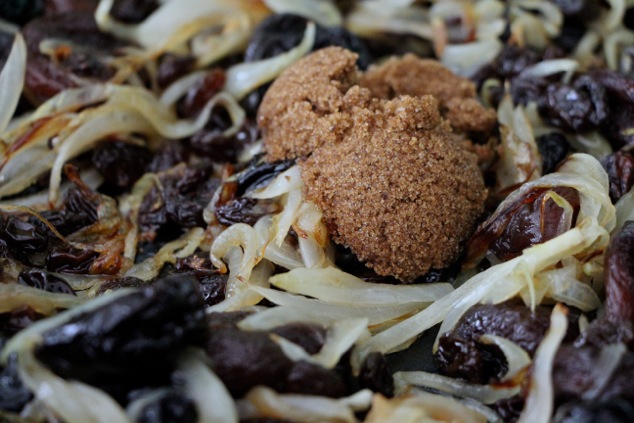 Add brown sugar, honey and cinnamon.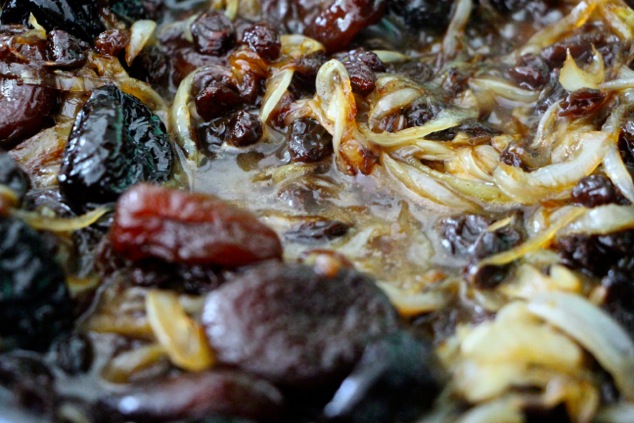 Mix and cook for one minute and then add water.
Cook until most of the water evaporates about 5 minutes.
Our lovely Rosh Hashanah dish is ready…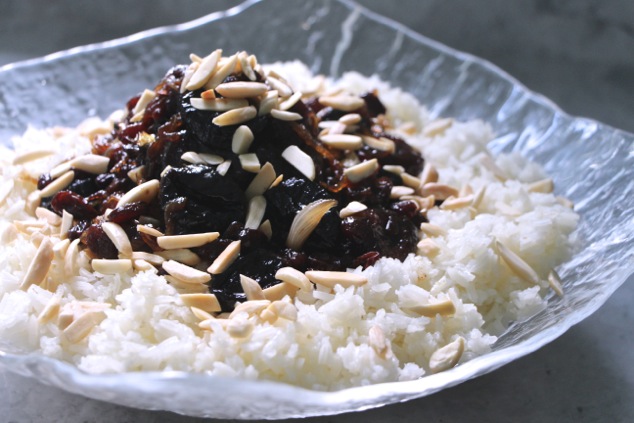 For traditional serving, arrange the rice in a large bowl, make a crater in the center, pile the dried fruit topping in the middle and top it all with toasted almonds.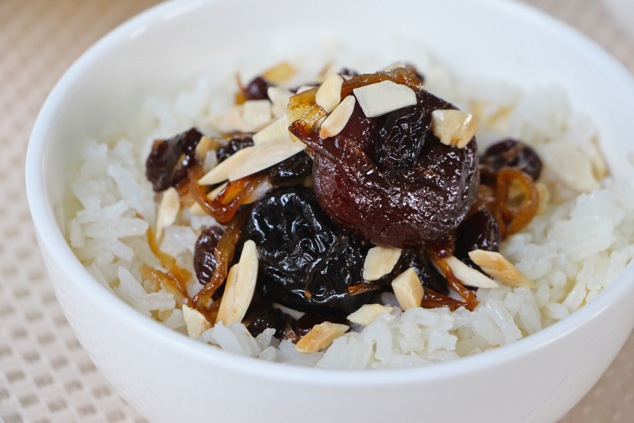 You may also serve the rice and topping in separate serving dishes and allow your guests to combine them in any ratio they like…
—————————————————————————–
Quick Recipe:
White Rice with Dries Fruit and Almonds-
Toast the slivered Almonds on medium heat for about 3-4 minutes.
Toss every so often for even toasting and set aside.
Sauté the Rice in Olive Oil on medium heat for a couple of minutes.
Add hot boiling Water and Salt.
Mix and allow boiling for a minute or two.
Cover the pot and cook on the lowest heat for about 30 minutes.
Keep the pot covered for 5 extra minutes after the rice is cooked.
Slice the sweet Onion thinly.
Sauté Onion slices in Olive Oil until they are soft and golden-brown.
Add Dried Fruit and mix together.
Add Brown Sugar, Honey and Cinnamon.
Cook for another minute.
Add water and cook until most of it evaporates.
Serve the rice along with the topping.