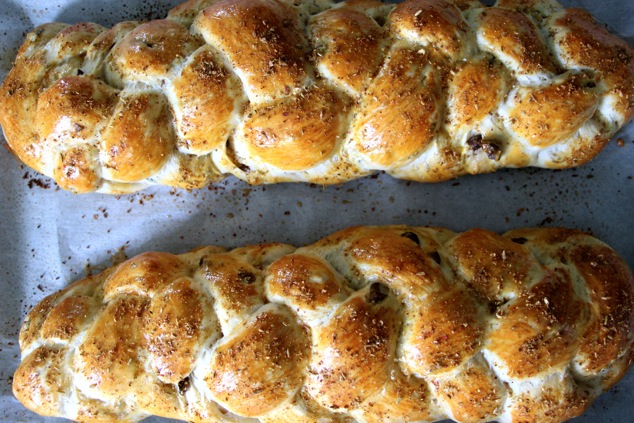 Homemade Challah on Fridays is one of the most loved traditions in our home. Today I was thinking to "kick it up a notch" and use "Tabil" – a homemade Tunisian dry spice mix that has a unique aroma and taste and is very easy to make. I also added olives to the dough to complete the flavor experience. The result of this original idea is a flavorful challah with some serious Tunisian flair. I guess sometimes even a great tradition can use a little pizzazz…
You will need:
4 cups Flour
2 tsp. (Active) Dry Yeast
1 tbsp. Sugar
1 + ½ Warm Water
¼ tsp. Salt
¼ cup Canola Oil
1½ cup chopped Olives
Topping:
Egg Yolk
Tabil
A Few Words about Yeast Dough:
Generally, I like using dry active yeast; it is the most common yeast especially when it comes to easy usage and storage. To make sure yeast dough is successful, we need to provide it with the BEST conditions. Basically yeast needs three things: 1. Warm temperate 2. Sugar as food 3.Time and patience. Isn't it what we all need in life…
Keep it Warm: Temperature is one of the most important variants to yeast dough. Yeast enjoys warm temperature, not too high not too cold. Make sure that the water added to the yeast (and the dough) is pleasantly warm (a little over 100°F). Also make sure to place the dough in a warm location. I like to put it by the oven or the stove specially if I'm cooking something; sometimes I put it by my kettle and use the waiting time to make myself a cup of coffee or tea…
Feed your Yeast: Yeast likes to "eat" sugar, especially dry active yeast. Add a little sugar to the yeast when it is being activated, the ratio of sugar to yeast is about 1:2 (1 teaspoon of sugar to 2 teaspoons of dry yeast).
Be Nice and Patient: Yeast dough needs time to rise, grow and develop some gluten. I strongly believe in "3 Times Rise is a Charm" – The first rise happens when the yeast, sugar and water meet in their "flour cave" and the yeast become active. Second rise is when the dough rests for the first time. Usually after 90 minutes it will double in size. It is very important to cover the bowl well with plastic wrap. Air tends to dry the outer part of the dough and creates a crust that prevents from the dough to rise. The third rise usually happens after you form the rolls or bread or whatever baked goods you're doing and you let them rest covered for about 20-25 minutes before baking.
Now, Let's get to work!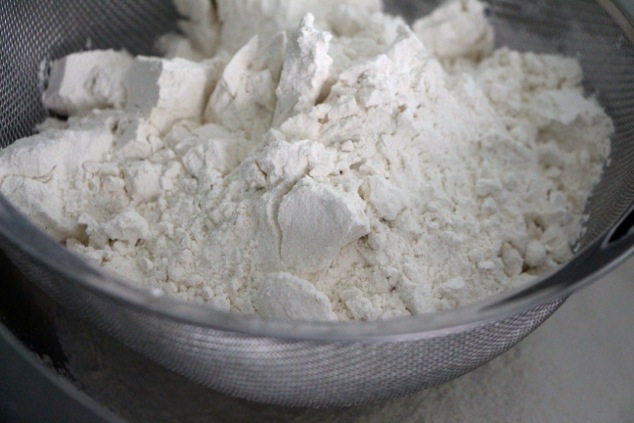 Start with the flour in a big bowl. Anytime I use flour, I sift it first. Besides making sure the flour is clean, sifting it unifies its texture and makes it fluffy and easy to use.


Once the flour is in a bowl, create a little crater in the middle (I use a spoon) and place the dry yeast and sugar in it. Add ½ cup of warm water on the yeast and sugar and cover it using the flour around the bowl.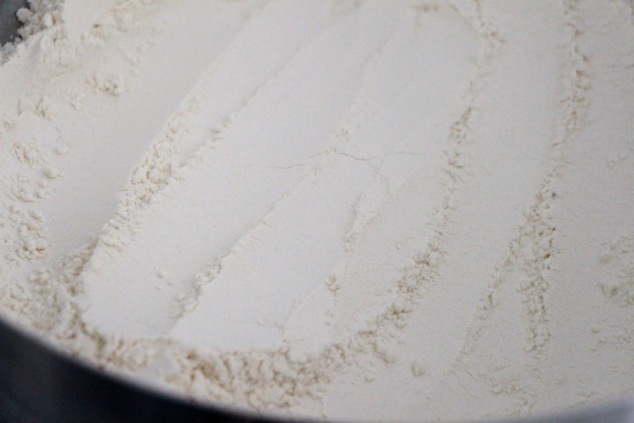 Smooth the top with the back of the spoon and allow the yeast mixture to do its thing for about 10-15 minutes.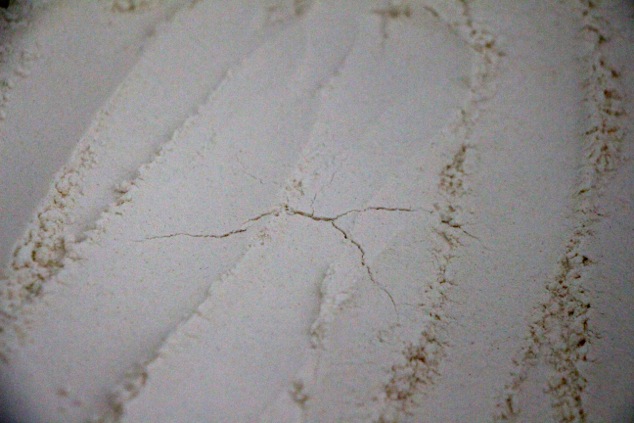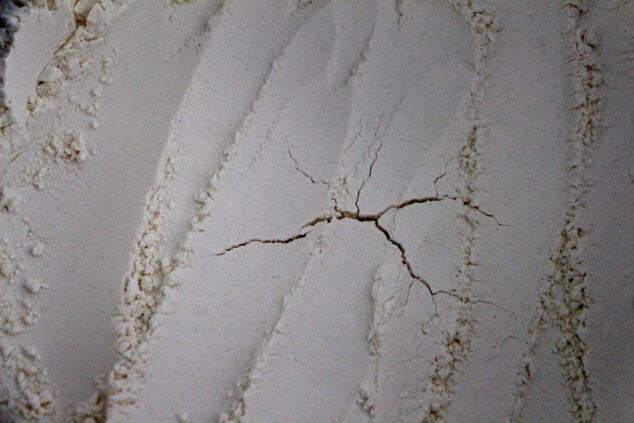 You will notice the flour starts to crack as the yeast mixture rises and bubbles out of the cracks… This is my kids' favorite stage when we are making yeast dough together… they wait so patiently and watch every move of the flour and yeast…One time they started singing while waiting and watching the flour and yeast. They told me that yeast likes singing and it will make it come out even quicker and grow even bigger… 🙂 So you may try to sing to yours as well… you never know what will happen…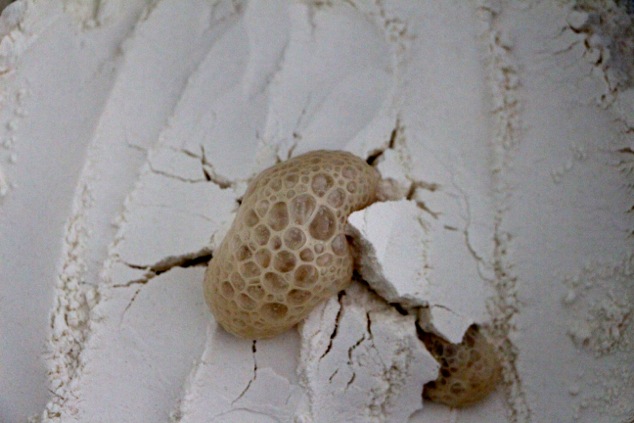 Look closely…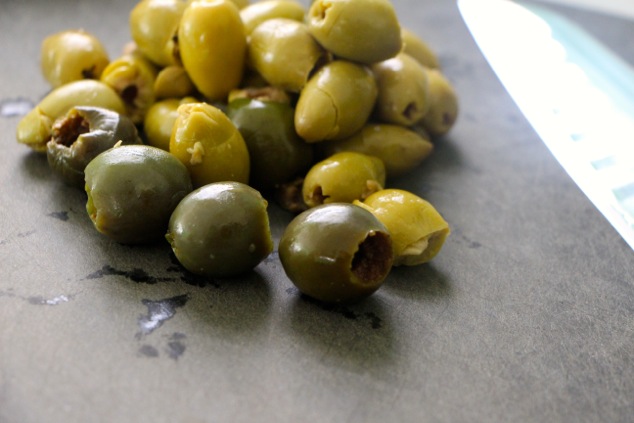 Meanwhile chop the olives.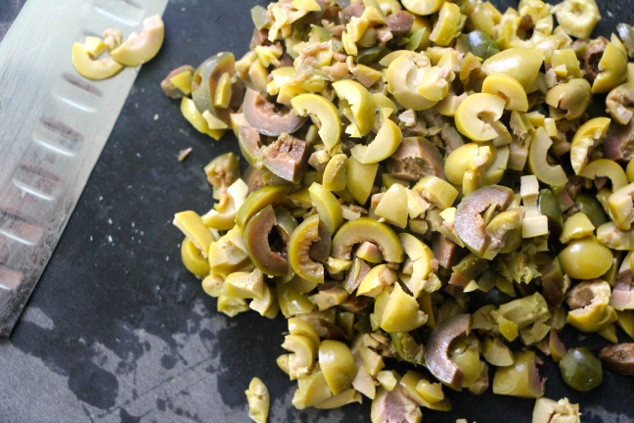 This time I used a mix of leftover olives I had in the refrigerator, but of course you can use whichever olives you like.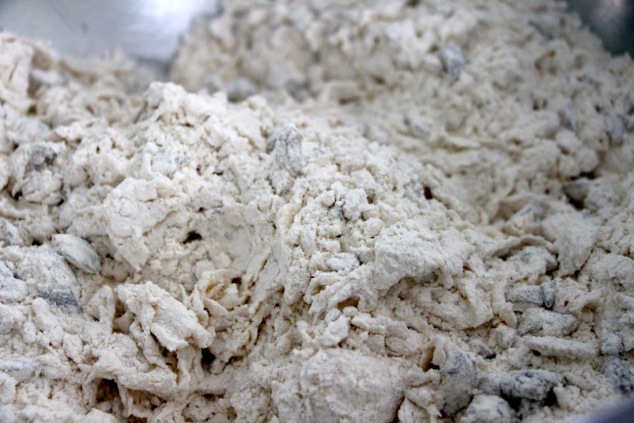 After 10-15 when the yeast mixture emerged from the flour, mix it all well with the rest of the flour in the bowl. Add the chopped olives into the flour and mix them in evenly.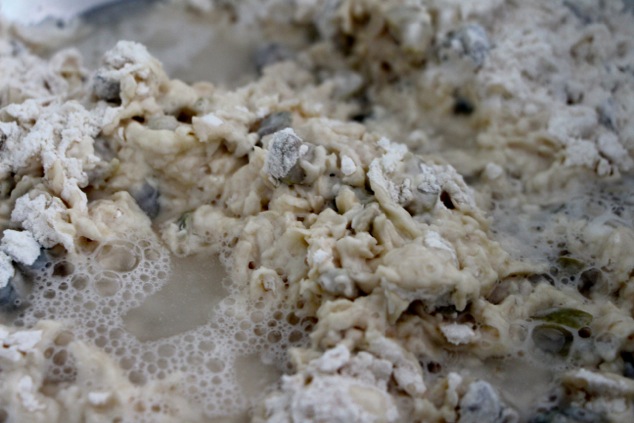 Time to add the rest of the warm water and start kneading the dough. It feels soft and a bit sticky… Don't worry, add the salt and continue kneading.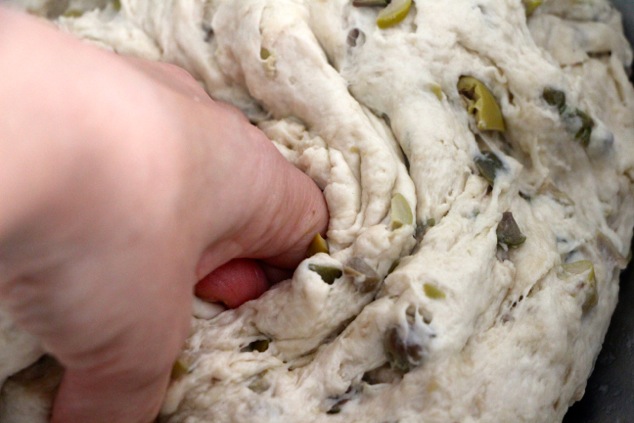 When the dough starts to come together add the oil, continue kneading and see how the oil helps to clean your hands 🙂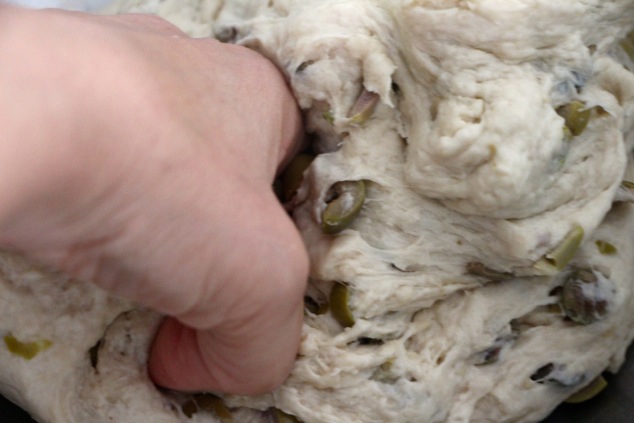 Keep kneading the dough.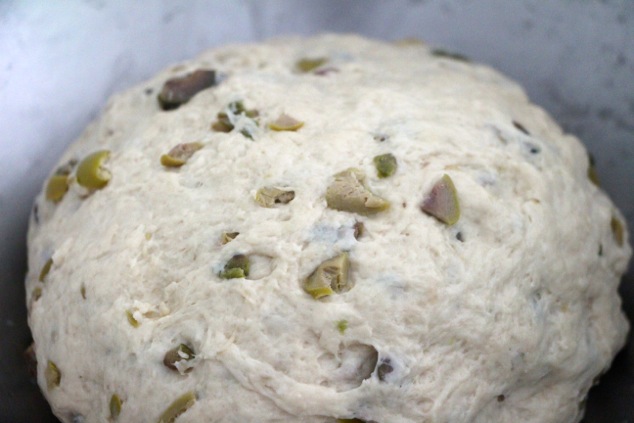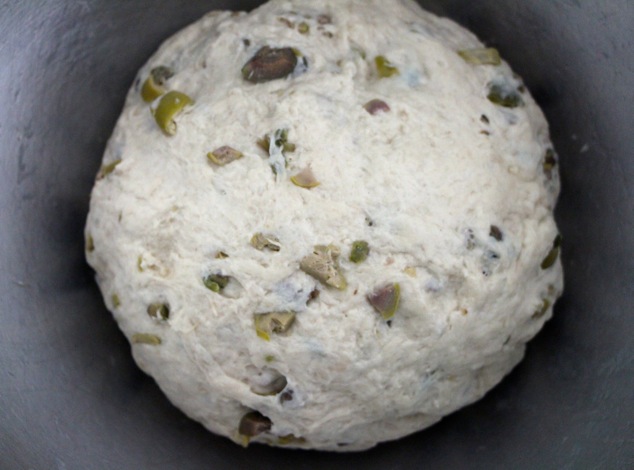 Form the dough into a ball and cover the bowl with plastic wrap.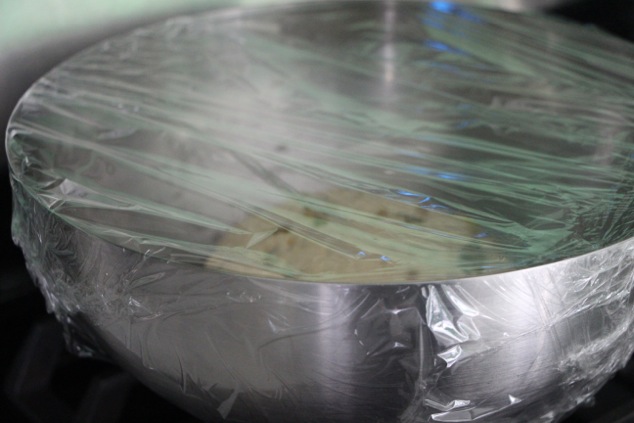 Set the dough aside in a warm place to rise for almost couple of hours.


The dough at least will double its size. After the dough has risen knead it one more time.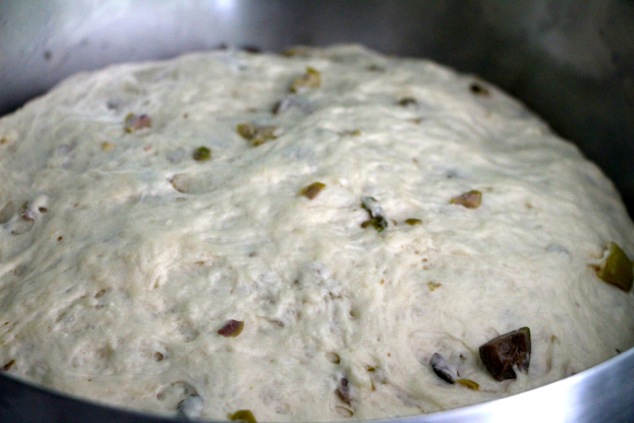 This amount of dough makes two standard sized challahs. I chose to make two 6-stranded challah braids and so first I divide the dough into two. Each part is divided into 6 even parts.
Braiding…
There are so many creative ways of braiding challah; however, I have to admit that braiding is not my forte.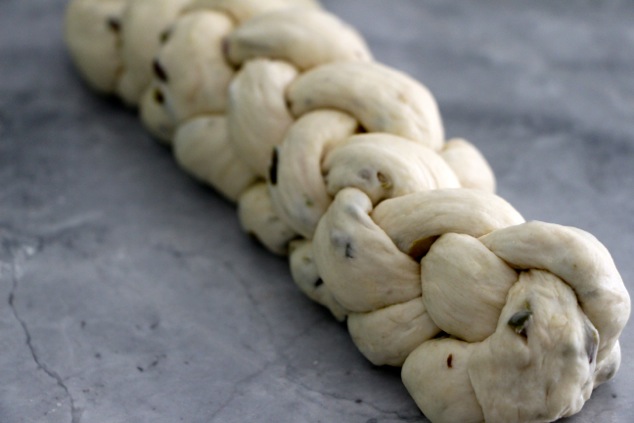 A while ago I was able to learn a 6-stranded challah braid and this is my "go to" braiding method. You may braid your challah any way you like. Just note that if your challah is round or overly thick it will probably need a little longer time in the oven.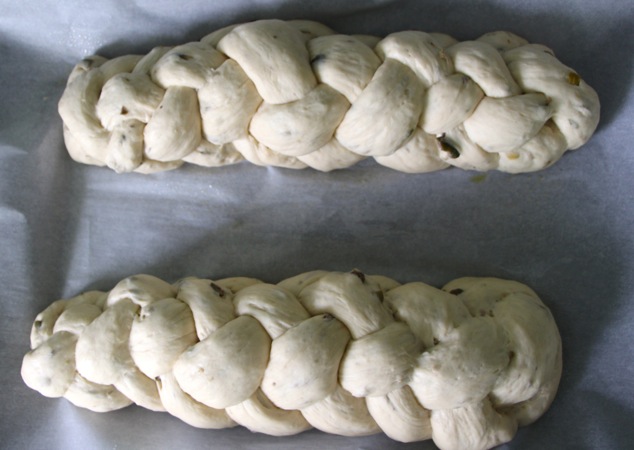 Place your braided challahs on a baking sheet with parchment paper sprayed just a little with olive oil.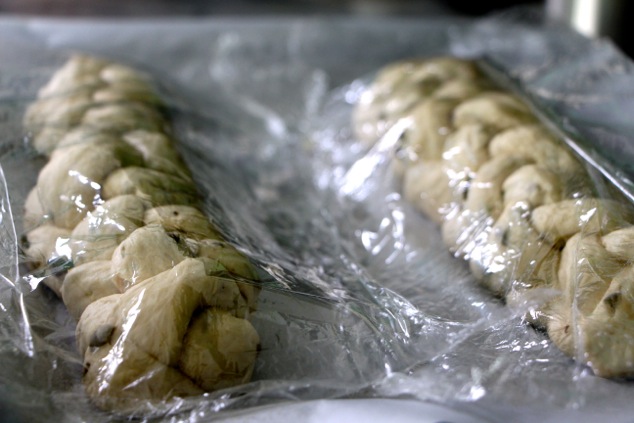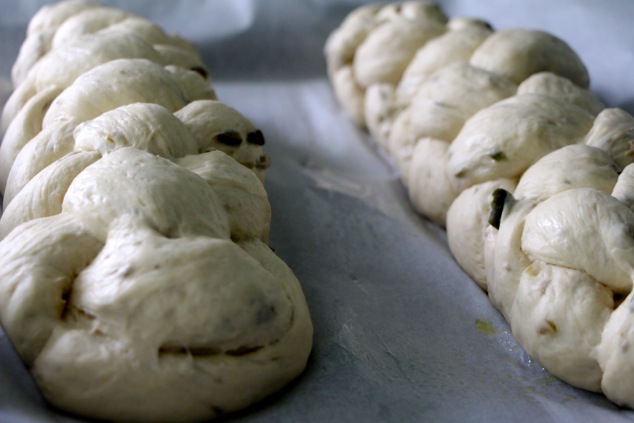 Cover lightly with plastic wrap and allow them to rest and rise in a warm place for about 20 minutes.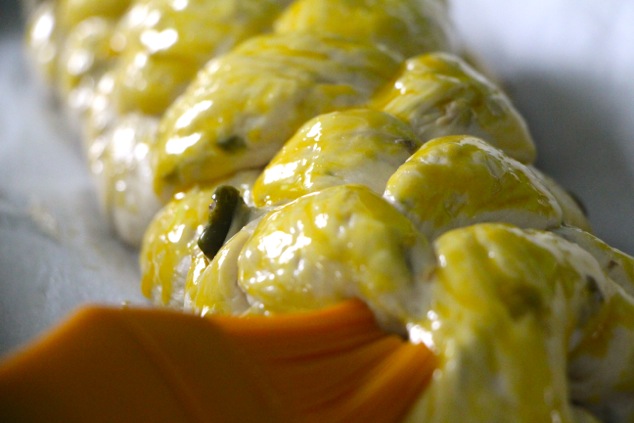 Brush gently with egg yolk using a baking brush.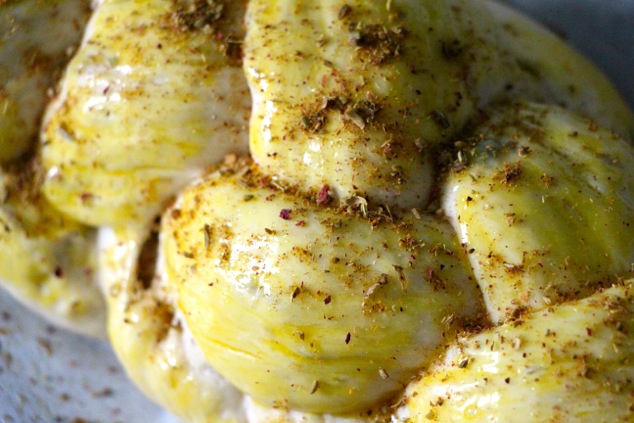 Sprinkle with Tabil. To make your own Tabil checkout Afooda's Tabil Post.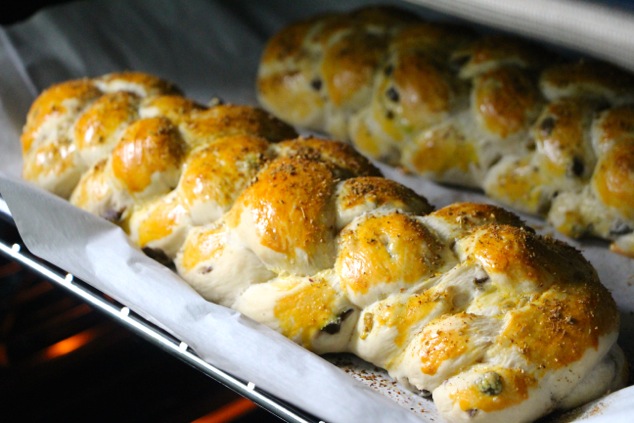 Bake at 350°F preheated oven for about 40 minutes.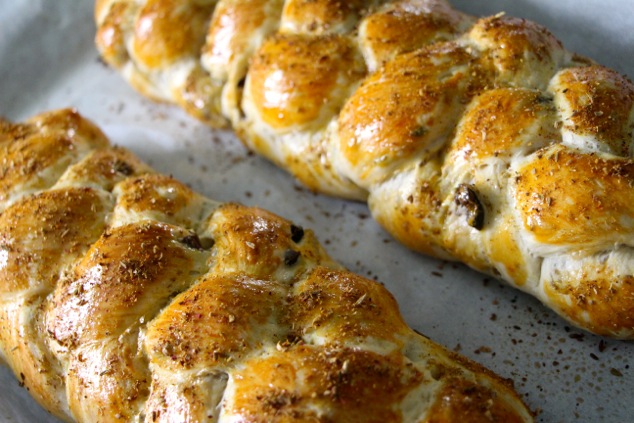 Allow the challahs to rest for about 10 minutes before cutting into them; the inside is still cooking when the challahs are just coming out of the oven.
Enjoy and Shabbat Shalom! 🙂
—————————————————————————–
Quick Recipe:
Olives and Tabil Challah-
Place the Flour in a large bowl and create a crater in the middle.
Add Dry Yeast, Sugar and ½ cup of Warm Water in the crater.
Cover with the Flour and allow 15 minutes for the Yeast to get bubbly and active.
Mix the yeast mixture and flour together and add the chopped Olives.
Add the rest of the Warm Water and start kneading the dough.
Add Salt and continue kneading.
When the dough is unified add Canola Oil and continue kneading.
Form a ball and cover the bowl with plastic wrap.
Place the dough in a warm place and allow it to rise for 90 minutes to 2 hours.
After the dough doubled its size, knead it one more time.
Divide into portions and braid the Challahs.
Cover with plastic wrap and allow rising for 20 minutes.
Brush gently with Egg Yolks and sprinkle with Tabil.
Bake at 350°F preheated oven for about 40 minutes.