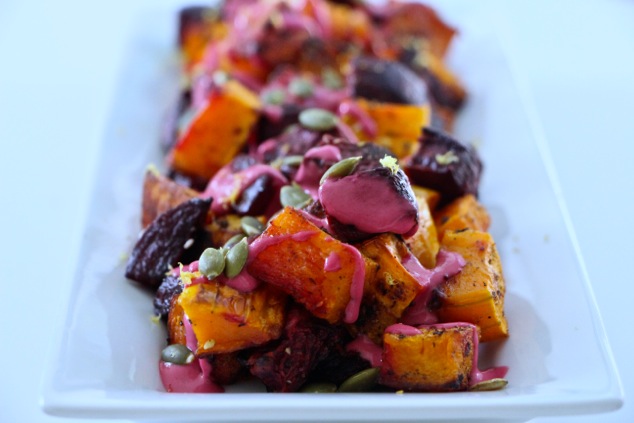 It has been more than 15 years now since the first spark of my own Thanksgiving connection. Growing up in Israel, we didn't celebrate Thanksgiving. My minimal exposure to Thanksgiving was through American movies and some TV shows, as I watched American families gather around a table filled with good food to count their blessings. Perhaps, and somewhat expected, the average Israeli is not familiar with this very American holiday and I was no different.
When I moved to the U.S. Thanksgiving was a foreign concept, it was not the tradition I inherited, but I was intrigued. I felt a strong connection to the concept of being thankful that came from home and from Judaism. Moreover, I found myself surrounded by wonderful, loving people who invited me to many Thanksgiving celebrations and I started feeling my very own Israeli connection to this foreign holiday. Perhaps tradition is not only inherited but can also be acquired…? 
Being able to find a link between my inherited tradition and this American holiday allowed me to acquire a new tradition and I am thankful for that. My growing love and connection to Thanksgiving has inspired my love of food. Through my Israeli eyes I was able to come up with a few original dishes that have been part of our family Thanksgiving celebration ever since.
You will need:
2 Medium Beet Roots
(+1 Beet Root to juice for Pink Tehina)
½ Butternut Squash
½ cup Pumpkin Seeds
2½ tbsp. Olive Oil
½ tsp. Za'atar
½ tsp. Garlic Salt
¼ tsp. Black Pepper
For the Pink Tehina Sauce
⅓ cup raw Tehina (Sesame Paste)
Half a Lemon freshly squeezed (about 2 tsp. lemon juice)
1-2 tbsp. of Fresh Beet Juice
3 tbsp. Water
Salt (a pinch and a little)
For the Topping:
½ cup Pumpkin Seeds toasted
Lemon Zest (of 1 Lemon)
Let's get to work!
Peel and Cut
Butternut squash and Beetroots … We have here relatively challenging veggies to handle which makes it the perfect time for just a few tips that will make your life a little easier.


Everything you need to know about Butternut Squash:
Picking-
First, I like to pick a butternut squash with long "neck" – the part without the seeds is usually easier to handle (peel or cut), it stores better and longer in the refrigerator and it even tastes better.
Cutting –
When handling a butternut squash use a big, heavy, wide knife (Santoku will work great!)
First, cut right where "the neck" meets the curvy/bottom part of the butternut squash.
Then, cut each part in half.
Finally, clear the seeds from the bottom part using a spoon. A grapefruit spoon with jagged edges is perfect for this task! It really should be called "a butternut squash spoon" 🙂
Storing-
Any butternut squash leftovers should be wrapped tightly in ceramic wrap and stored in the refrigerator. However, the two parts of the butternut squash do not behave the same. "The neck", the part without the seeds stores better and longer in the refrigerator. If you are storing the part with the seeds, make sure to clear all the seeds before wrapping it.
Tips for Beetroots:
Peeling or cutting beets can stain your hands and skin; the color stays a few hours longer even after washing hands.
You may use kitchen gloves or try to minimize the time peeling and handling the beets.
Do NOT rinse peeled beets under running water for long time- their beautiful color runs out. Once the beetroots are peeled, do a quick one-time rinse to wash off any dirt.


Cut the butternut squash and beets into 1-inch cubes.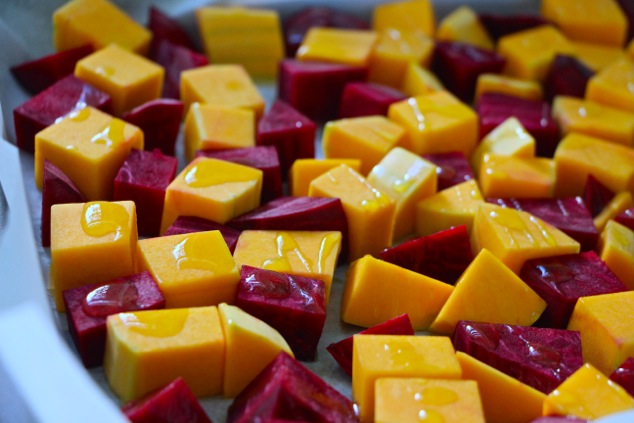 Arrange on a baking sheet with parchment paper and drizzle with olive oil evenly.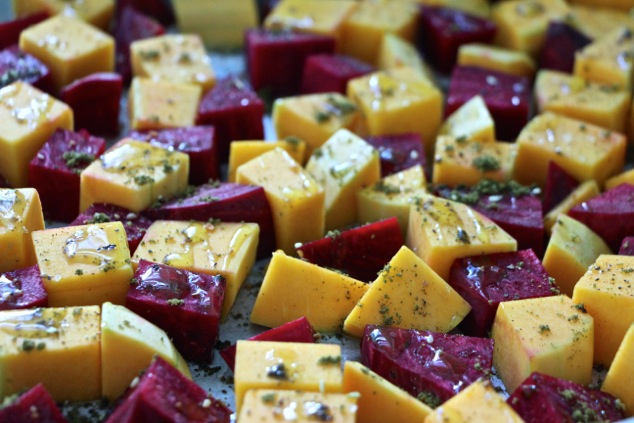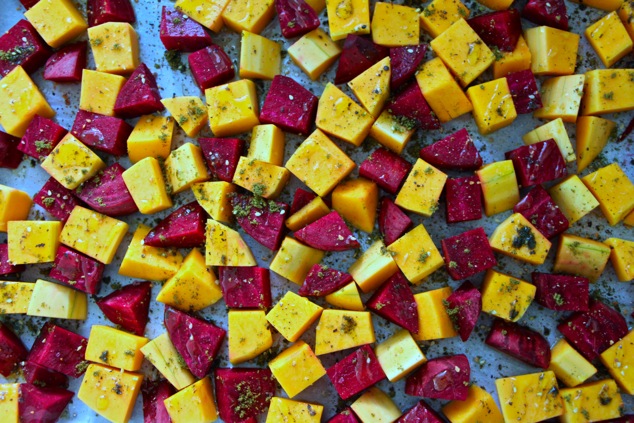 Sprinkle with za'atar, black pepper and garlic salt. Send to a 400° preheated oven.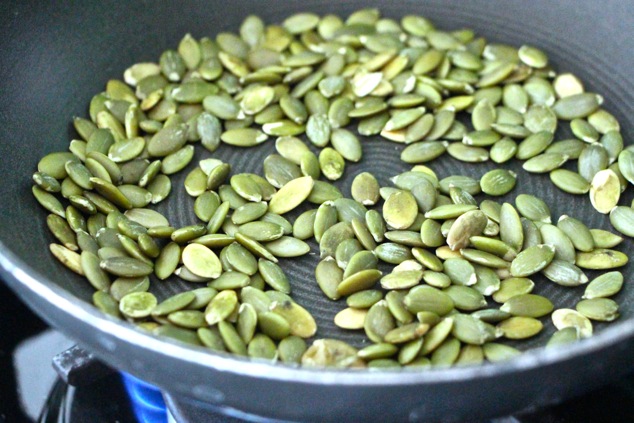 Meanwhile toast the pumpkin seeds. For small amounts, I like using a small pan on low to medium heat. Arrange all pumpkin seeds in one layer and move the pan every so often to make sure they are tossed and get evenly toasted. Pumpkin seeds are delicate and they get toasted pretty quickly. It all happens in matter of just a few minutes. Once the pumpkin seeds are toasted set them aside.
Pink Tehina…
This dish is perfect served with Tehina sauce also known as Tahini. There's nothing like the creaminess and the one of a kind flavor of Tehina. I had a chance to tell you all about this Middle Eastern Secret Sauce on Afooda's Tehina Post. Today, for the festivity and the brightness of the holiday colors, I decided to make pink Tehina using beet juice. I like juicing the beets myself because I'm a little crazy about fresh beet juice and I get to have a little drink while I cook; but you can also use store ready-to-go beet juice (Just make sure there are not too many extra ingredients besides beets). In any case, we are only using 1-2 tablespoons of beet juice in the Tehina.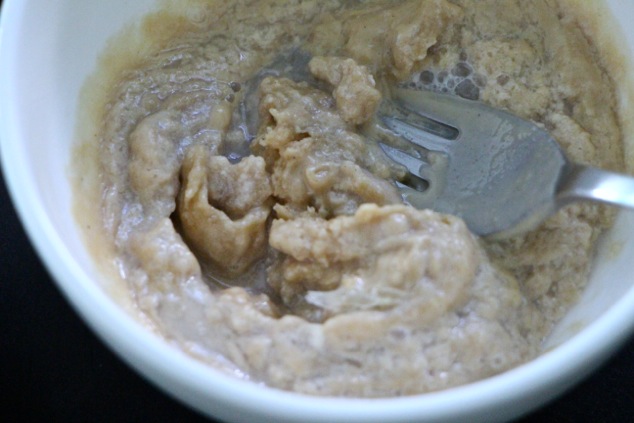 Combine raw Tehina with fresh lemon juice and mix in slowly using a fork.


Add the beet juice and continue mixing.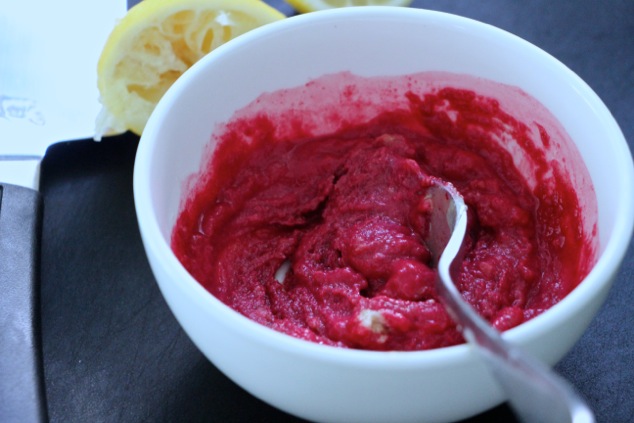 Look at this BEETiful color!!!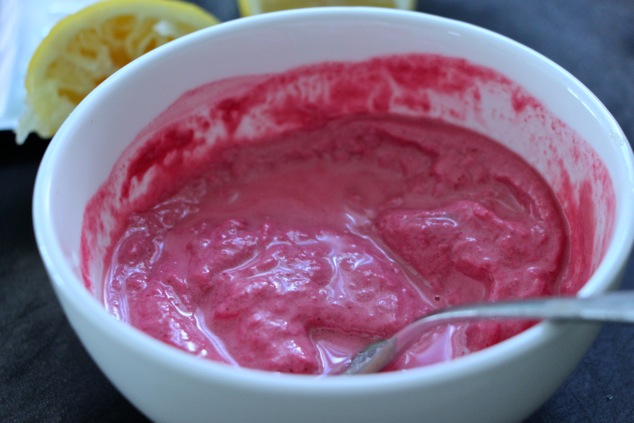 Add water one tablespoon at a time until you reach the desired texture. Continue mixing with the fork and lastly add the salt.
That's it the Pink Tehina is ready!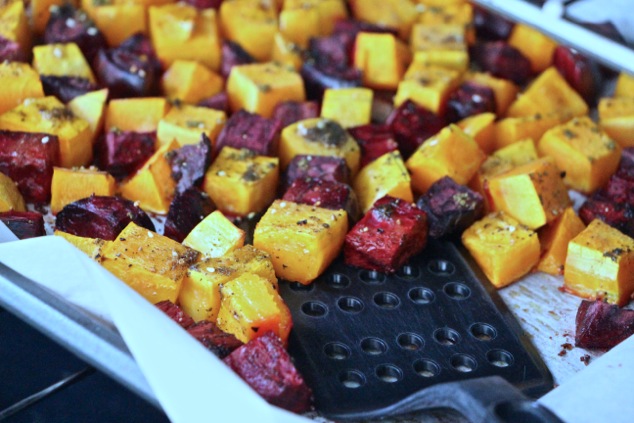 After about 40 minutes of roasting in the oven, carefully pull the tray out a little and use a slotted turner to flip the vegetables to the other side. Be careful it is HOT in there! This will allow the topside of the beets and butternut squash to get roasted as well. It is not easy to get each and every one of them flipped – just do your best. Allow the flipped vegetables to roast for additional 10-15 minutes.
Roasting is done!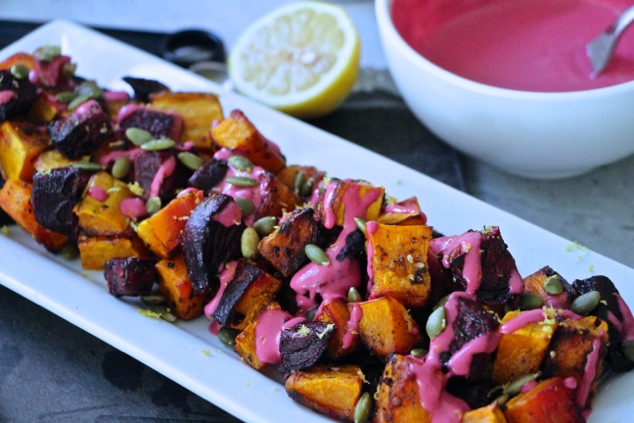 To put the dish together for serving, move the roasted beets and butternut squash onto a serving dish, zest a lemon on top, sprinkle the toasted pumpkin seeds and drizzle some pink Tehina on top.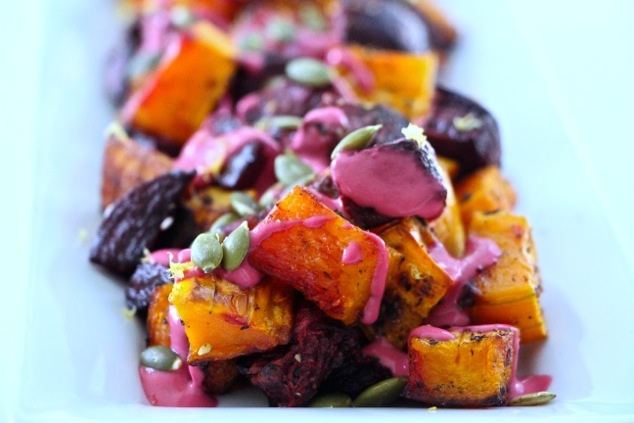 Check out these beautiful colors!
Have a Happy and Colorful Thanksgiving!
—————————————————————————–
Quick Recipe:
Roasted Beets & Butternut Squash with Pink Tehina and Pumpkin Seeds-
Peel and cube Beets and Butternut Squash to about 1 inch in size.
Lay all vegetables flat in one layer on a parchment paper in a large oven tray.
Drizzle with Olive oil evenly.
Sprinkle all vegetables with Za'atar, Garlic Salt and Black Pepper.
Roast the vegetable in a preheated oven of 400°.
After 40 minutes carefully give the vegetables a good flip.
Keep roasting for additional 10-15 minutes.
Zest one Lemon.
Toast the Pumpkin Seeds in a small pan over medium heat for 5 minutes.
Make sure to toss them around for even toasting.
To Make the Tehina:
Combine Lemon juice and Tehina and stir using a fork.
Add Beet juice and mix to combine.
Add Water and Salt and stir to smooth consistency.
When serving:
Drizzle the roasted vegetables with pink Tehina sauce and top with toasted Pumpkin Seeds and Lemon zest.