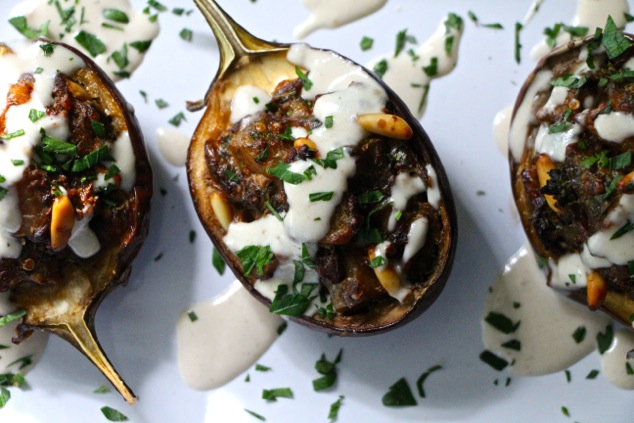 I already had a chance to confess my special love for eggplants in a few eggplant dishes right here on the blog. Eggplants are super popular in both Israeli and Tunisian cuisines and are such a fantastic ingredient to work with. This is why I always come back to them…
This time in this traditional Tunisian dish called "M'hamer".
This Traditional Tunisian dish of stuffed eggplants is usually served on the first day of Sukkot – a Jewish holiday and part of the Jewish holidays representing the Jewish New Year. If you know me by now, you know that I'll be looking for some connection between this dish and the meaning of the biblical holiday of Sukkot… I started with the holiday concept I connect to the most- Temporary Home vs. Permanent Home. Sukkot is the holiday in which we remember the time the Israelites were wandering in the desert on the way to the Promised Land. During this time of wandering the Israelites dwelled in temporary huts called "Sukkot" (סוכות). I imagine how at night, when they laid in their Sukkahs and looked up to the desert stars, they were dreaming about the destination –Israel- a place their ancestors used to call home. Then, they were wondering how it would feel to live in their own permanent place and to be able to call it home. Forty years of wandering in the desert, a long time of instability and uncertainty promised (even before the Promised Land) a transformation.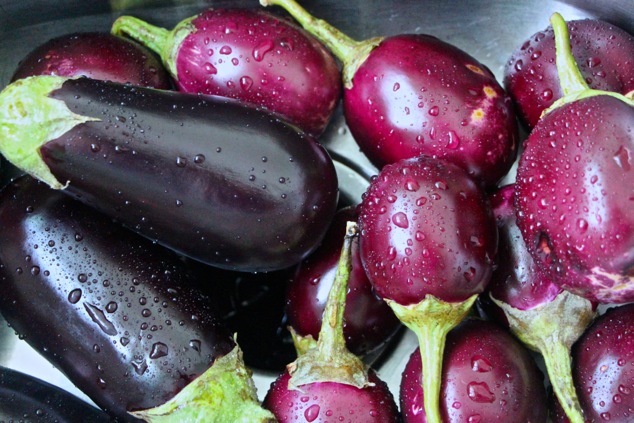 In this dish, the eggplants are also going through a transformation. The eggplants' inside leave its permanent home and in a way takes its own journey. By the time it makes it back to the eggplant, its permanent home, it has taken its own journey of flavor transformation… M'hamar's filling is usually made with ground meat or sometimes chicken. Here, I give it a vegetarian version while keeping the original flavor of the dish.
You will need:
10 mini (Indian) Eggplants (or 6 small Italian)
2 medium Potatoes
1 medium Onion
½ cup packed Parsley
¼ cup Pine Nuts
2 Eggs
3 tbsp. Olive Oil
1 Lemon (Zest and Juice)
1½ tsp. Harissa
¼ tsp. Cumin
¼ tsp. All Spice
¼ tsp. Black Pepper
1 tsp. Salt (+½ tsp. Salt for Eggplants prep)
For Plating:
Fresh Parsley
Let's get to work!
Type of Eggplant…
There is such a variety of Eggplants out there. In this dish any eggplant is fair game. However, I like choosing small sized eggplants – I find them easier to prepare and prettier to serve. Little Indian Eggplants are my favorite and also small Italian Eggplants are great!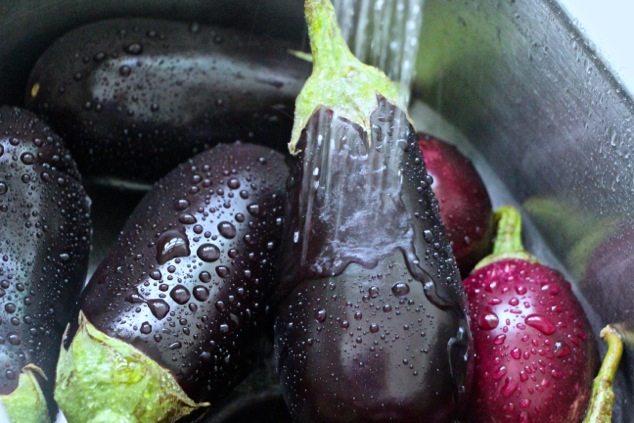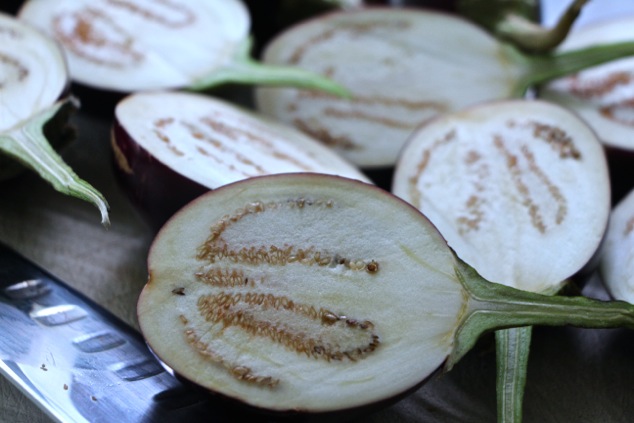 Since we are cooking the whole eggplant (stem is so pretty for presentation…), let's give them a good wash. Dry the eggplants and half them.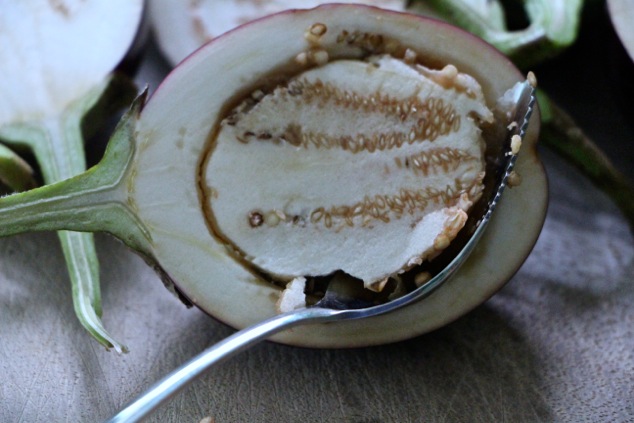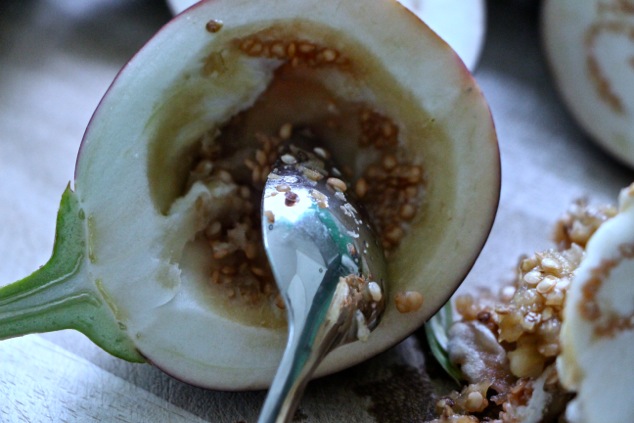 With the help of a teaspoon and a paring knife empty the inside of the eggplant while leaving an edge of about half an inch wide. I love using my grapefruit spoon for this task; it has the edgy sides that make it a little easier to empty the eggplants.


Sprinkle some salt on the inside part of the eggplant (about ½ a teaspoon) and let them rest upside down, flat on a paper towel.
Let's toast some Pine Nuts!
For small amounts, I like using a small pan on low to medium heat. Arrange all pine nuts in one layer and move the pan every so often to make sure the pine nuts are tossed and get evenly toasted. Remember, pine nuts are delicate and they get toasted pretty quickly. Keep an eye and nose on them, they'll be ready as soon after you start smelling them. Not to be dramatic, but one little distraction and the pine nuts are burnt.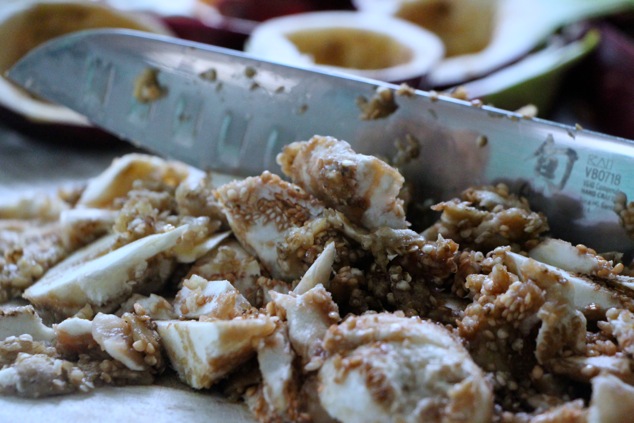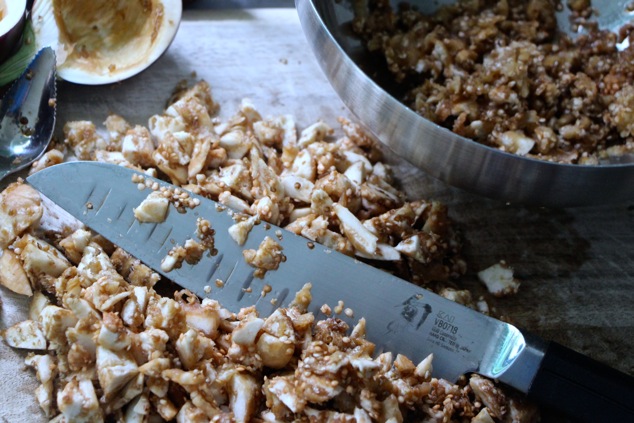 Chop the inside part of the eggplants we emptied and set aside.


Cube the onion and potatoes into half an inch cubes. Sauté over high-medium heat for 8-10 minutes or until the onions and potatoes start to become golden.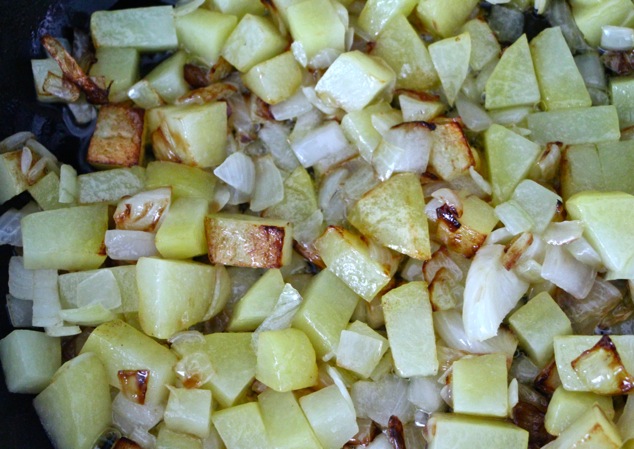 Remember to toss the onions and the potatoes every so often so they are cooking evenly.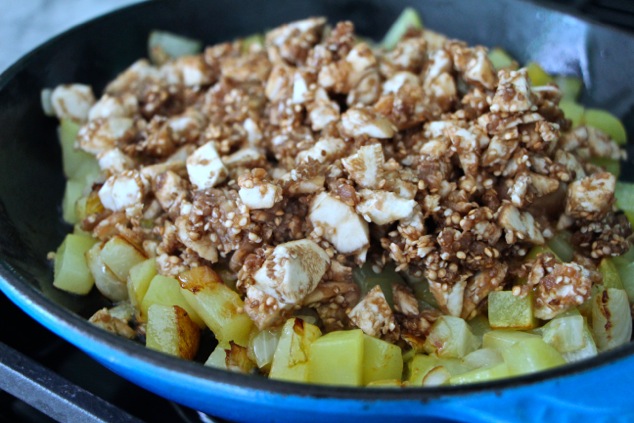 Time to add the chopped eggplant.


Cook for five more minutes and add Harissa, cumin, allspice, black pepper and one teaspoon of salt. Cook for couple more minutes as the hash starts to soften.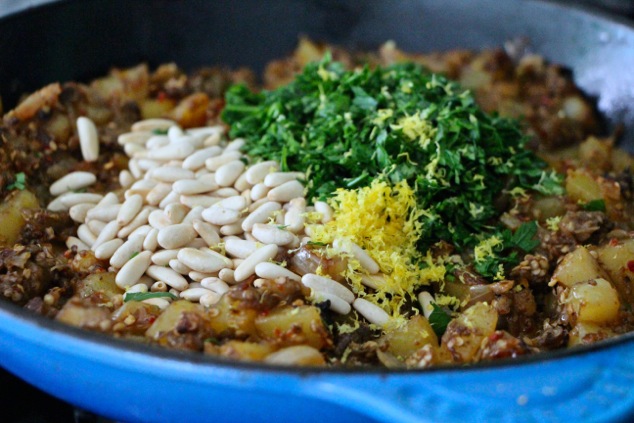 Turn off the heat and add lemon juice and zest, chopped parsley and roasted pine nuts.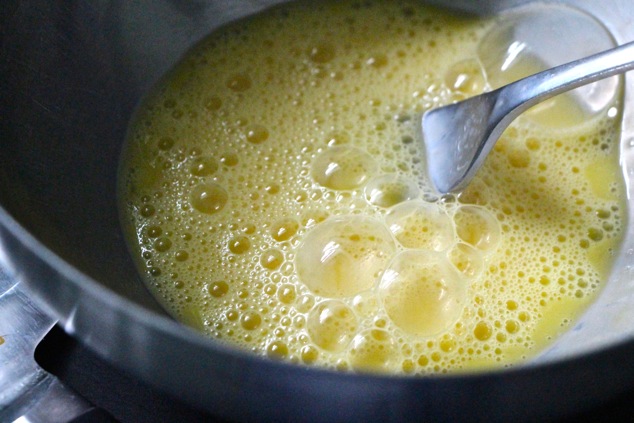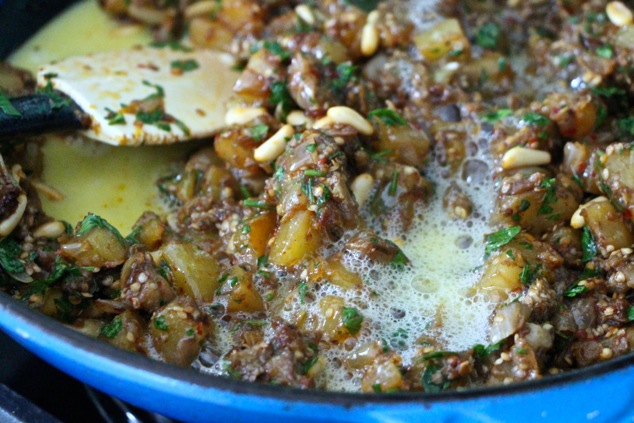 Beat two eggs and add to the mixture. Mix well to combine all ingredients evenly. The filling is ready!


Time to turn up the eggplants and fill them in!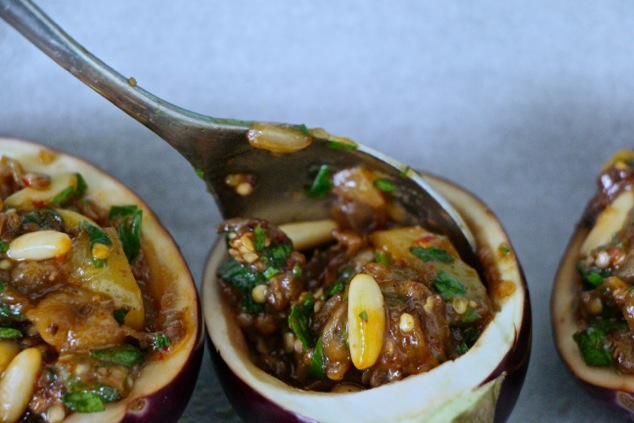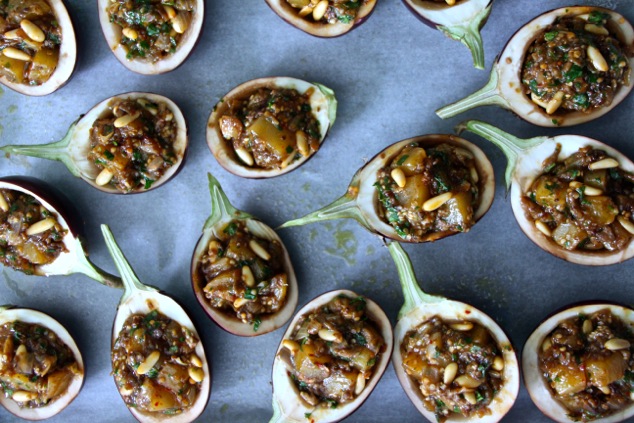 I like to use a teaspoon for this task and fill the eggplants a little over the top. I do it carefully on a baking sheet with parchment paper; this way I can send them straight to the oven.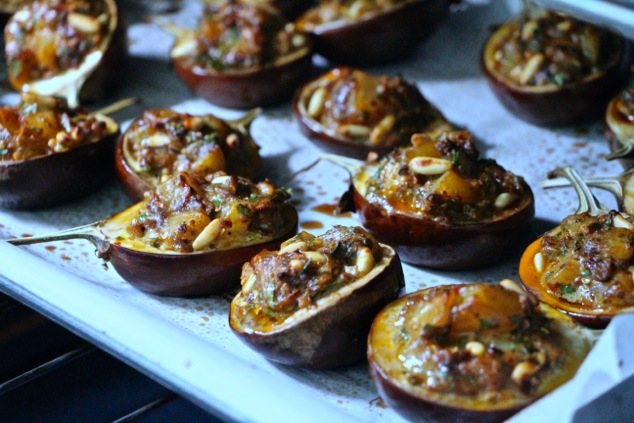 Bake the eggplants in a 350°F preheated oven for 40-45 minutes or until the top is slightly brown and the filling is firm.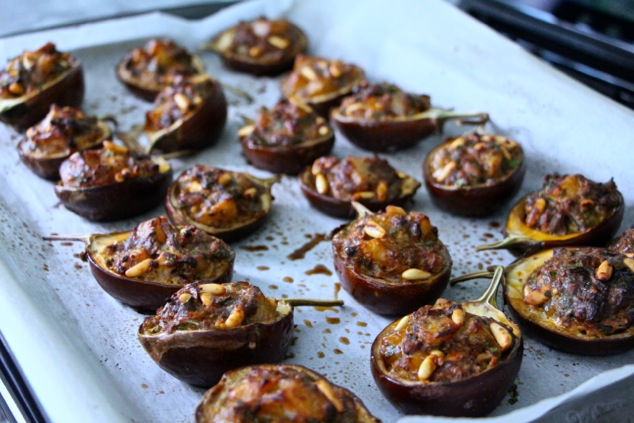 It's M'hamer time… 🙂 The stuffed eggplants are ready!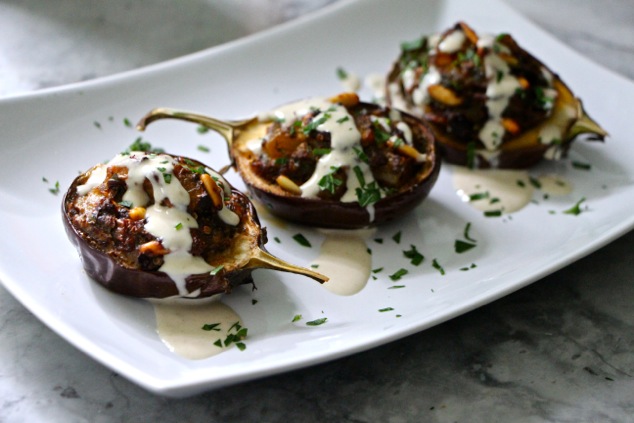 Serve while warm along with tomato sauce or homemade Tehina and some fresh parsley.
—————————————————————————–
Quick Recipe:
Tunisian Vegetarian Stuffed Eggplants-
Half the Eggplants and empty the inside while keeping ½ inch edge.
Sprinkle with Salt and lay the Eggplants upside down onto a paper towel.
Chop the Eggplants' inside and set aside.
Roast the Pine Nuts in a small pan over medium heat for a few minutes and set aside.
Cut Onion and Potatoes into ½ inch cubes.
Sauté Onions and Potatoes in Olive Oil until golden 8-10 minutes.
Add Eggplant inside and continue cooking.
Add Harissa, Cumin, Allspice, Black Pepper and Salt and mix well.
Cook for couple more minutes and turn the heat off.
Add chopped Parsley, roasted Pine Nuts, Lemon Juice and Zest.
Beat 2 Eggs and add to the mixture.
Mix to combine and fill the eggplants with the mixture.
Arrange Eggplants onto a baking sheet with parchment paper.
Bake Eggplants in a 350°F preheated oven for 40-45 minutes.
Serve warm along with tomato sauce or Tehina and fresh Parsley.