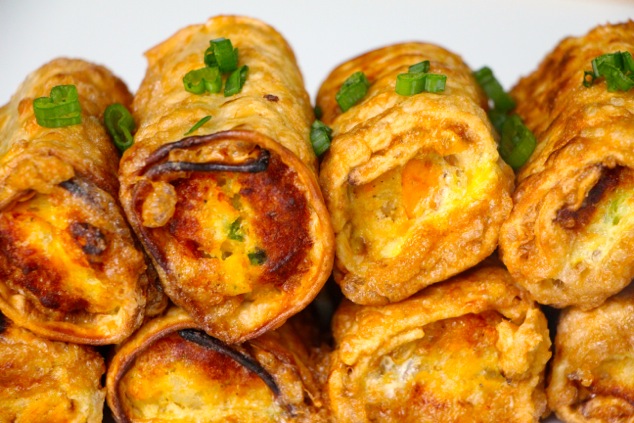 Freedom and creativity naturally go together… Yet, sometimes the best creative ideas are born when you are restricted or limited …
This holiday in which we were delivered from slavery, highlights the concept of freedom; however, when it comes to Passover food we may feel quite restricted.
Here is a GENIUS idea that will allow you to break free without really breaking the matzah 🙂 You can express your freedom by choosing ANY type of filling you like. This time I choose one of our family favorites, potato filling. This new matzah purpose will make you rethink the whole Passover food experience.
You will need:
[makes 15 eggrolls]
5 Matzahs
3 Eggs
Pitch of Salt
Avocado Oil / Canola Oil
Filling ingredients:
2 medium Potatoes
1 Sweet Potato
1 Garlic head
1 tsp. Olive Oil
8 stalks of Green Onions
½ tsp. Turmeric
½ tsp. Black Pepper
½ tsp. Salt
Or
Filling of your choice
A few Words about Avocado Oil:
When it comes to continuous frying I like to use Avocado oil; it is a healthy choice since it can withstand high temperature pretty well and its neutral (maybe a little nutty) flavor actually compliments the Matzah eggrolls.
Let's get to work: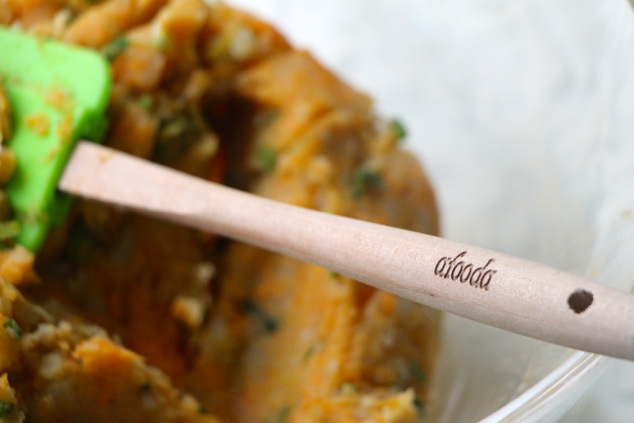 Starting with the inside – the Filling
Three Important Tips:
Mashed potato is a great base for most savory fillings – it has a very basic flavor and most of all it acts as "glue" for the rest of the filling ingredients.
We must avoid too much moisture in the filling, so to achieve the driest version of mashed potatoes, roast the potatoes (or sweet potatoes) wrapped in aluminum foil in 400° preheated oven. Mash potatoes well and add the rest of the filling ingredients.
Make sure the filling is completely cooked (especially with meat option) and ready to eat before stuffing the eggroll. The eggroll frying time is short and it doesn't allow much cooking.
In our roasting case…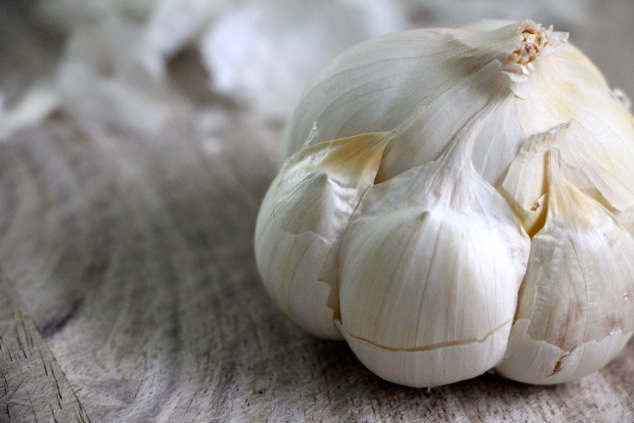 For the garlic-



peel most of the paper off the garlic and trim off the top just a little bit, exposing the cloves. Place the garlic head onto aluminum foil and drizzle the top with olive oil. Wrap it well with the aluminum foil.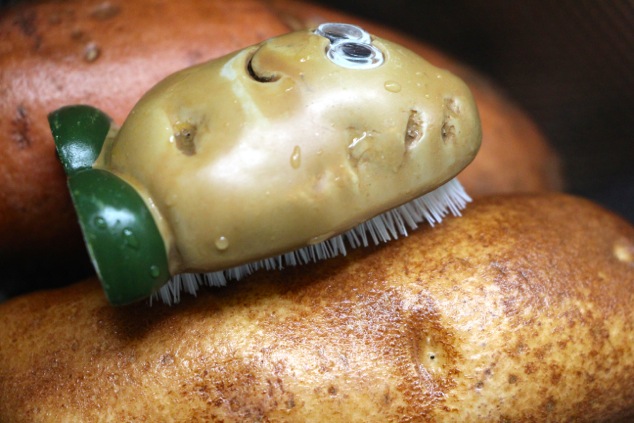 For the potatoes and sweet potato-



Wash them well and dry, using a fork pierce the potatoes around a few times and wrap them in aluminum foil.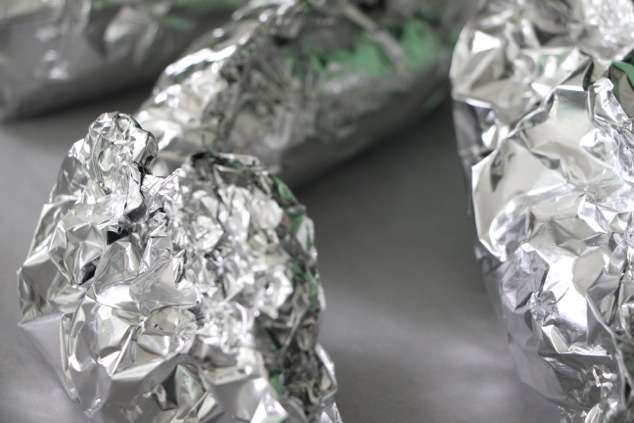 Place the wrapped garlic and potatoes on a tray and roast in 400° preheated oven for 45 minutes (the potatoes might need to be roasted up to an hour depending on their size).


When the potatoes are done roasting, allow them to cool just a bit; you may simply remove the skin or half them and use a spoon to scoop the flesh out into a bowl.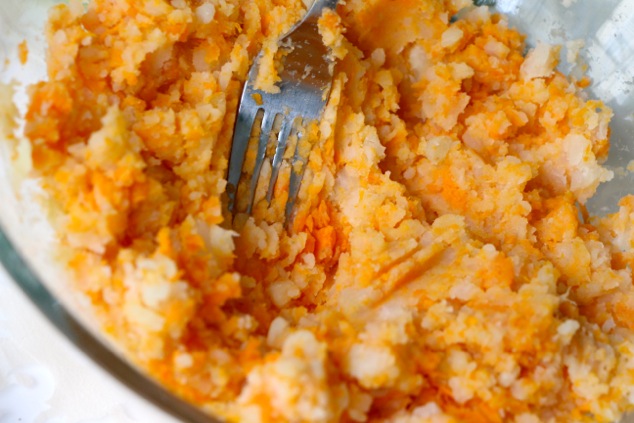 Mash it together to unified smooth purée.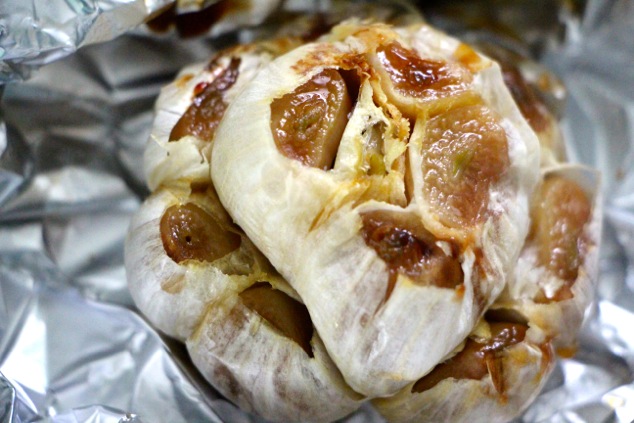 Remove the roasted garlic from the paper cases by pressing the bottom part, the roasted garlic is so soft and slides right out.


Mash it and mix together with the mashed potatoes and set aside.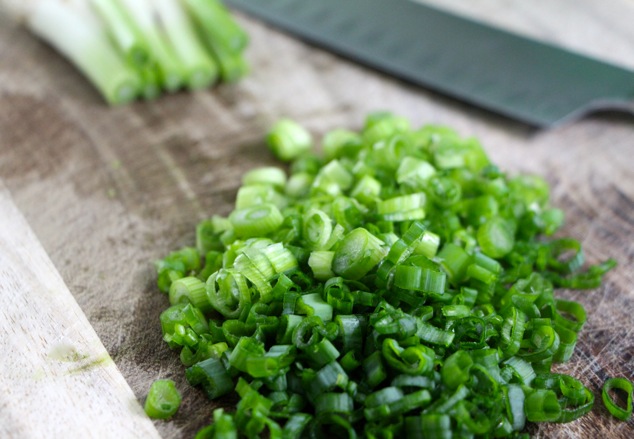 Thinly chop the green onions. Green part and white we want it all…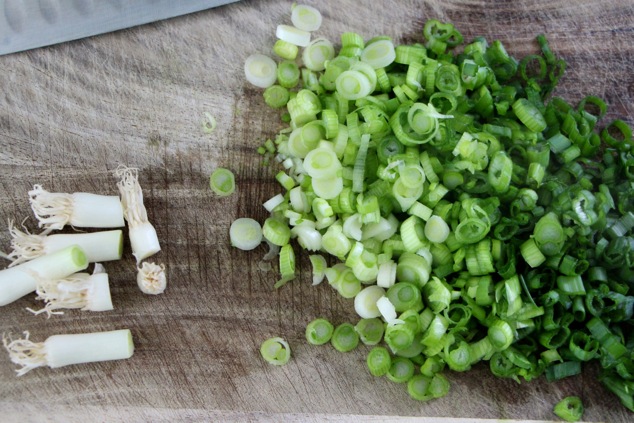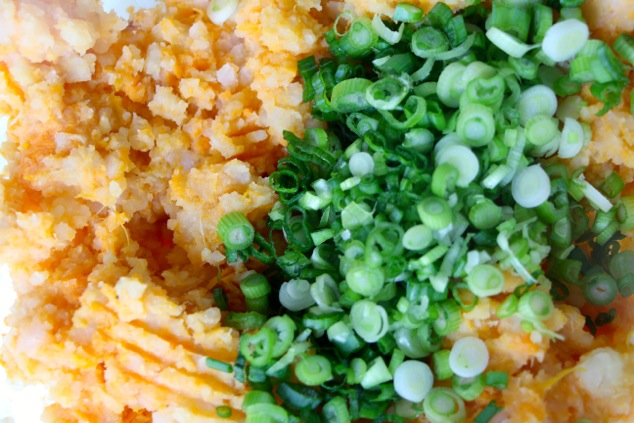 Add them to the mashed potato mixture.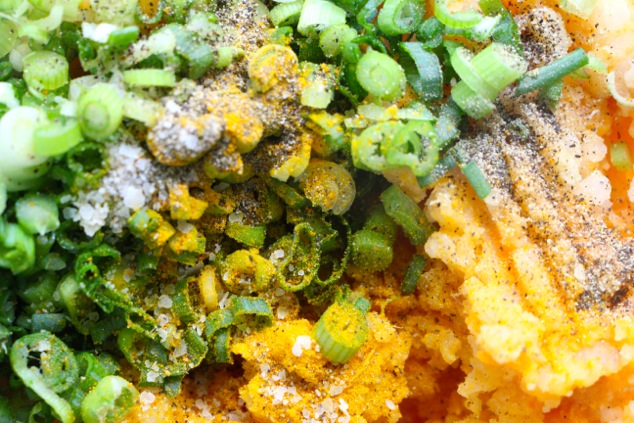 Add spices and salt to the mixture and mix well.
The filling is ready!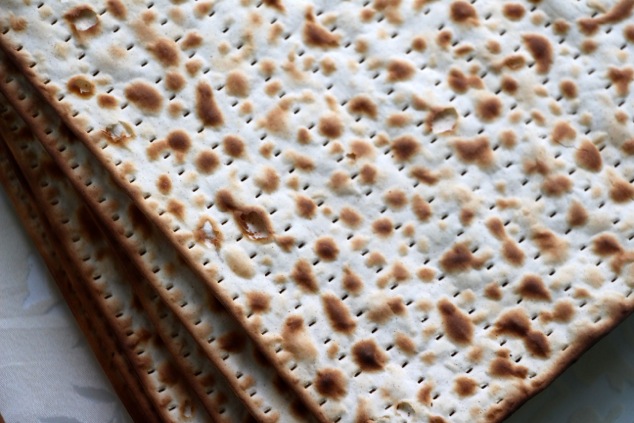 Time to Transform your Matzahs….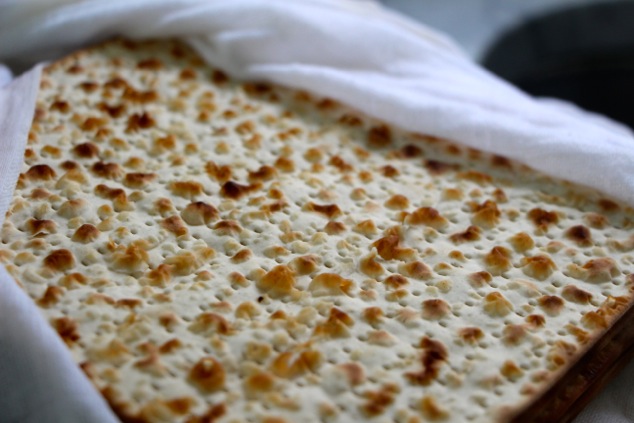 One by one and carefully, wet each matzah under a low stream of water on both sides (should take about 10 seconds for each) and stack together on a damp kitchen towel. Make sure to handle them carefully in order not to break the matzahs. Do not soak the matzahs in too much water – it might cause them to fall apart.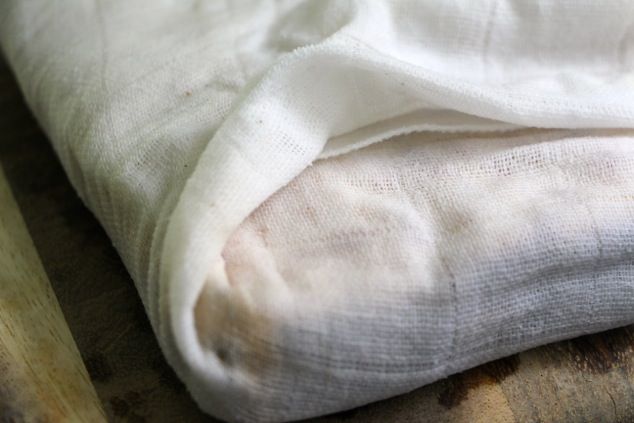 Cover with the damp towel and let them rest for at least 20 minutes (if the towel stays wet, it can rest for up to a couple of hours …just don't let it dry!)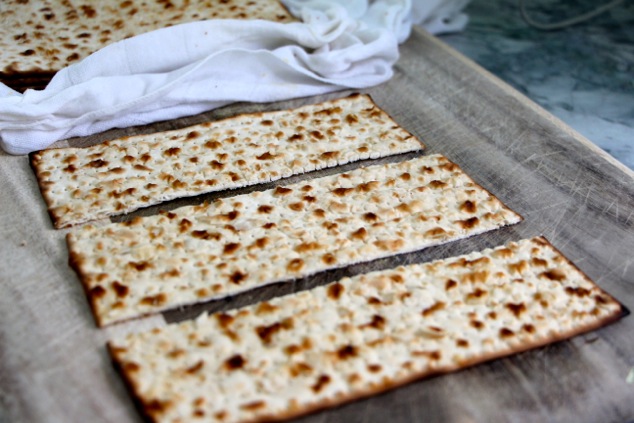 Using a sharp knife and following the matzah dotted lines, cut a matzah into three equal strips.


Add a spoon full of filling to the strip and roll tight.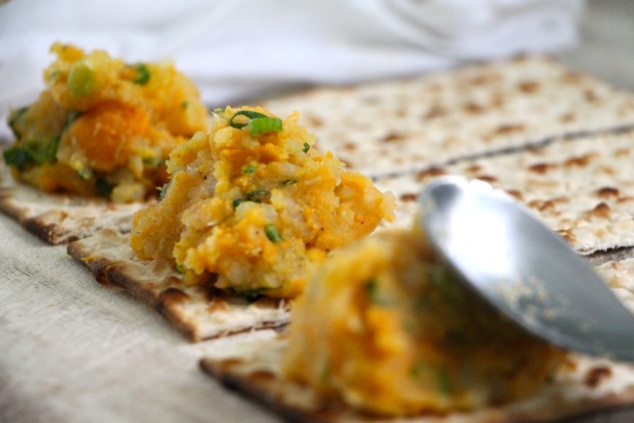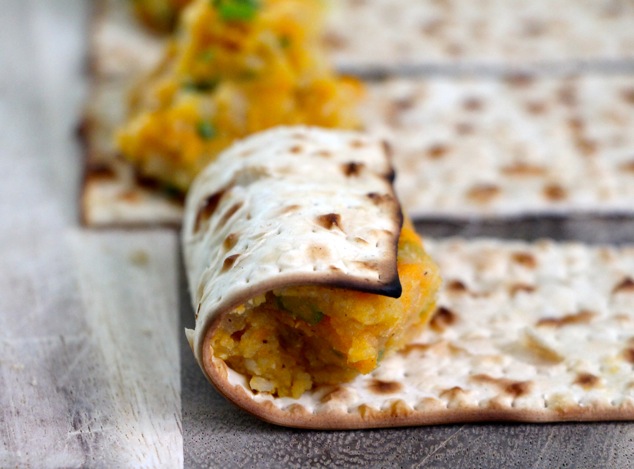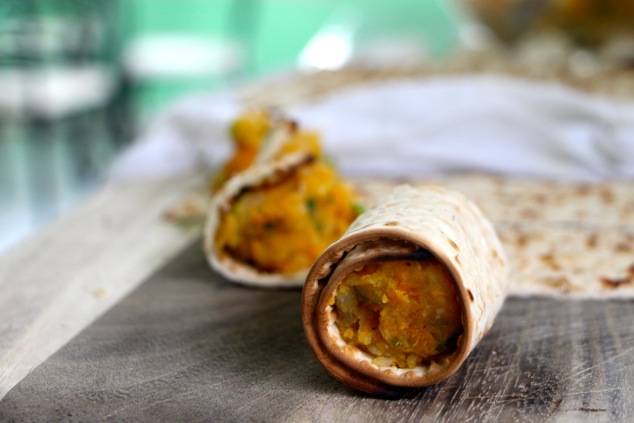 Work quickly so the eggrolls will not dry.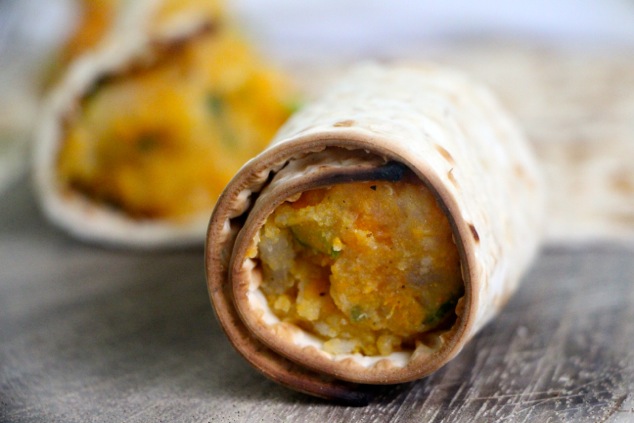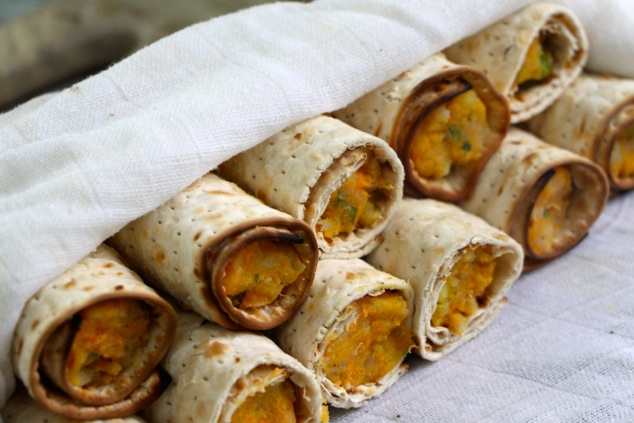 Continue creating all your rolls and keep them covered by the damp towel so they do not dry.


Beat the eggs together with a pinch of salt in a large flat bowl.
Preheat oil in a large deep-frying pan on medium heat; the oil level should be about an inch high and hot enough for semi deep-frying (350°-375°)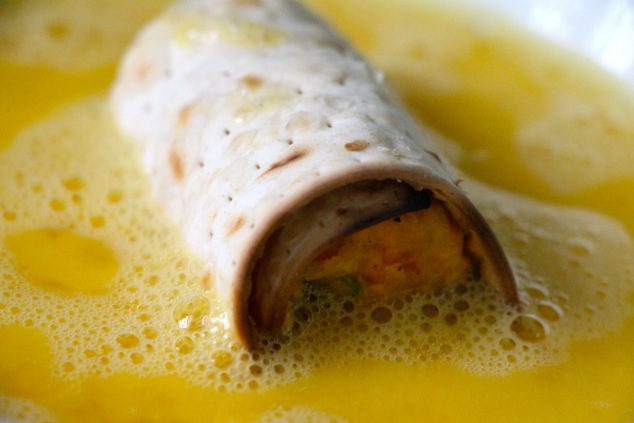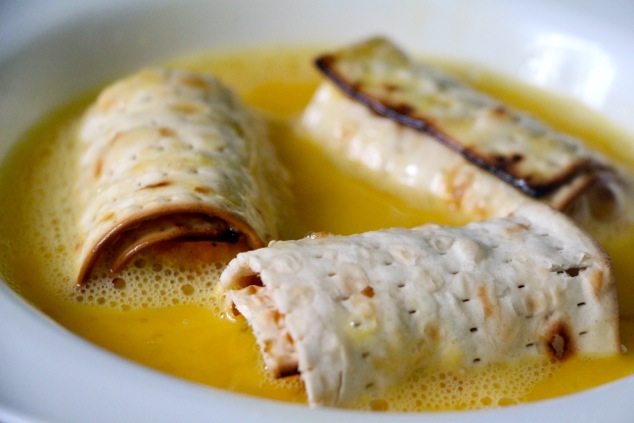 While holding the roll together, dip into eggs and make sure to coat all sides.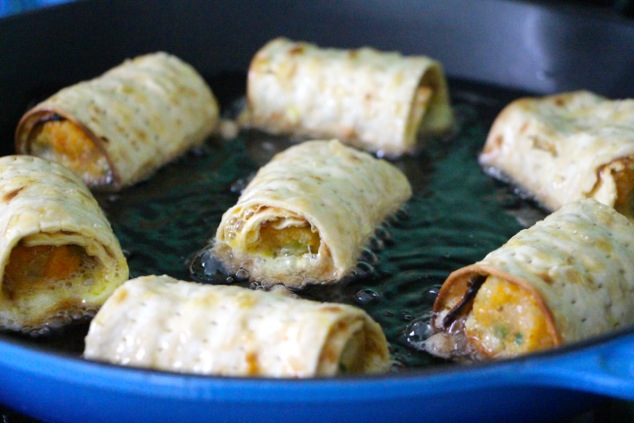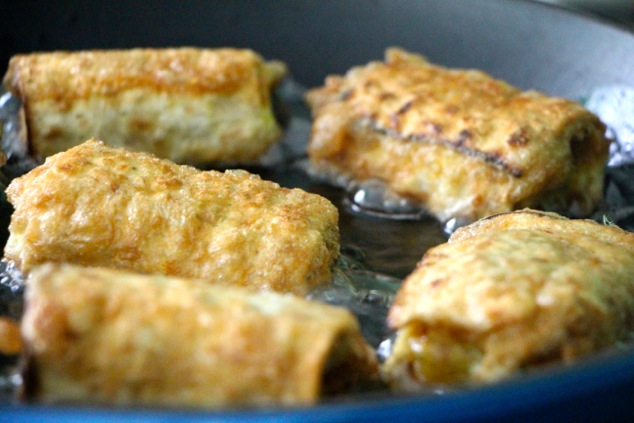 Place rolls seam side down in the hot oil. Fry on medium heat for about 2 minutes on each side until the eggrolls are golden brown.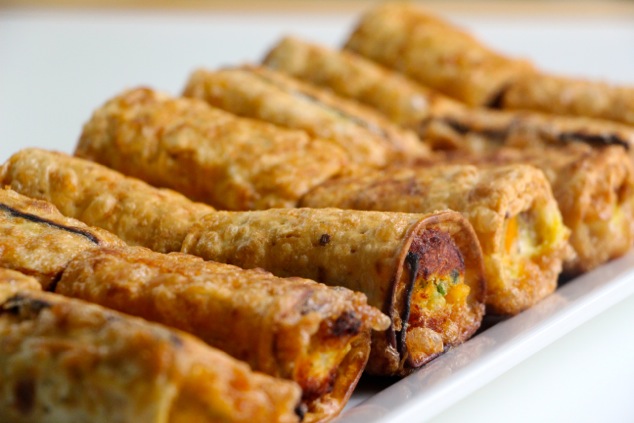 Remove onto a paper towel to get rid of any excess oil.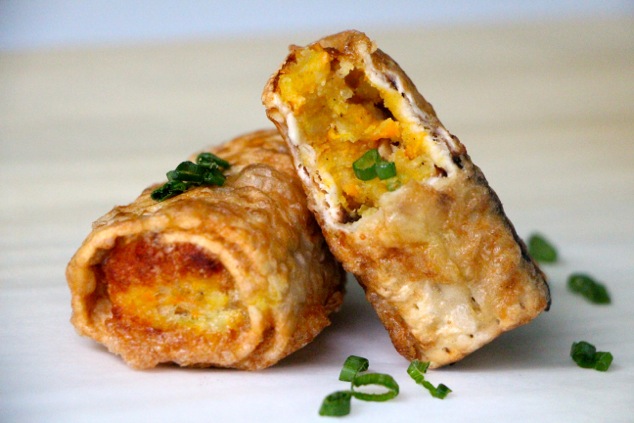 The matzah eggrolls are ready to eat!
♪ FREEDOM…FREEDOM….FREEDOM OOH….FREEDOM! ♪ [Aretha Franklin]
The Freedom is on the Inside… Other ideas for fillings:
Potatoes. Green Olives. Dill
Potatoes. Spinach. Feta Cheese,
Potatoes. Roasted Eggplant. Hard-Boiled Egg (Serve with Tehina sauce)
Potatoes. Mushrooms. Onions.
Ricotta Salata. Mozzarella. Basil. (Serve with marinara sauce)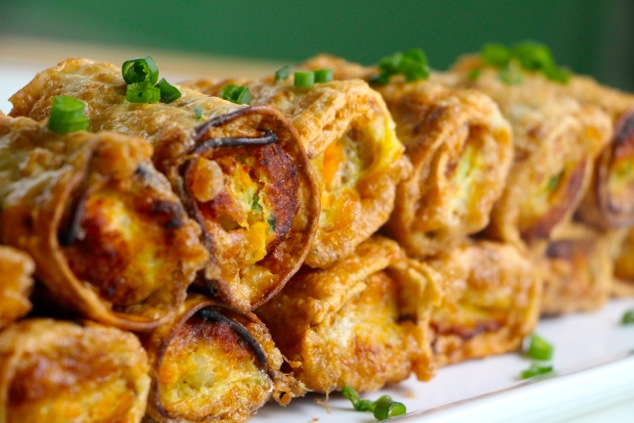 Meat Lovers- Use ground meat sautéed with olive oil, onions, walnuts, garlic and parsley and spices. Make sure the meat is completely cooked before using it as filling in the roll. To keep it together, you may add some mashed potatoes or hard-boiled egg pieces.
Cheese Lovers- Make your favorite combination of cheese mixture. For better results use dry and hard cheeses.
Asian flavor can be accomplished by sautéing thinly sliced cabbage, red pepper, green onions and corn seasoned with a little chili and paprika. Add the mixture to a small amount of mashed potato (it will help to "glue" all ingredients together). Serve your rolls with sweet chili sauce and some soy.
You can even make a sweet twist on these wonderful eggrolls…
Bananas & Nutella (serve with whipped cream and powdered sugar)
Strawberries & Cream cheese (Served with strawberry syrup and powdered sugar)
Pineapple & Ricotta Salata (serve with maple syrup and powdered sugar)
Options are endless – be creative and make it your own!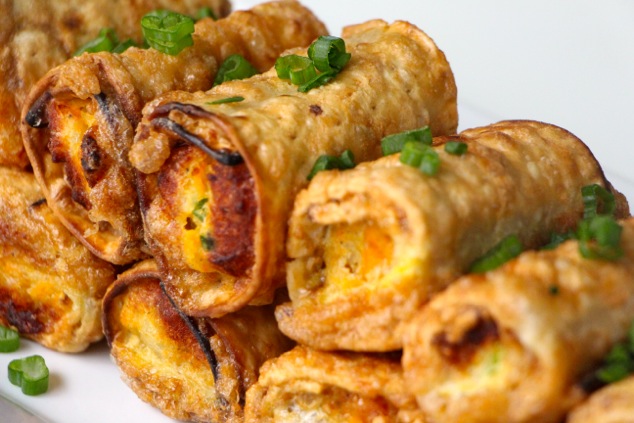 —————————————————————————-
Quick Recipe:
Matzah Eggrolls –
Cover the Garlic, Potatoes and Sweet Potato in Aluminum foil.
Roast in 400° preheated oven for 45 minutes (up to an hour for large potatoes).
Remove the skin and purée Potatoes, Sweet Potatoes and roasted Garlic together.
Add chopped Green Onions and mix well.
Add Turmeric, Black Pepper and Salt.
Wet the Matzahs (one at a time) and set aside for 20 minutes in a damp kitchen towel.
Allow the Matzahs to get soft and flexible.
Use one Matzah at a time and cut (following the lines) to three equal pieces.
Place a spoon full of the filling mixture at the edge and roll into an eggroll.
Keep the rolls covered in damp kitchen towel.
Whisk the Eggs together and add a pinch of Salt.
Deep the rolls well into the whisked Eggs on all sides.
Fry in Avocado Oil/Canola Oil until golden and flip to the other side.
Set onto paper towel to get rid of any excess oil.
Serve warm or at room temperature.