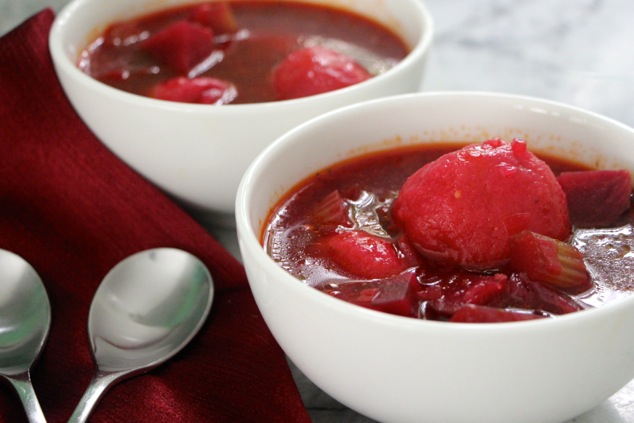 Meet the Kubbeh (or Kibbeh)! This versatile dish is popular mainly in Middle Eastern cuisines found in Iraq and Kurdistan, Lebanon and Turkey but also can be found in Brazilian cuisine and in Latin America. Seems like this dish travels well and traveling looks good on this dish! 🙂 The long list of origins matches a long list of names and the yummy variations of Kubbeh. It is basically a dumpling usually in a shape of a ball that can be cooked in broth, fried or even baked. The outside dough is usually made out of semolina, Burgul (cracked wheat) or a combination of the two. The filling on the inside is usually a mix of ground meat, onion and other signature spices.
Staying True to Flavors…
I prefer a vegetarian version of the Kubbeh and as I was trying to create a winning recipe, it was important for me to stay true to the original flavors of Kurdistan and Iraqi versions of Kubbeh. In order to give the authentic experience of this fantastic dish, flavors such as "Baharat" have to be complimented by the right ingredients in the filling. "Baharat" is the signature dry spice mix of a few Middle Eastern cuisines; it usually includes spices such as clove, all spice, black pepper, cumin and nutmeg. Some versions add cinnamon, dry coriander seeds and even "Hel" (cardamom).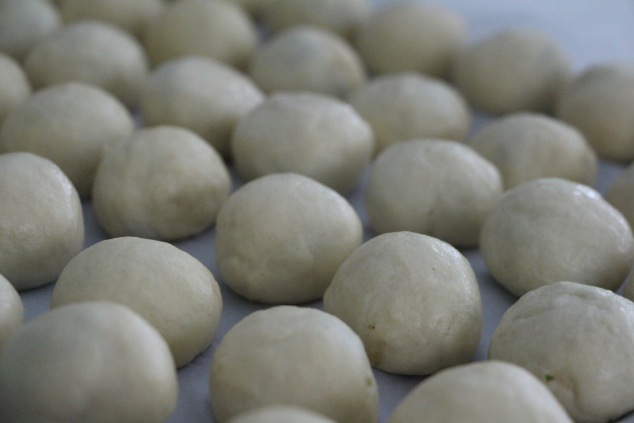 "Kubbeh/Kibbeh" means a ball in Arabic. In Egypt this dish is sometimes called "Koubeba" which reminds me of a fun childhood game we use to play outside. It included using mud to create balls and burying them in a hole under the ground …it was hard work… We would then mark the place and leave the "Koubebot" to dry. The next day we would come back to carefully dig them out. It took a lot of patience and some serious hand skills because it was very important to not break any Koubeba 🙂 This dish reminds me of the "Koubeba" game in a sense that making it requires some patience and good hand skills… Ready for it?
You will need:
[Makes 40-45 kubbehs)
For the Filling:
½ cup (100 gr.) Dry Mini Brown Lentils (Pardina Lentils)
[Will be 1½ cup (270 gr.) COOKED Mini Brown Lentils]
1 cup (100 gr.) Walnuts
⅓ cup (50 gr.) Pine Nuts
1 cup Parsley
2 tbsp. Olive Oil
1 medium Onion
4-5 cloves of Garlic
1 Lemon zest
1 Egg
½ tsp. Cumin
¼ tsp. Black Pepper
¼ tsp. All Spice
¼ tsp. Clove
¼ tsp. Nutmeg
1 tsp. Salt
For the Dough:
2½ cups (500 gr.) Semolina
2 tsp. Salt
1 tbsp. Avocado Oil (or Canola)
1½ cup Water
For the Soup:
2 tbsp. Olive Oil
1 medium Onion
3-4 stalks of Celery
3-4 medium Beets
4 cloves of Garlic
1 tbsp. Harissa (or sub with Chili Flakes)
1 tbsp. Tomato Paste
1 tbsp. Sugar
1 tbsp. Consomme /Soup Mix
½ tsp. Black Pepper
¼ tsp. White Pepper
2 tsp. Salt
2½-3 Qt. Water
½ Lemon freshly squeezed
Let's get to work! …and we have some work to do….
Start with the filling. This vegetarian mixture is successfully pretending to be ground meat in texture and taste. It is packed with some amazing flavors and wonderful healthy ingredients that are a great source of protein and vitamins. Beyond Kubbeh, you can adjust the spices and use this filling recipe for patties, veggie balls, burgers and many other ideas.


I use Pardina Lentils. Using small sized lentils will allow them to cook relatively quickly and to give us the right texture. Wash them first and then place them in a small saucepan. Generously cover them with water (in ratio of 1:3 lentils to water).


Bring to a boil and cook over medium heat for about 20 minutes. Drain the lentils and set aside.
Let's build some flavor…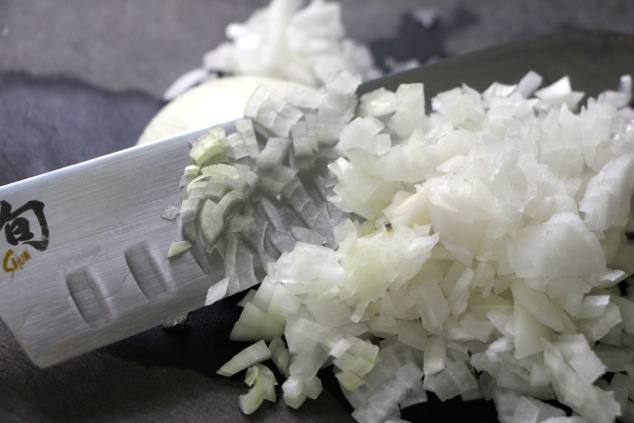 Thinly chop the onion and sauté in olive oil over medium-high heat for a few minutes. Meanwhile, mince the garlic and when the onions start to get a golden color add the minced garlic.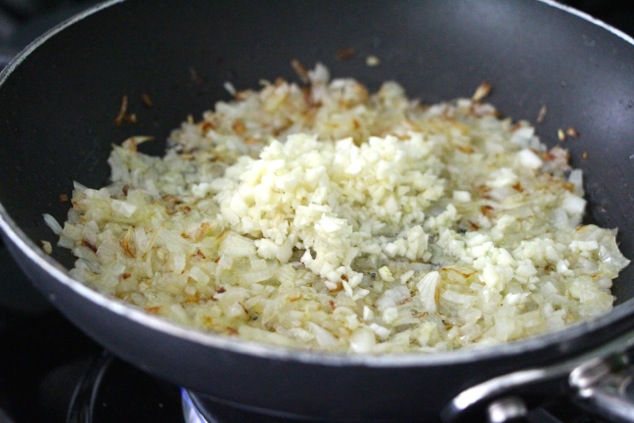 Reduce the heat to medium and continue sautéing the two friends for couple more minutes. After that add them (oil and all) to the drained cooked lentils.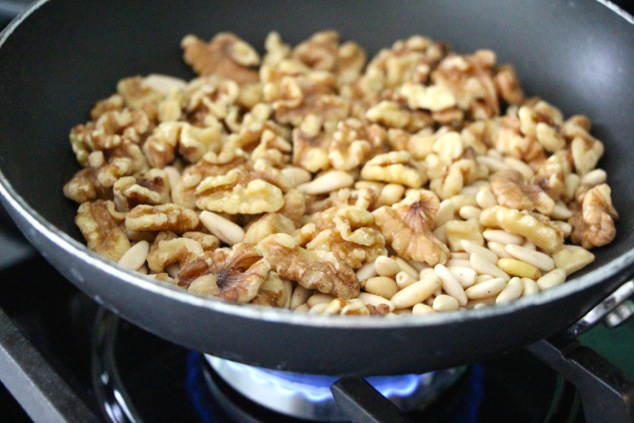 The walnuts and pine nuts need to be toasted lightly. Place them both together in a pan. Toast them over medium heat for about three minutes. Remember to move the pan and toss the nuts around so they will all get evenly toasted. Be careful not to burn them- it all happens pretty quickly.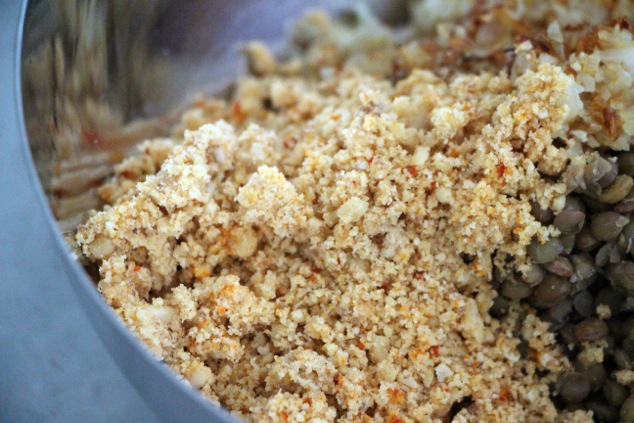 Ground the nuts to a crumbly texture and add to the mixture.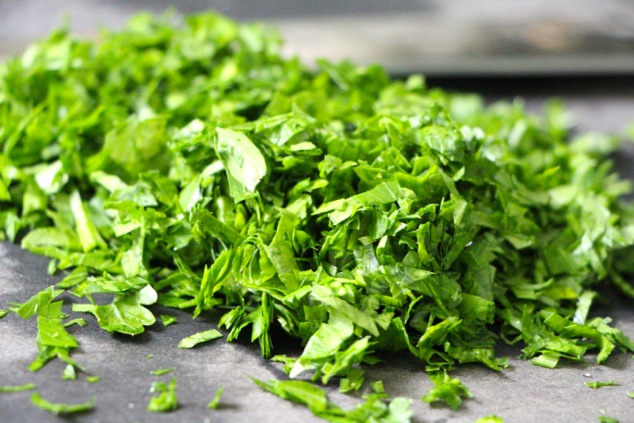 Finely chop the parsley.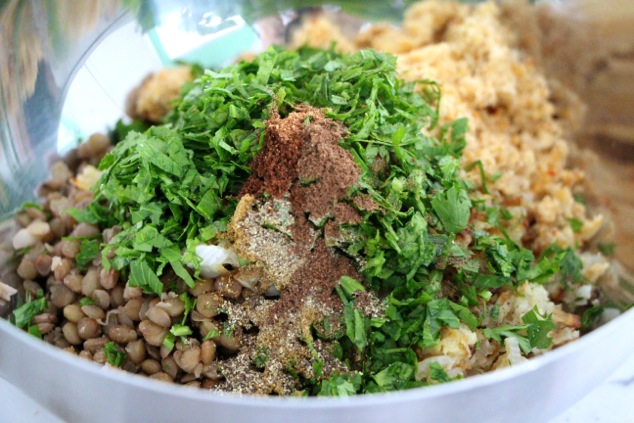 Add it to the mixture with all of the filling's spices.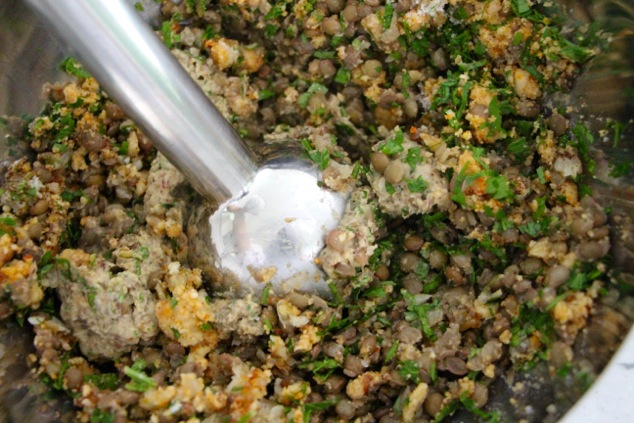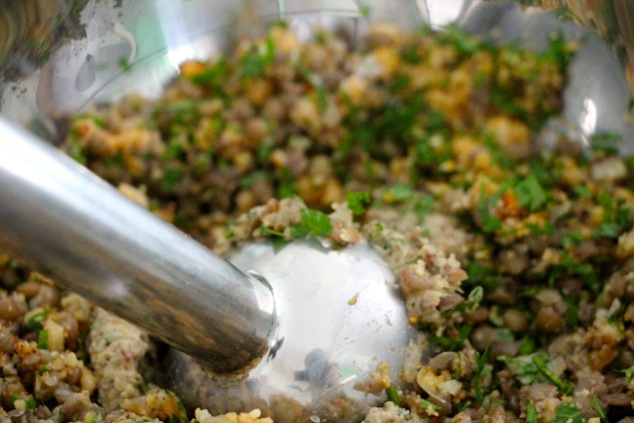 Using a hand blender pulse just a few times to help the mixture come together and have a binding texture. Be careful not to blend too much!
The filling mixture should look like this.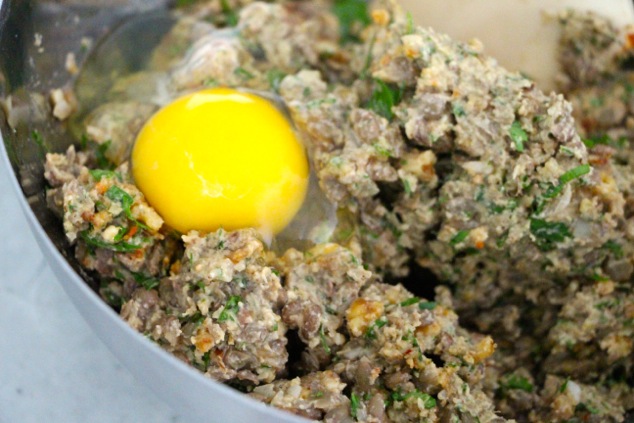 Add one egg and mix it in with a spatula.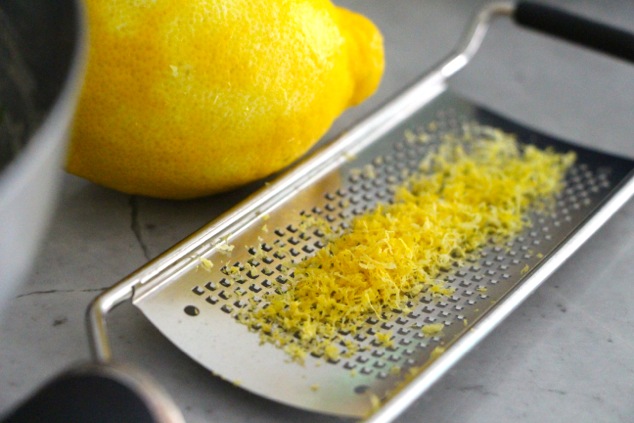 Finely zest a lemon and add the lemon zest to the mixture.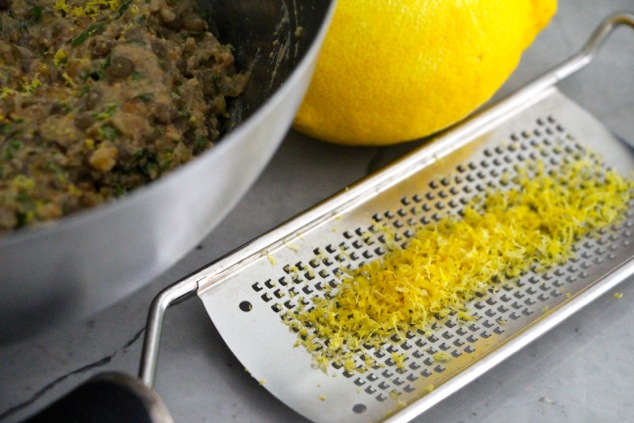 This smells like heaven!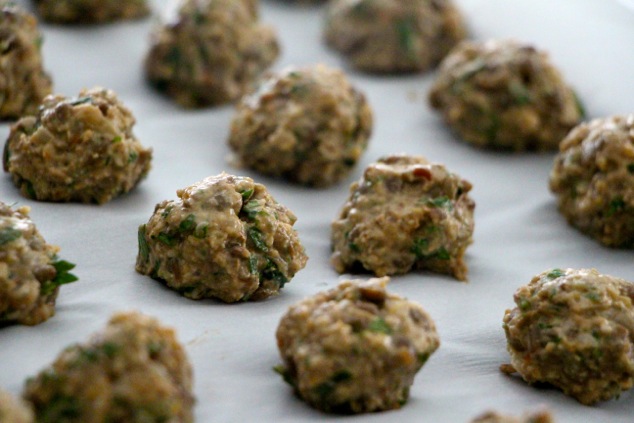 Using slightly wet hands or a small cookie scooper (I like using my hands) create small balls (about the size of a quarter). Place them on parchment paper and send them to the freezer for at least 3 hours.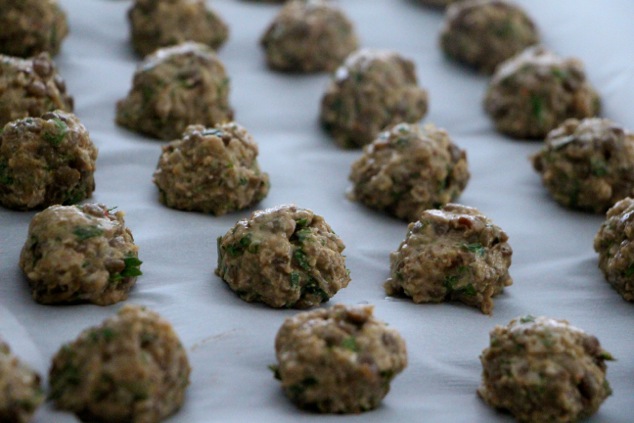 You can make it the day before or a week before; these filling balls can freeze for along time, but they have to be frozen to hold their shape while stuffing them into the dough. Trust me on that, I tried it without freezing them and it all became a big mess.
Let's make the Kubbeh dough – it is very simple!


Combine semolina flour with salt. I like using a fork to mix it in. add the oil and slightly mix again with a fork. Time to use your hand and add the water. Pay attention to the dough some semolina flour is thinner than others.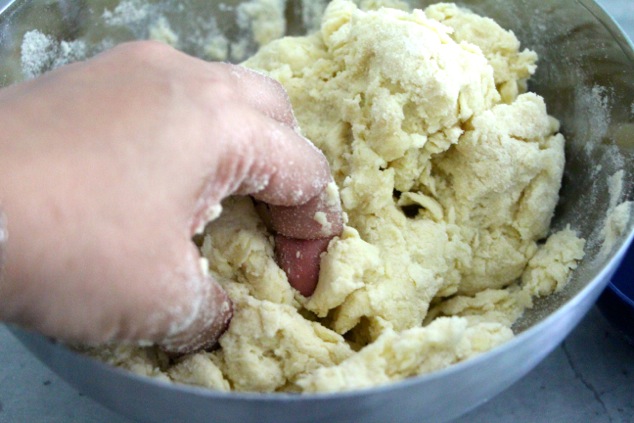 You will need a cup and a half of water, but add the last half-cup of water slowly while kneading.


Knead for about 5 minutes and keep checking until it reaches a smooth, flexible and NOT sticky texture. Form into a ball.


Cover in plastic wrap and set aside for at least half an hour- this will allow the gluten to relax and the dough will become flexible and easy to work with.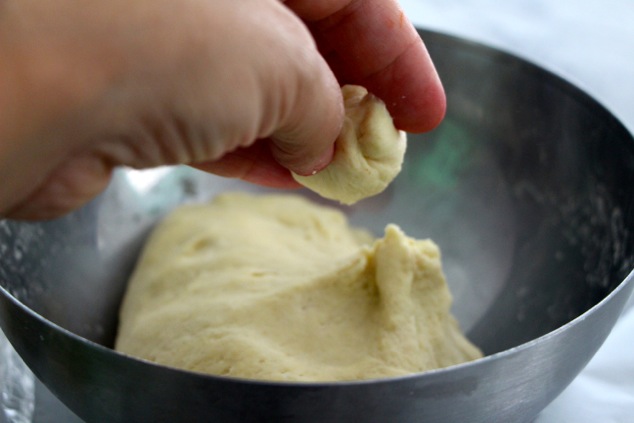 To make the Kubbeh, take a small amount of dough about the size of the filling balls. Form into a ball the start flattening it into a circle. I recommend to press on the dough rather than to pull on it to prevent ripping.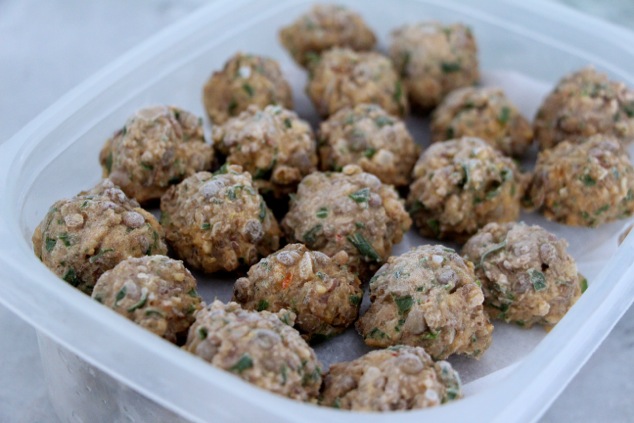 Remember our wonderful frozen filling balls?


Once you have a nice circle of dough, place the frozen filling ball in the center and start closing on it from all sides.


Use your fingers to bring the dough together and close the seams.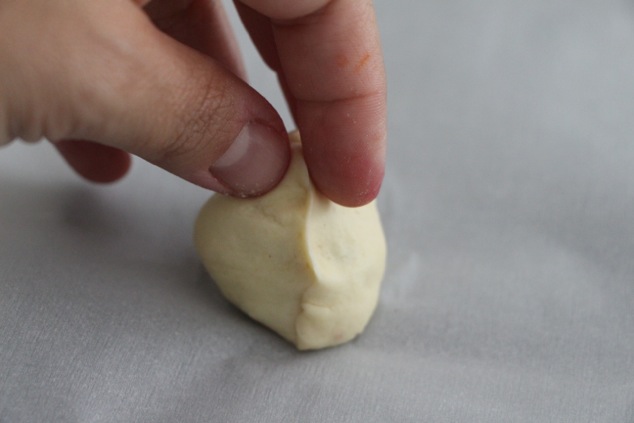 Just like this!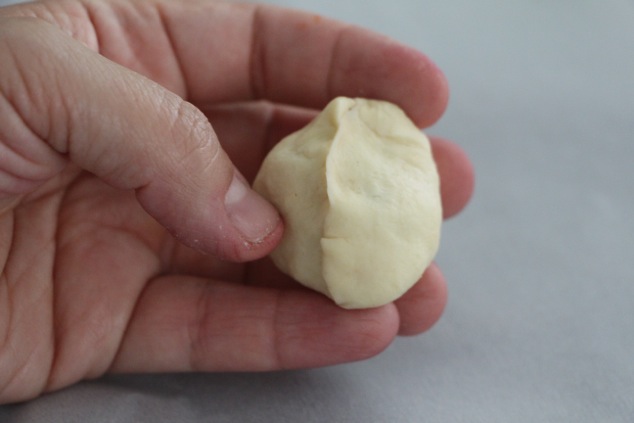 Make sure the ball is smooth looking and roll it in-between your hands to give it a unified shape.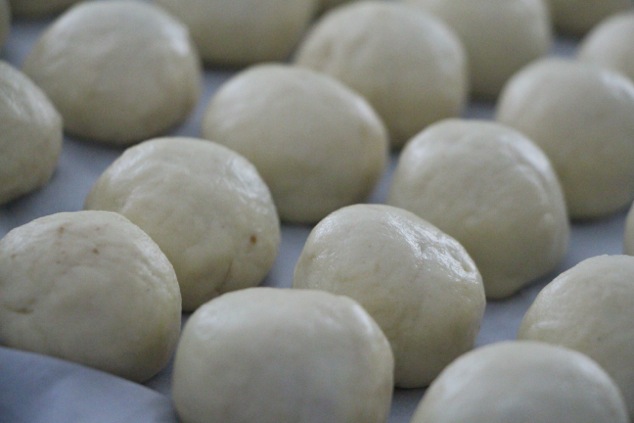 Place on parchment paper and continue making all the Kubbeh in the same method. The dough is soft and easy to work with, but in case it starts to stick a bit (I do it after forming 10 Kubbeh or so) rub small amount of oil on you hands and continue working.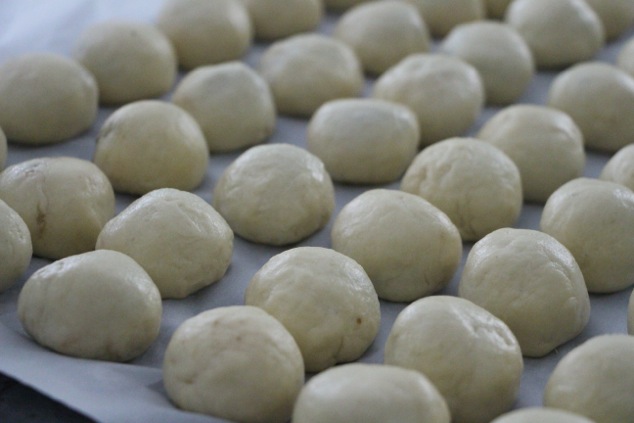 Once all Kubbeh are formed, cover them gently with plastic wrap and put them in the freezer. This will let the Kubbeh rest so they can hold their shape in the soup. Once again, you can make the Kubbeh in advance since they keep very nicely in the freezer (sealed container) and can be added to many soups… While the Kubbeh are resting in the freezer, it is a perfect time to start on the soup! I use a 5½ Qt. pot.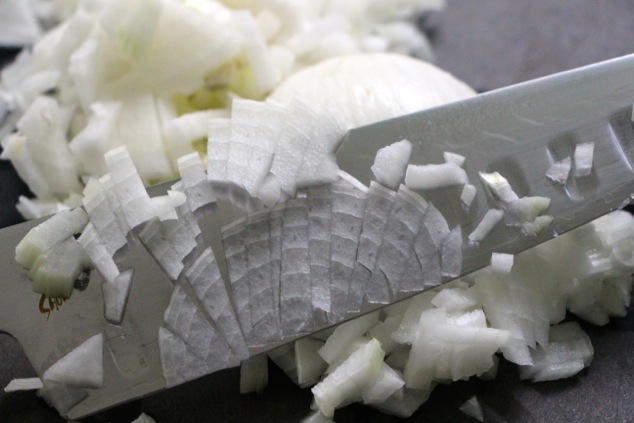 Thinly chop the onions.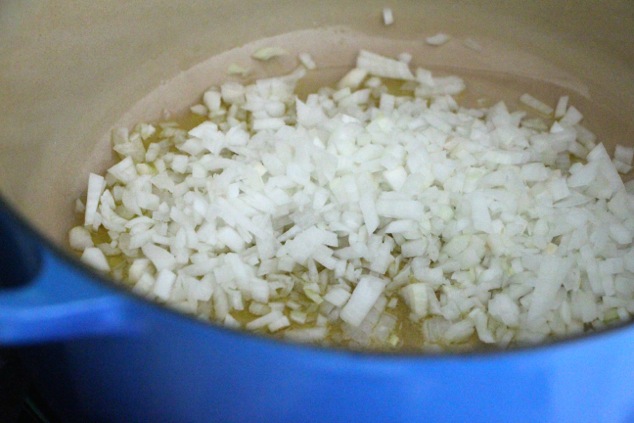 Sauté them in olive oil over medium heat.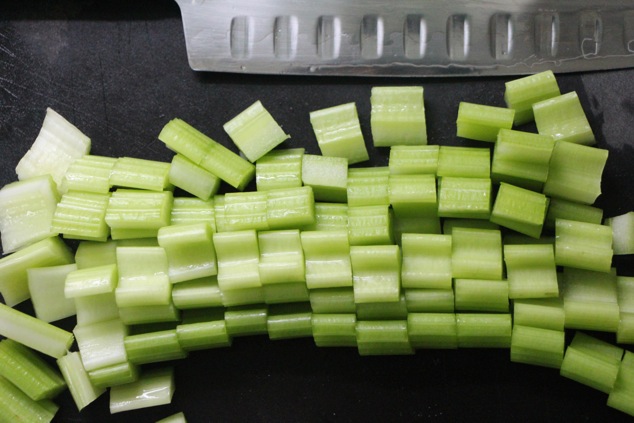 Chop the celery into about an inch sized pieces.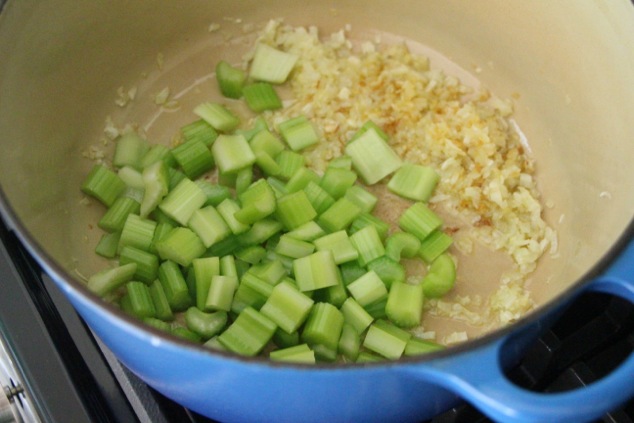 Add them to the pot.


Peel the beets. They might stain your hand just a bit; personally I don't see anything wrong with that, but if you want your hands to stay perfectly clean with no evidence of hard work 🙂 you might want to consider using gloves. Chop the beets into equal inch sized cubes and add to the pot.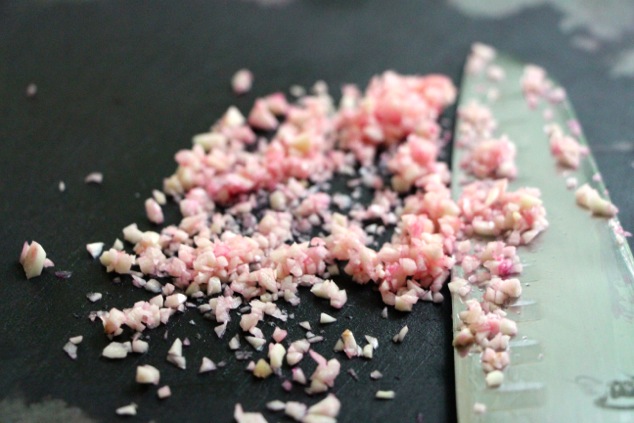 Mince the garlic. Look at this cotton candy color 🙂 My garlic never looked this cute!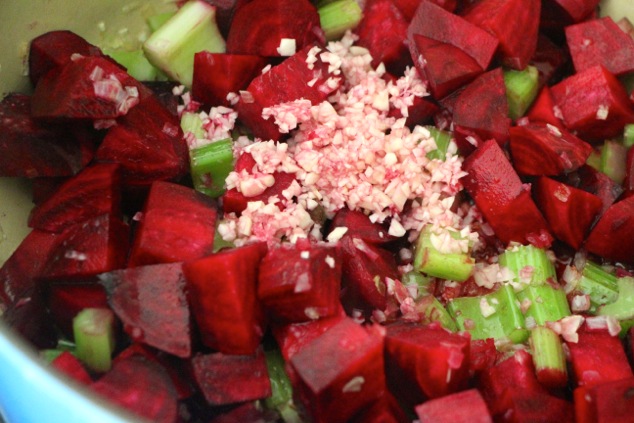 Add the minced garlic to the pot and mix well.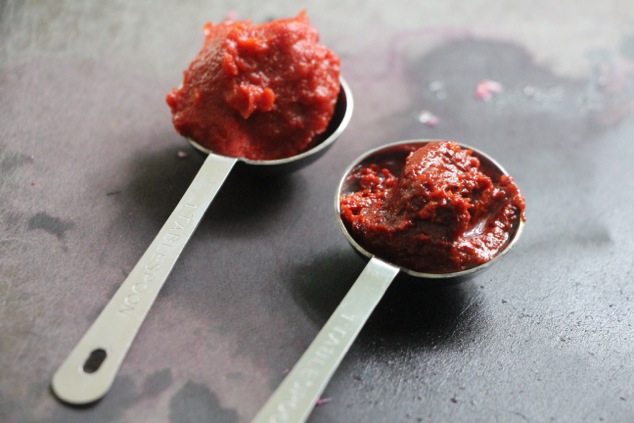 Time to add another layer of flavor; add the tomato paste and the Harissa and mix again. Add sugar, soup mix, black pepper, white pepper and salt.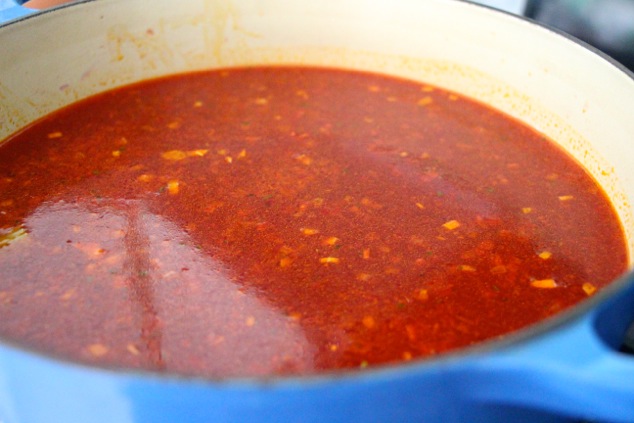 Add cold water about 2.5-3 quarts. Make sure the level of liquid is not too high; once we add the Kubbeh the level will go up. Cover the pot and bring the soup to a boil. Lower the heat and continue cooking with lively simmer for 20 more minutes.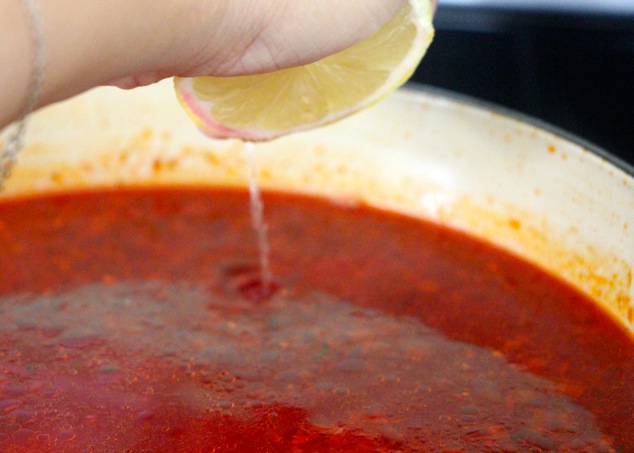 After 20 minutes, uncover the pot and squeeze in the juice of half a lemon.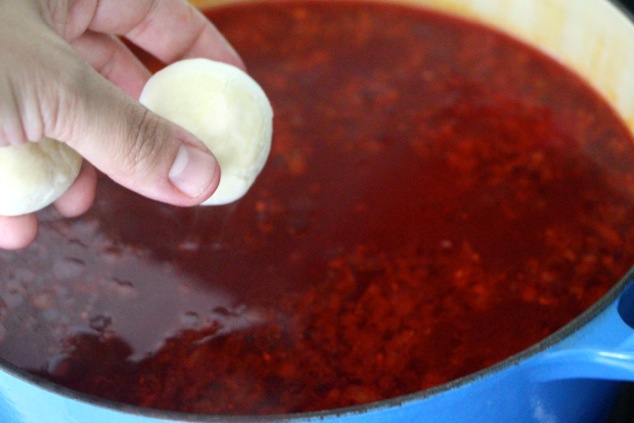 Then carefully add the frozen Kubbeh.


You can add as many as you'd like, I add about 20 and keep the rest in the freezer for another yummy meal. Cook the Kubbeh in the soup on medium to low heat for additional 20-25 minutes.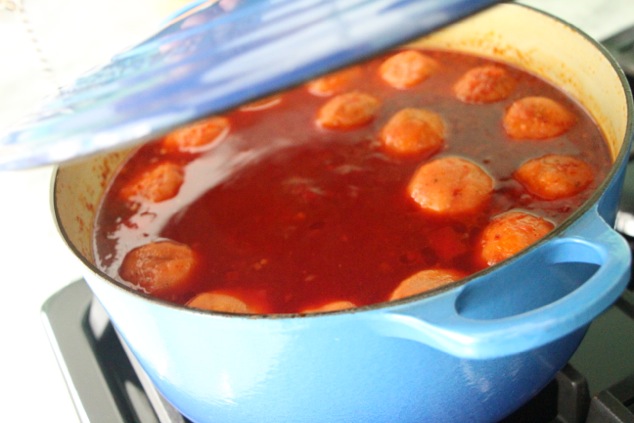 The soup and the Kubbeh will not get he bright beet color right away. Allow the soup to rest for at least 10-15 minutes before serving. If you happen to have leftovers, this is one of those dishes that tastes and looks even better the next day!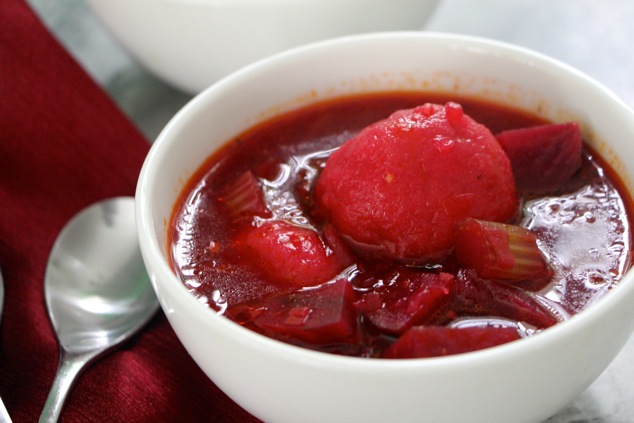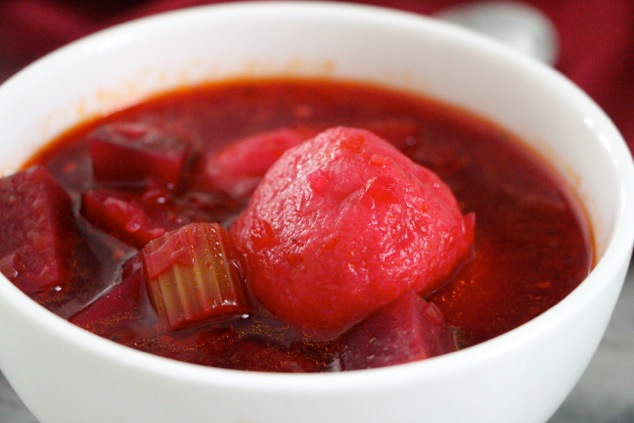 Look at this beautiful color! It is almost… just almost too beautiful to eat…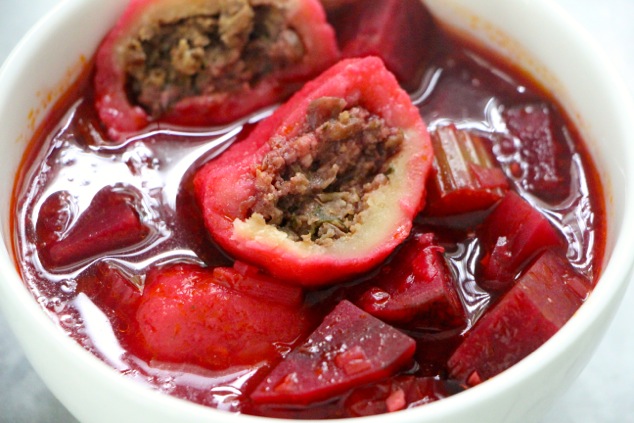 Time to enjoy all your hard work…
—————————————————————————–
Quick Recipe:
Kube Selek Vegetarian-
For the Filling:
Cook Lentils for 20-25 minutes until soft.
Drain and place in a bowl.
Sauté chopped Onion and minced Garlic in Olive Oil and add to the Lentils.
Toast Walnuts and Pine Nuts.
Ground well and add to the mixture.
Add chopped Parsley.
Add Spices: Cumin, Black Pepper, All Spice, Clove, Nutmeg and Salt.
Blend mixture lightly using a hand blender.
Add Lemon Zest and one Egg and mix with a spatula.
Form small balls of filling.
Freeze for at least 3 hours.
For the Dough:
Combine Semolina, Salt and Avocado (or Canola) Oil.
Add Water and knead for at least five minutes.
Form a bowl and cover in plastic wrap.
Set aside to rest for about 30 minutes.
*Form the Kubbeh by placing the frozen filling ball in the middle a circled piece of dough*Close all sides of dough and form a unified ball*Place onto parchment paper cover with plastic wrap and freeze for at least couple of hours*
For the Soup:
Chop Onion and sauté in Olive Oil.
Add chopped Celery.
Add cubes of Beets and minced Garlic.
Add Tomato Paste and Harissa and mix together.
Add Spices: Sugar, Soup Mix, Black Pepper, White Pepper and Salt.
Add cold Water cover the pot and bring to a boil.
Cook on medium heat covered for about 20 minutes.
Add freshly squeezed Lemon Juice of half a lemon.
Add frozen Kubbeh carefully one at a time.
Cook for about 20-25 more minutes.
Allow the soup to rest for at least 15 minutes before serving.