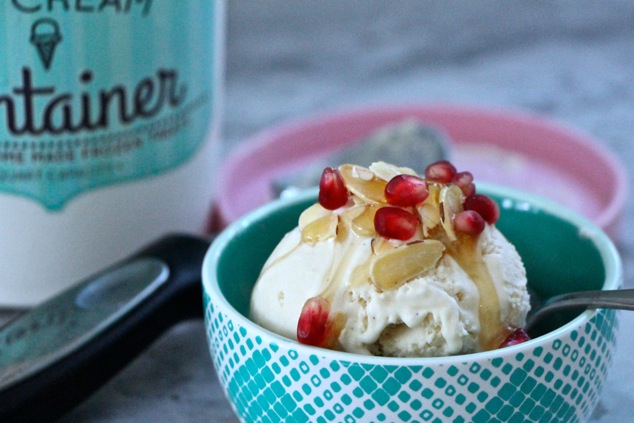 The end of the summer is a great time to find home ice cream machines on sale. A few summers ago, I saw an ice cream machine and I knew the timing was right. Not only it was the end of the summer sale, but also this baby was on display so it was on clearance! The price was so attractive that I didn't think twice and purchase my first ice cream machine. Since then making homemade ice cream became one of our favorite family fun activities. If you are a beginner ice cream maker, don't freeze up 🙂 Making cream based ice cream is so easy and a good place to start.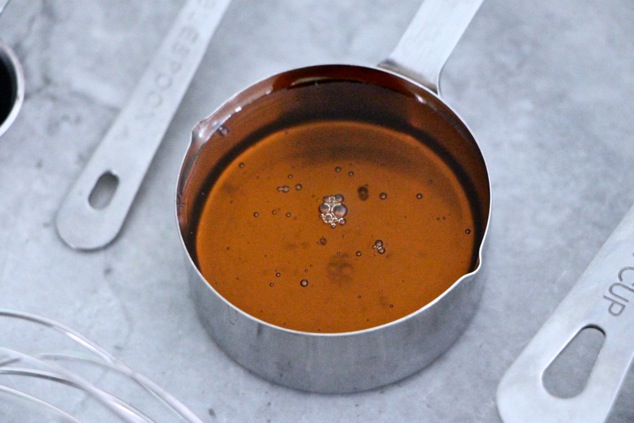 Rosh Hashana, the Jewish New Year a.k.a "Honey Time", is almost here…a perfect time for a little childhood confession: My love for honey goes way back… It was around Rosh Hashana time and I was about 5 years old; we were at my Savta's (grandma) house where I felt very comfortable and capable, especially at her kitchen. It was there when I decided to fix me a holiday snack all by myself. I took a big apple, carved out the inside and filled it with honey. Of course I also made sure to coat the outside with some more honey… "Go bold or go home" was part of my characteristics from a very young age 🙂 My sweet creation was dripping with honey and I did not hesitate and ate the whole thing up. I vaguely remember how delicious it was, but I do remember how sick I became. So does my family – 35 years later and they still remind me of this story every Rosh Hashanah. Inspired by Rosh Hashana and my serious LOVE for honey I came up with this recipe for Honey-Vanilla Ice Cream.
You will need:
½ cup Mascarpone Cheese
1/3 cup Greek Yogurt
½ cup Milk
¼ cup Honey
½ cup Sugar
1½ tbsp. Brown Sugar
2 tsp. Vanilla Paste / 1 pod Vanilla Bean
¼ tsp. Salt
1½ cup Heavy Cream
Let's do this!
I promised you that this is going to be easy preparation, so here we go… we are basically combining all the ingredients together, just pay attention to the order. The ice cream mix has to rest in the refrigerator for a few hours before transferring it to the ice cream machine; this is why I like to use a sealed container and start all the action right there. Just another little thing that will make your life even easier…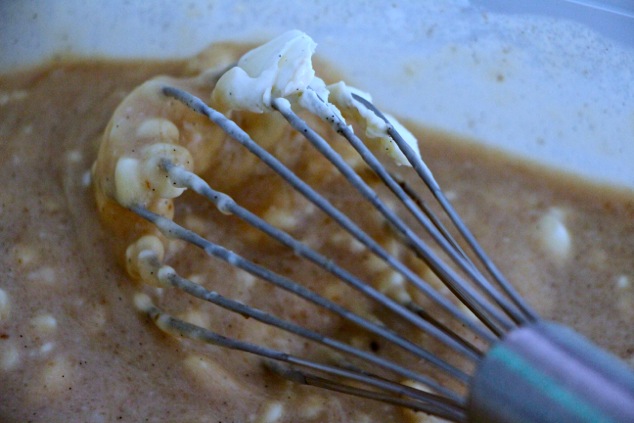 Combine the mascarpone, yogurt, milk, honey, sugar, brown sugar, and vanilla. Use a whisk to make sure the mix is unified.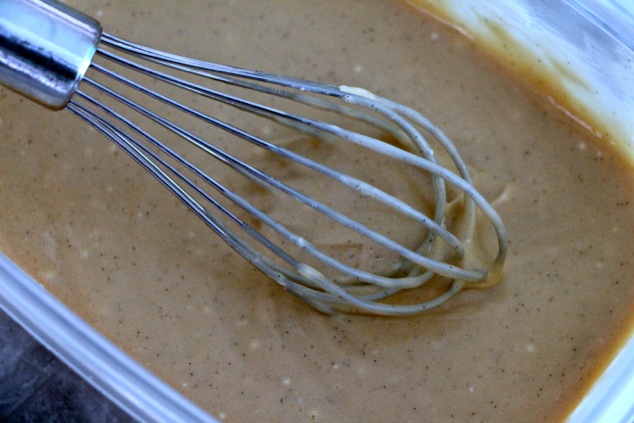 Add the salt and mix it in.


At this point, I make sure to replace the whisk with a spatula- for the sake of texture, it is very important not to over mix the heavy cream in.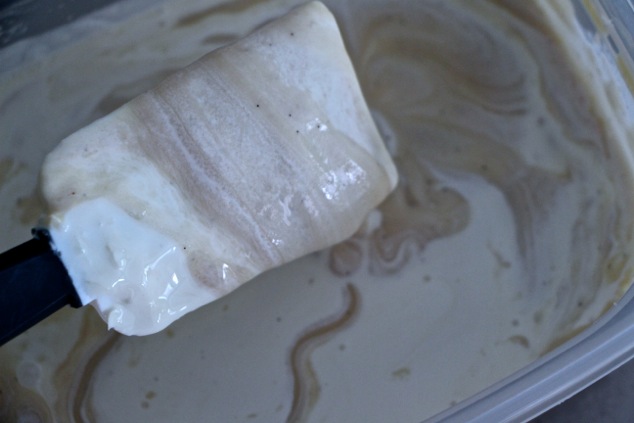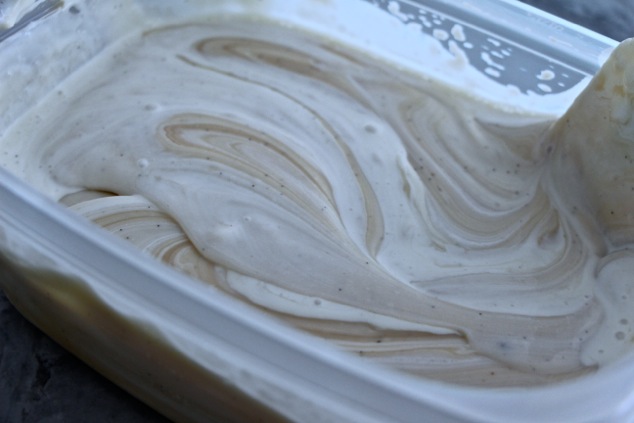 Gently and with minimum mixing fold in the heavy cream.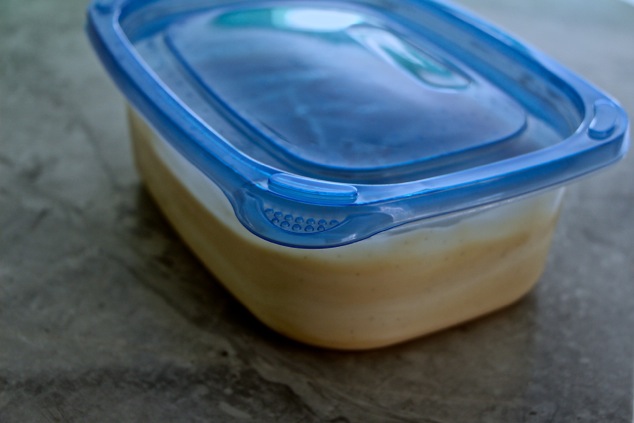 Now, just seal the container and move to the refrigerator for some resting time. This stage helps all the ingredients come together and gives the ice cream a wonderful texture. How long? a minimum of three hours and up to over night will do the trick.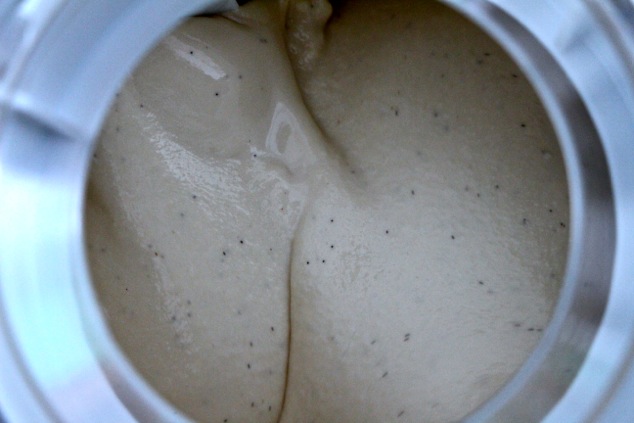 After the ice cream mixture has rested, the only thing left to do is to transfer it to your home ice cream machine.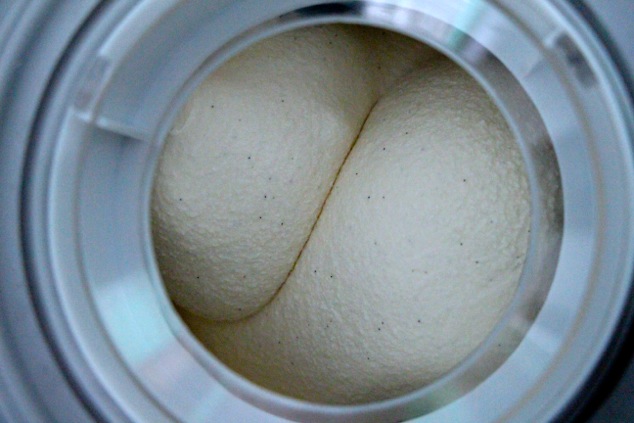 To reach the right texture, let it spin there for no longer than 15-20 minutes… Keep your eye on the clock or else your ice cream will become stiff…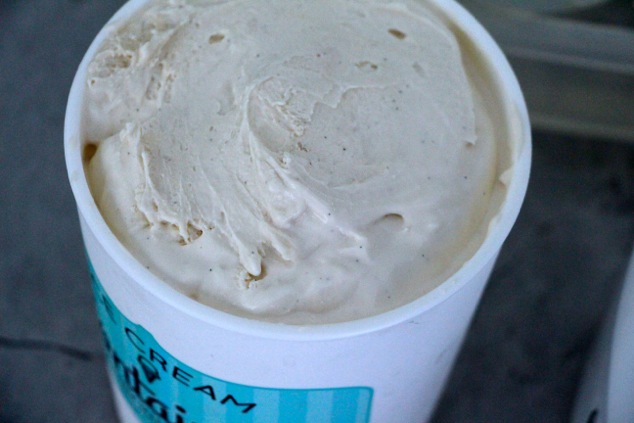 When the ice cream is ready transfer to an ice cream container and store in the freezer for a minimum of 8 hours before serving.
When Serving…
To fancy it up and give it that holiday flair, drizzle it with some honey and top it with pomegranate seeds and sliced almonds. Exercising my "go bold or go home" characteristic 🙂 I also love to pair this honey- vanilla ice cream with my Rosh Hashana Apple and Pomegranate Crumble. It's so meant to be!
—————————————————————————–
Quick Recipe:
Honey Vanilla Ice Cream-
Combine Mascarpone Cheese, Greek Yogurt, Milk, Honey, Sugar, Brown Sugar and Vanilla Paste.
Whisk into a unified mixture.
Add Salt and mix it in.
Fold in Heavy Cream using a spatula.
Seal and move to the refrigerator to rest (about 3-8 hours).
Transfer to an ice cream machine for about 15 minutes.
Store in Freezer at least 4-5 hours before serving.