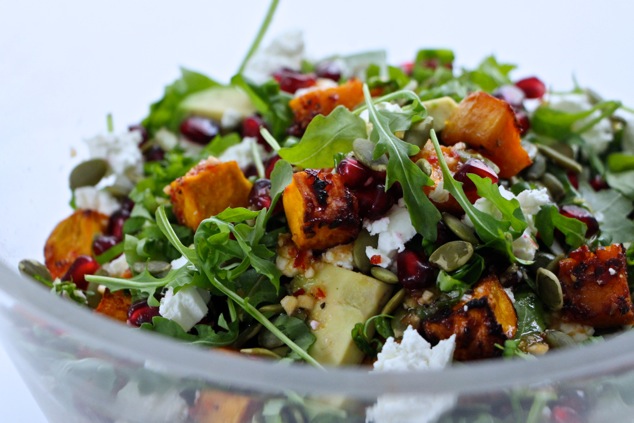 Sharing food is a powerful way to express love and care. In the beginning, it is a mother and her baby and the natural bonding between them during feeding time. Just thinking of that very first "food frame" of our lives explains a lot about the connection we make between food and love. Food continues to be the basic component that is always there …If we are fortunate enough, food is there when we are together; food is there we are alone; it is there when we are happy or sad. And when food is not there, it affects a lot more then just our tummies.
When I want to express my love towards someone, my immediate "go to" move is to cook for her or him. Of course it is not an original move 🙂 Food that shows love generally and romantic foods specifically, have been around for a while now… Images of typical romantic dinner dishes usually include a big piece of steak, strawberries and cream or chocolate fondue gushing everywhere… However, today I'm digging a little deeper for further dishes that hold romantic powers. In fact, did you know that there is an official list of ingredients that are known to have aphrodisiac influences on our mood and behavior? Some of the ingredients such as chocolate, vanilla, pomegranate, figs, ginger and chili are almost obvious. Other ingredients on this list are surprising, such as, garlic, almonds, pine nuts, arugula, asparagus, sweet potatoes, avocado, basil and even pumpkin seeds!
Looking at these powerful ingredients gives me the guts to take a bold direction away from the typical romantic dishes… You may have to hold on tight to your apron for this one… 🙂
Can a SALAD get anybody in a romantic mood?
With all the hesitations that come when asking a salad to represent romantic feelings, I find that these ingredients in this specific salad come together as a big surprise. Be prepared to give your romantic feelings a fresh start! …Oh and one thing guaranteed …this salad will make you feel good even on the morning after if you know what I mean 🙂
You will need:
Arugula
1 large Sweet Potato
1 Pomegranate
1 Avocado
4 oz. Goat Cheese
Basil
½ cup Pumpkin Seeds
Chile Paste:
1 medium Chile Fresno Pepper
2 large Garlic cloves
2 inch Ginger Root
2 tsp. Lemon Zest (of one Lemon)
2 tbsp. Honey
2 tbsp. Olive Oil
½ tsp. Black Pepper
1 tsp. Salt
Dressing:
2 tbsp. Chiles Paste
1½ tbsp. Lemon Juice
1 tbsp. Honey
1½ tbsp. Olive Oil
Let's do this:
Starting with spicing things up – The Chile Paste!
These fresh chopped spices are inspired by Chimichurri sauce. Basically we are combining bold flavorful fresh ingredients by mincing them together.


Pick any red hot pepper that you like; I found this Fresno red hot pepper that looked good to me and has a mild spicy flavor. I usually clean all seeds and connecting parts from the pepper before chopping.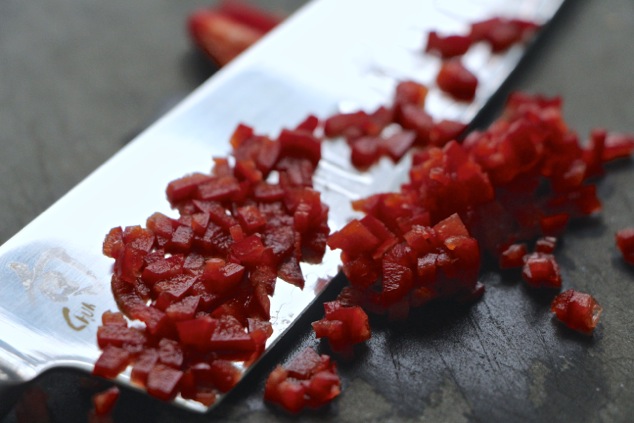 When the pepper is clean it is time to chop away.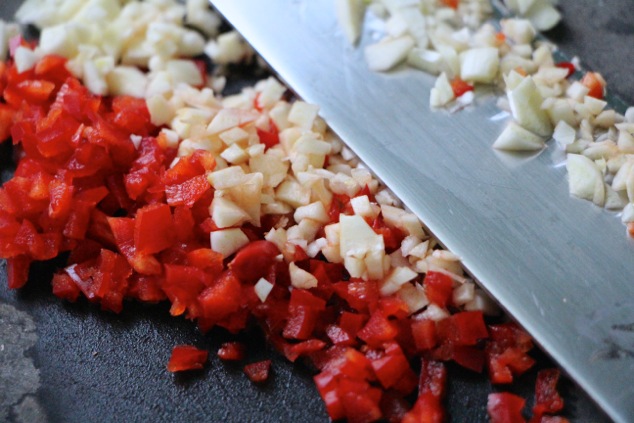 Finely chop the garlic cloves.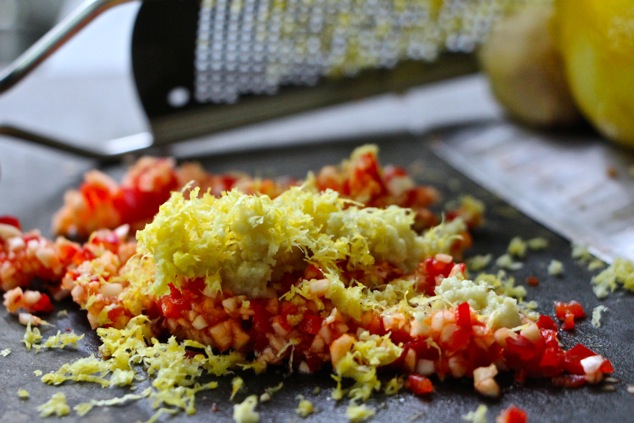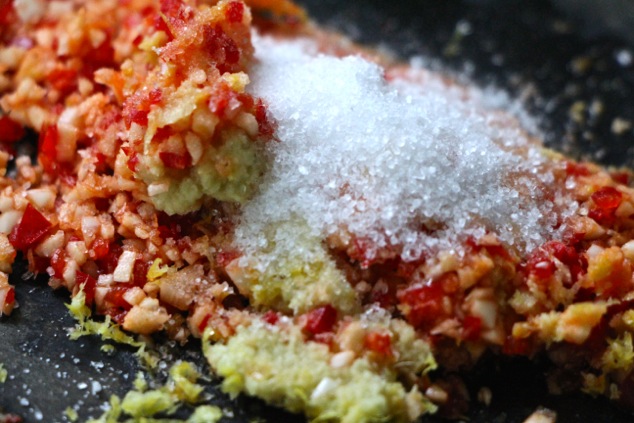 Zest a lemon and grate ginger root onto the pile and add the salt right on top. Continue mincing all these friends together. Use the flat side of the knife to press the salt grains into the mixture against the board. This will help to combine all the flavors together.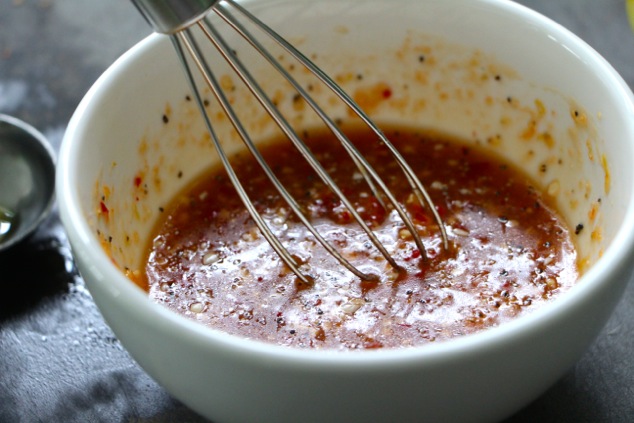 Transfer the spicy mixture into a small bowl and add honey, olive oil and black pepper. Whisk together to combine and the paste is ready! (Put aside 2 tablespoons of this Chile paste for our dressing later)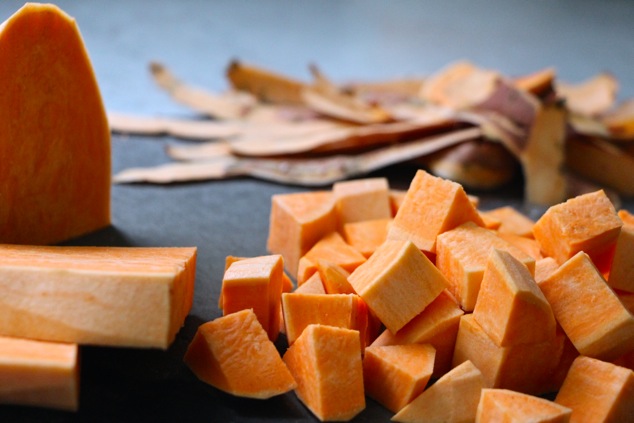 Peel and cube the sweet potato. I like at about 1 inch sized cubes.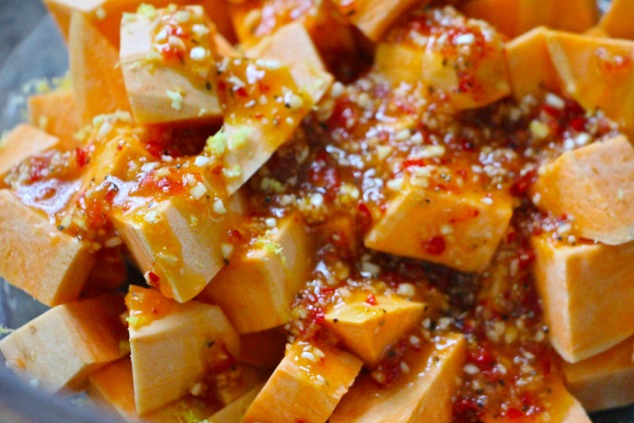 Coat the sweet potato cubes with the Chile paste and mix well.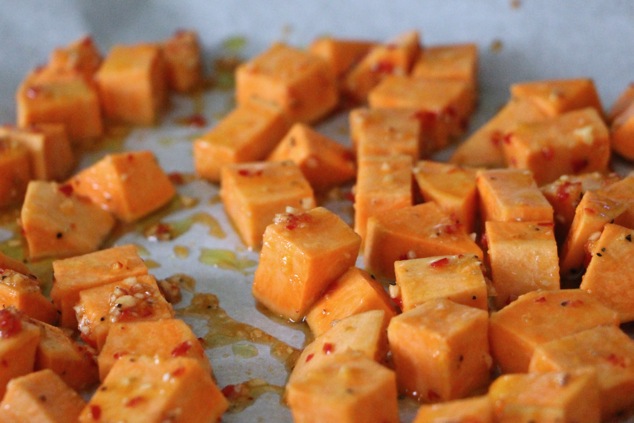 Move the sweet potato cubes onto a baking sheet lined with parchment paper and drizzle with some extra olive oil (1-2 tablespoons).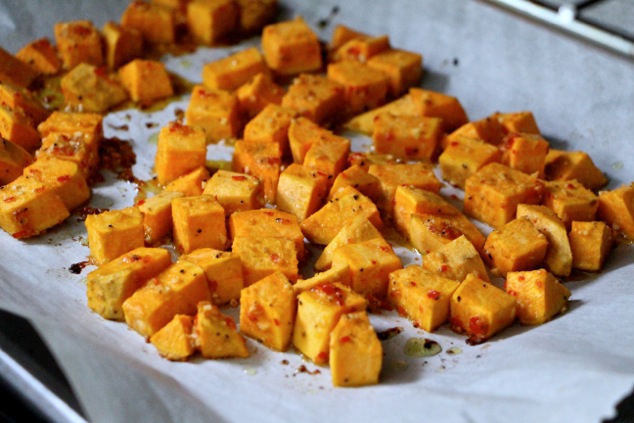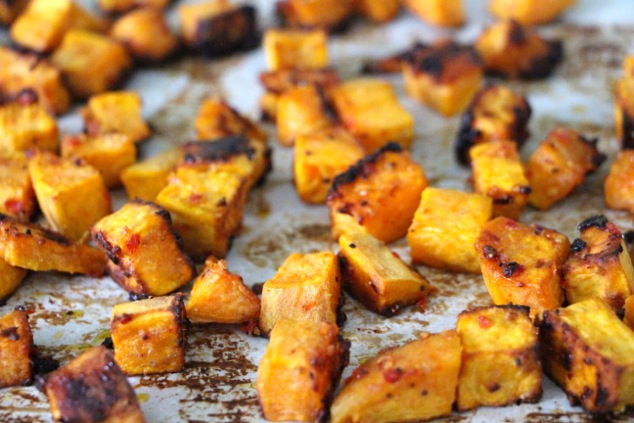 Bake in a preheated oven at 385°F for about 30 minutes until sweet potato are well roasted. You may flip them to the other side after 20 minutes for even roasting.
While the sweet potatoes are roasting, we have some time to prepare all the other salad components.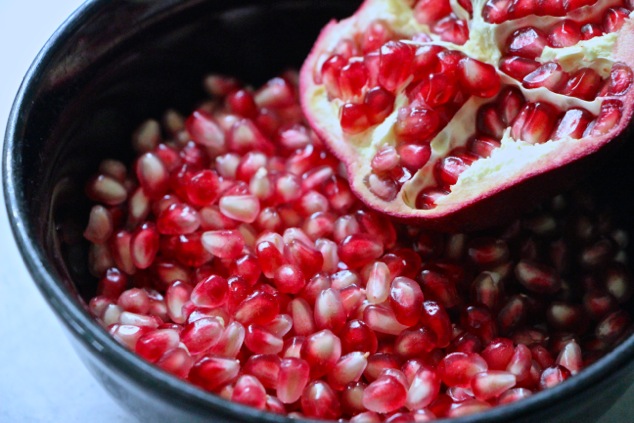 Pomegranates are the BEST! They are beautiful, tasty, crunchy, juicy and so good for us. The only down side is getting the seeds out which is a bit time consuming …it usually doesn't stop me though. I tried many pomegranate methods, but I don't have a genius way that I would swear by. I still find myself using mainly my hands/fingers to take out the seeds from the different sections and it takes a little while. Get the pomegranate seeds out in any method you prefer ( or find someone else to help you 🙂 )
Other prep …just so you have something to do… 🙂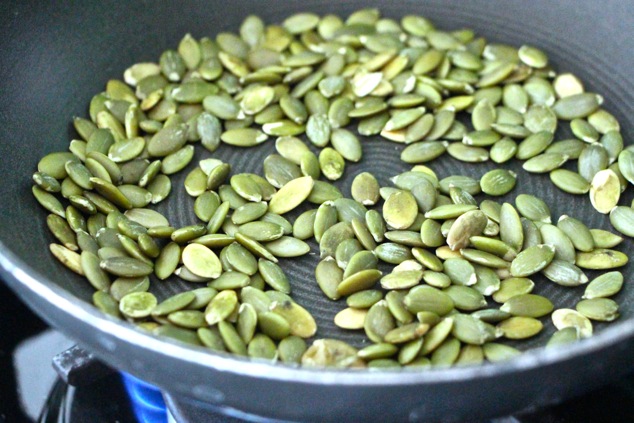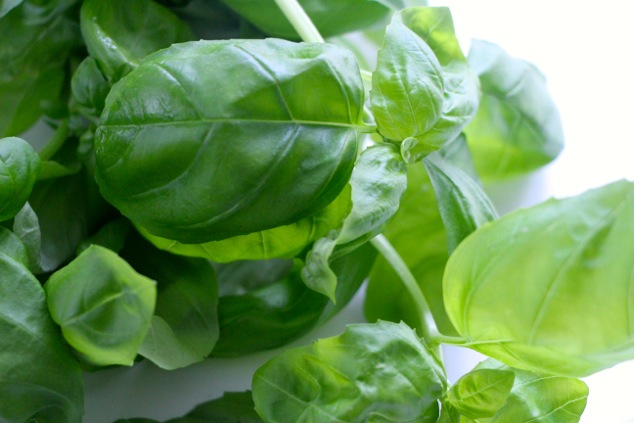 Make sure the arugula leaves are clean and dry; cube the avocado – one inch cubes work for me! Toast the pumpkin seeds lightly and chiffonade the basil leaves by stacking them on top of each other, rolling them together and slicing into thin ribbons. (Or if you don't feel like it, tearing them gently works as well).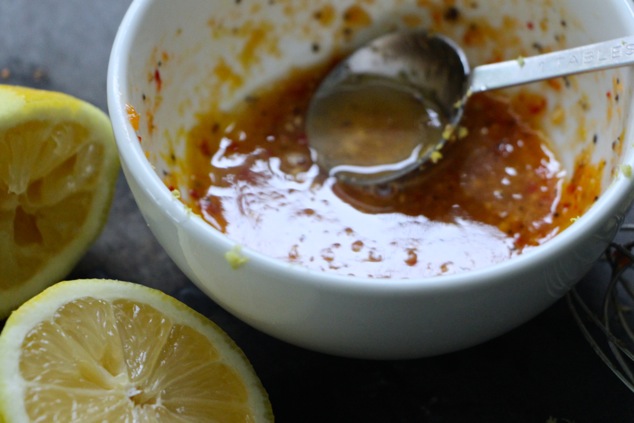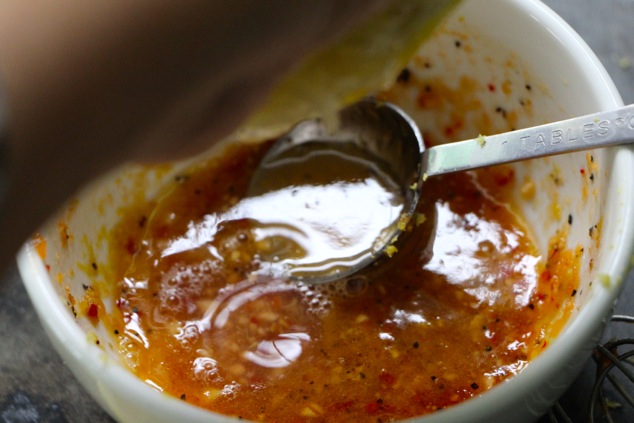 For the dressing, I'm using two tablespoons of the Chile paste as a base. Add honey and freshly squeezed lemon juice. Whisk in olive oil to reach the right consistency. Correct the flavor with salt and black pepper if needed. Voila!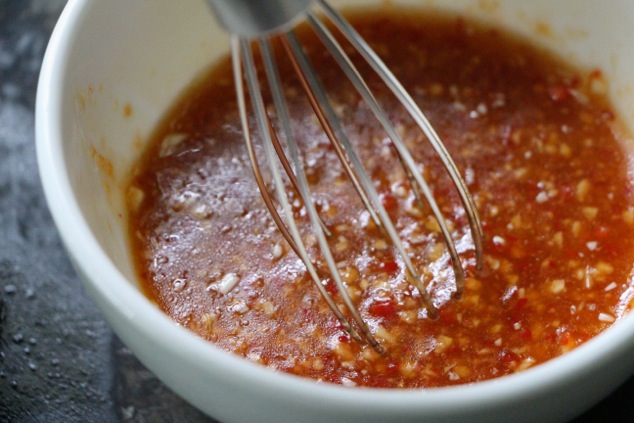 Get a large bowl to assemble this LOVELY Salad.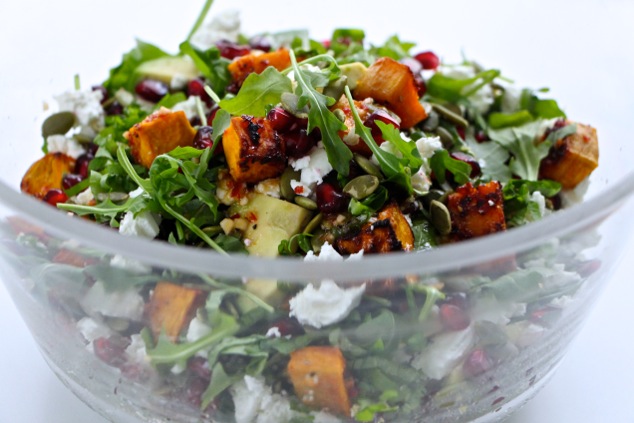 Combine arugula leaves, roasted sweet potatoes, cut up avocado pieces, pomegranate seeds and goat cheese pieces. Drizzle on the salad dressing and mix gently. Top with toasted pumpkin seeds and thinly chopped fresh basil.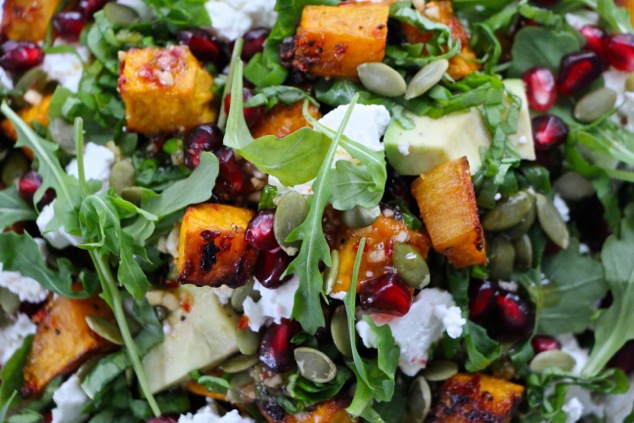 Dig in with your loved one! <3
—————————————————————————–
Quick Recipe:
Arugula Sweet Potato Salad-
To make the Chile Paste:
Finely chop Chile Fresno Pepper (Remove all seeds and connecting parts) and Garlic.
Add freshly grated Ginger Root, fresh Lemon Zest and Salt and mince together.
Add Black Pepper, Honey and Olive Oil and whisk well to combine.
Peel Sweet Potato and cut into small cubes (a little less than 1 inch)
Coat with Chile Paste and move to a baking sheet lined with parchment paper.
Bake in a 385°F preheated oven for 30 minutes.
To make the Salad Dressing:
Combine Chile Paste with fresh Lemon Juice.
Add Honey and whisk in Olive Oil until the dressing is well incorporated.
To assemble the Salad:
In a large bowl combine Arugula leaves, roasted Sweet Potatoes, cut up Avocado pieces, Pomegranate seeds and Goat Cheese pieces.
Drizzle salad dressing and mix gently.
Top with toasted Pumpkin Seeds and thinly chopped fresh Basil.